Introducing the Dream Machine - a no holds barred gaming monster PC that we built in conjunction with Maximum PC. 
It's the culmination of a year's worth of technological development, and the machine we've built now is one of the most powerful and intricate of its kind. 
It is an exercise in hubris, neither adhering to any budget, nor any perceived spec—it is the best of the best of what we have available today.
Dream Machine is a concept, not something that should ever really be attempted. It is, by its very nature, an unreasonable machine, beyond any recommendations. So, when no holds are barred, what can you do with the latest and greatest hardware out there? That's what we're here to find out—to build, in-house, one incredible system, at one incredible price.
The specs of the beast
As we mentioned earlier, speccing out Dream Machine 2017 was a challenge.
The processing world is in a state of extreme flux right now, with both Intel and AMD providing fantastic solutions for anyone looking to build beyond a quad-core system. 
And let's go on the record: if AMD's Threadripper had been available when we started the build, with all of its 16 cores, we would have used that, and if Intel's $ 2,000-plus Core i9-7980XE were around, that would have been on the cards, too. However, deadlines are a kicker, and you could wait around forever for the next big thing.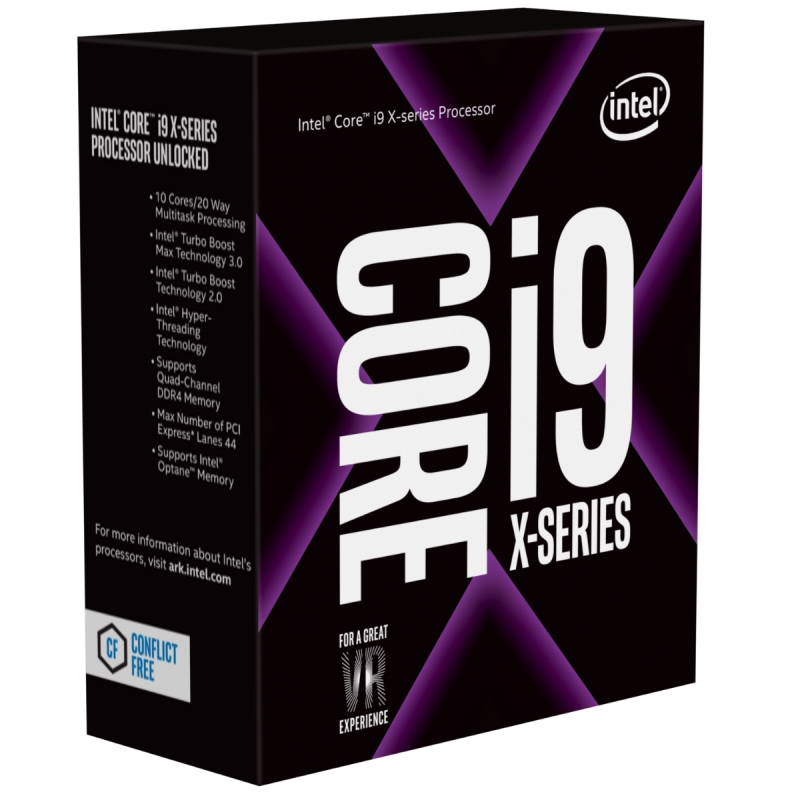 Processor: Intel Core i9-7900X
The name of the game this time is 10 cores and 20 threads. Intel's latest Skylake X parts are some of the gnarliest we've seen. 
With a reimagined smart-cache superstructure and a top-end turbo of 4.3GHz, the Core i9-7900X is a single-core IPC-demolishing and multi-core rendering powerhouse.
This is also Intel's first use of its Turbo 3.0 tech. Similar to AMD's XFR smart overclocking, in applications that aggressively use fewer than four threads, the Core i9-7900X allocates the process to its "best" cores, and boosts their clock speeds up to 4.5GHz. 
Anything capable of maxing out more than four brings the entire chip back to the 4.3GHz standard Max Turbo. Compared to last year, we've also seen improvements to the number of PCIe lanes (from 40 to 44), an increase in DDR4 memory support, and the DMI (direct media interface between the processor and chipset) improve from 4x PCIe 2.0 lanes to 4x PCIe 3.0, to alleviate any bottlenecks.
The Core i9's true potential, however, lies in its overclocking capability. It's an intriguingly mixed bag. And, for once, we're not limited by silicon instability, but by thermals. There's no denying the i9-7900X is one hell of a hot chip. Even with a 240mm AIO cooling the 10-cored behemoth, overclocking even to 4.5GHz can lead to thermal throttling hitting that TJMax of 100 C. 
That said, if you can circumvent the cooling conundrums with a sound liquid-cooled setup, it's not impossible to see 4.8GHz or 4.9GHz—potentially even 5.0GHz—on this powerhouse of a chip, pushing Cinebench R15 scores all the way up to 2,600-plus, and smashing CPU-heavy rendering times into the dirt.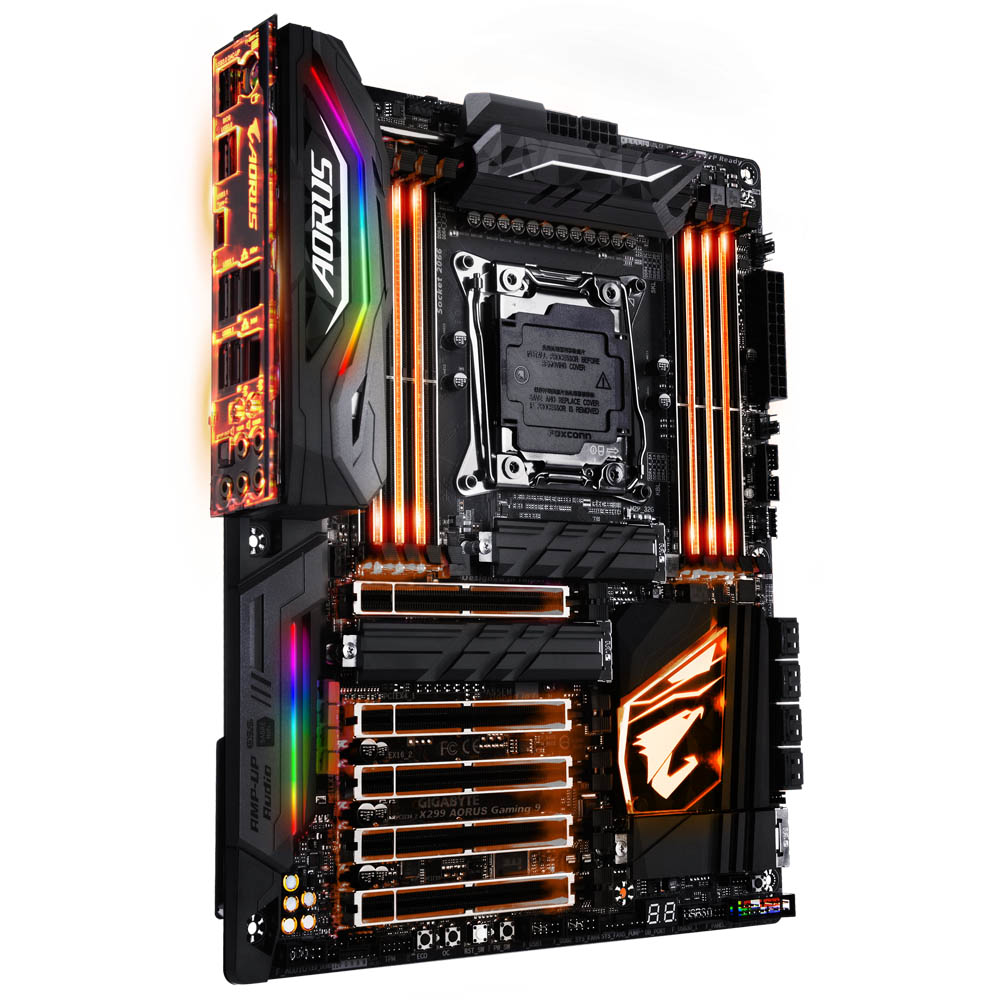 Motherboard: Gigabyte X299 Aorus Gaming 9
When it came to choosing a motherboard, we had a few criteria in mind. We needed a board that could overclock like a champ, with a clean-looking black aesthetic, and have the potential to support up to three PCIe M.2 drives, without any ugly protrusions jutting out from the PCB.
The last part was our main concern. We wanted two 512GB Samsung 960 Pros in RAID 0 for our OS, and a 2TB model for anything else we could think of. Coupled with two old-school 10TB HDDs, plus two 2TB Samsung 850 Pros for even more storage, and connectivity is hugely important.
That left us with one winner: the Gigabyte Aorus X299 Gaming 9, a mammoth of a board to fit inside our equally gargantuan case. It's one of the only mobos to support more than two PCIe SSDs on the board itself, second only to the Gaming 7, which lacks the heatsinks. 
Plus, its onboard audio is exceptional, it features dual eight-pin EPS power for smoother voltage application during overclocks, and five PCIe x16 lanes, in theory enabling us to run three-way SLI in x8x16x8 configuration.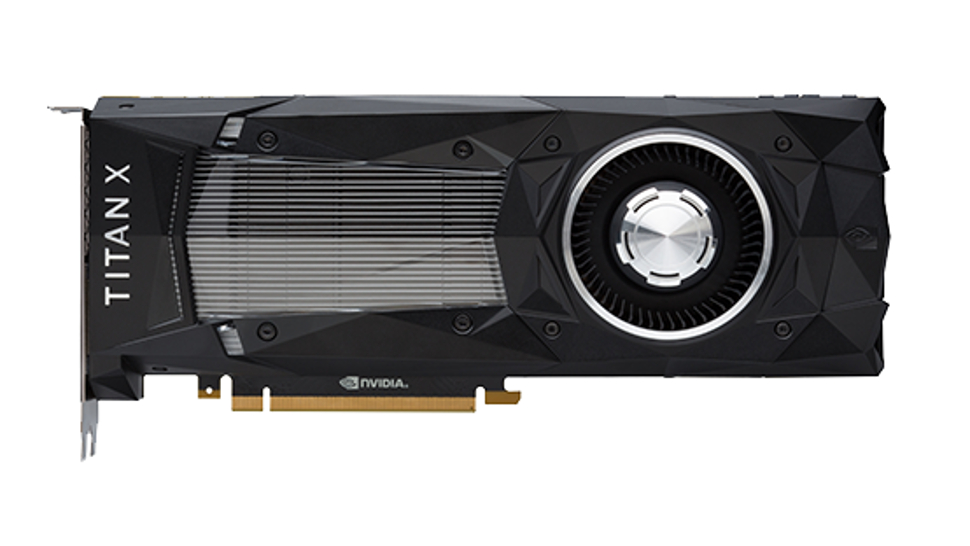 Graphics card: dual Nvidia Titan XP
12 teraflops of pure force, 3,840 CUDA cores, 12GB of GDDR5X, and the full might of Pascal's GP102 core. Multiply that by two, and what you're left with is $ 2,400 (£1770, AU$ 3000)-worth of pure graphical power.
Pascal was nothing short of a master stroke by Nvidia, making the impressive Maxwell architecture look like a toddler's plaything in comparison. Designed to put AMD's Vega on the back foot, we doubt even Nvidia expected what was about to occur.
As AMD vacated the upper echelons of performance GPU computing, Nvidia was left unchallenged. Fast-forward a year and the Titan X (Pascal) of that generation was trumped by Nvidia's own GTX 1080 Ti, matching it spec for spec, sans one extra GB of GDDR5X. 
The solution to derailing its own flagship? Unleashing the full might of the GP102 core on to the world. Featuring an additional 256 CUDA cores, 16 more texture units, and an impressive boost to core and memory clocks, the true Titan Xp arrived to sink its teeth into that upper ecosphere once again. A true 4K gaming card—but at a cost.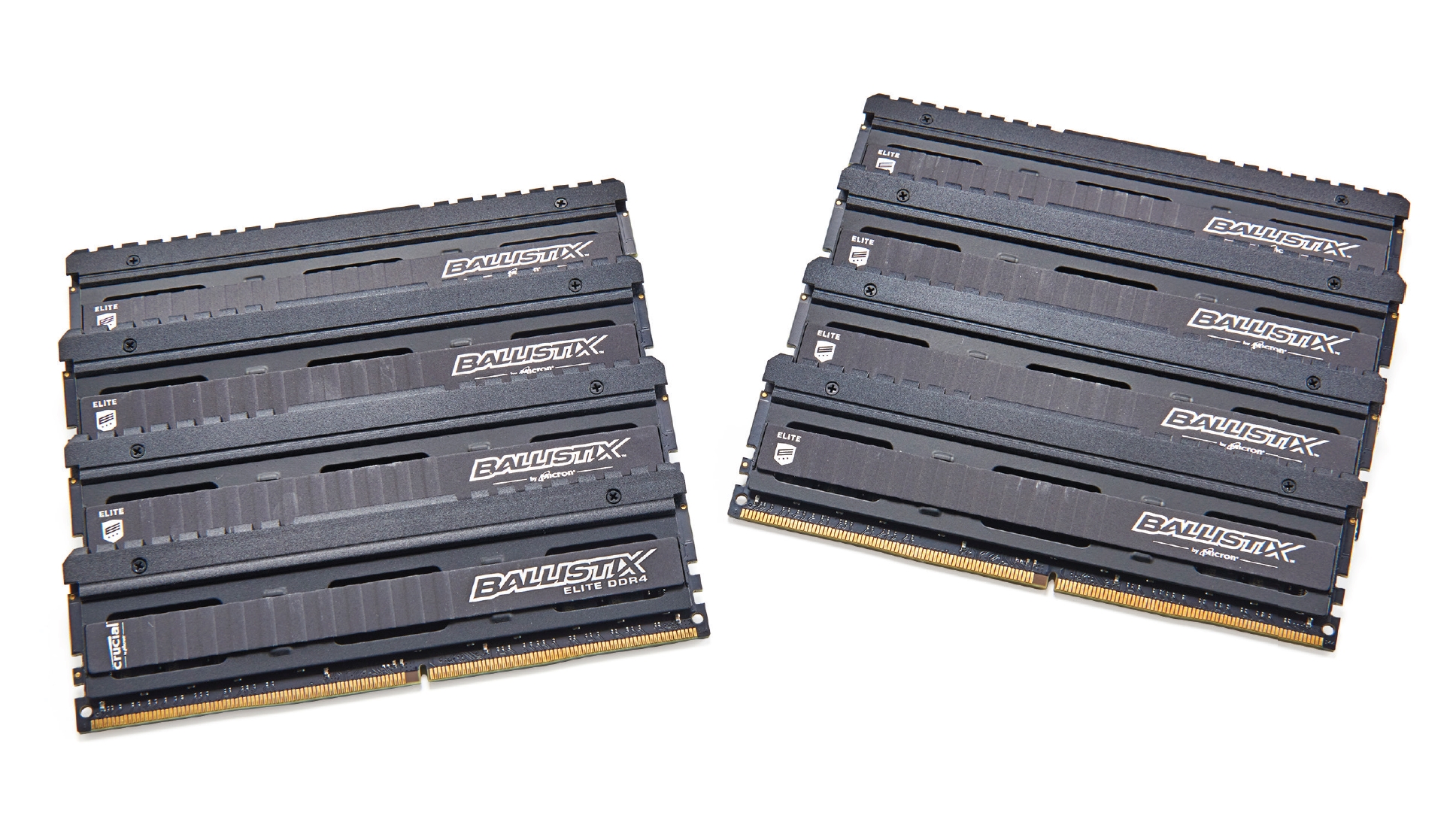 RAM: 128GB (8x 16GB) Crucial Ballistix Elite DDR4-3200
Memory hasn't changed a huge deal — maximum capacity remains the same at 128GB, and the only thing that really has seen any increase is frequency, which now caps out at around 4,266MT/s. 
That said, at that speed, you cut your maximum capacity in half, and as massive advocates of capacity over speed, we simply can't warrant it over the alternative.
That said, we did want to do something different, so this time around we decided to put all eight DIMMs on ice, stripping them of their stock heatsinks, and liquid-cooling the lot of them. 
We've always loved Crucial's memory kits for their stability, availability, and performance, so we requested in a not-so-subtle 128GB (8x 16GB) of its Ballistix Elites, running at 3,200MT/s, with a CAS latency of 16. 
It does feel something of a shame to strip these kits down, because the powder-coated finish on the heatsinks is one of the nicest we've seen, but the aesthetic finish and extra pep that liquid cooling your memory adds to a water-cooled loop is hard to deny, especially when you're chilling two banks of the volatile SOBs.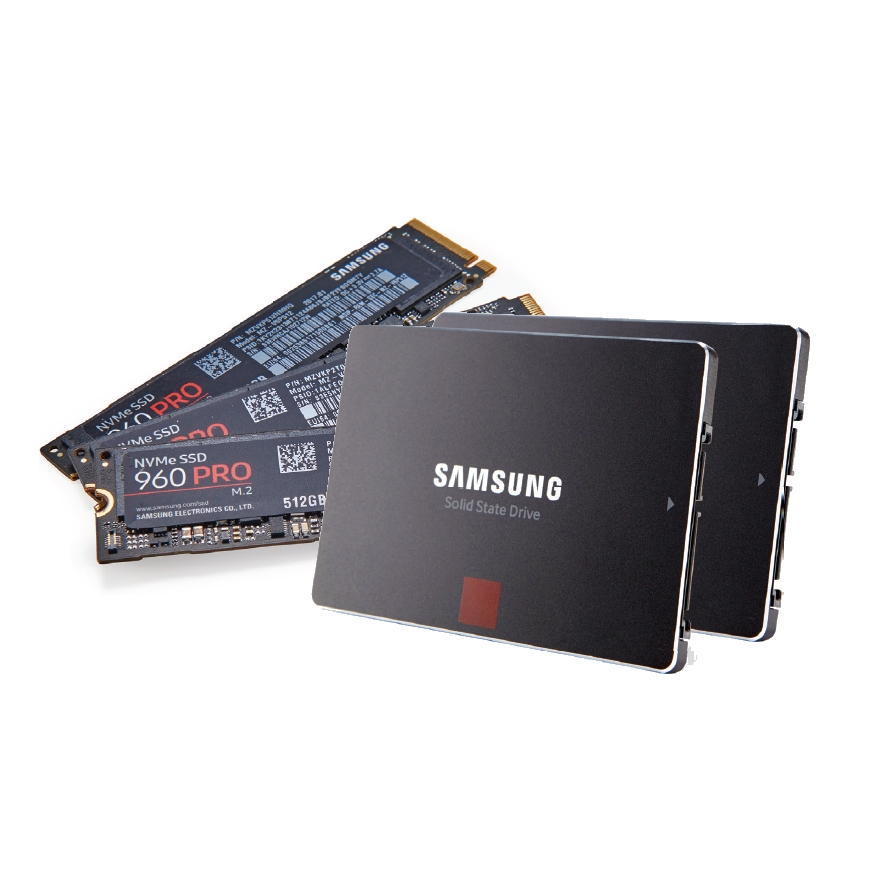 SSD: Samsung 960 Pro (2x 512GB, 1x 2TB), Samsung 850 Pro (2x 2TB)
For our OS storage, we knew we wanted something a little faster than your standard M.2 PCIe SSD, and right now, the only way to achieve that is by RAIDing two, already powerful, PCIe drives. 
Although, with the X299 chipset, you can invest in Intel's on-processor RAID technology for a fee, it is, unfortunately, locked to its 600p drives, which, to be frank, pale in comparison to the likes of Samsung's 960 Pros. 
The chipset, however, still supports RAID 0, 1, 5, and 10, so the solution was simple: two 512GB Samsung 960 Pros in RAID 0 for the OS. 
On top of that, we can provide an additional 2TB of standard PCIe storage for any other programs or games we want.
For media storage, we decided to up the ante a little more, and opted for two, now almost ancient, 2TB Samsung 850 Pro 2.5-inch SSDs. We've set these up in RAID 0 again, to capitalize on that additional speed, and will be backing up all 7TB of storage on to our 10TB mirrored HDD array.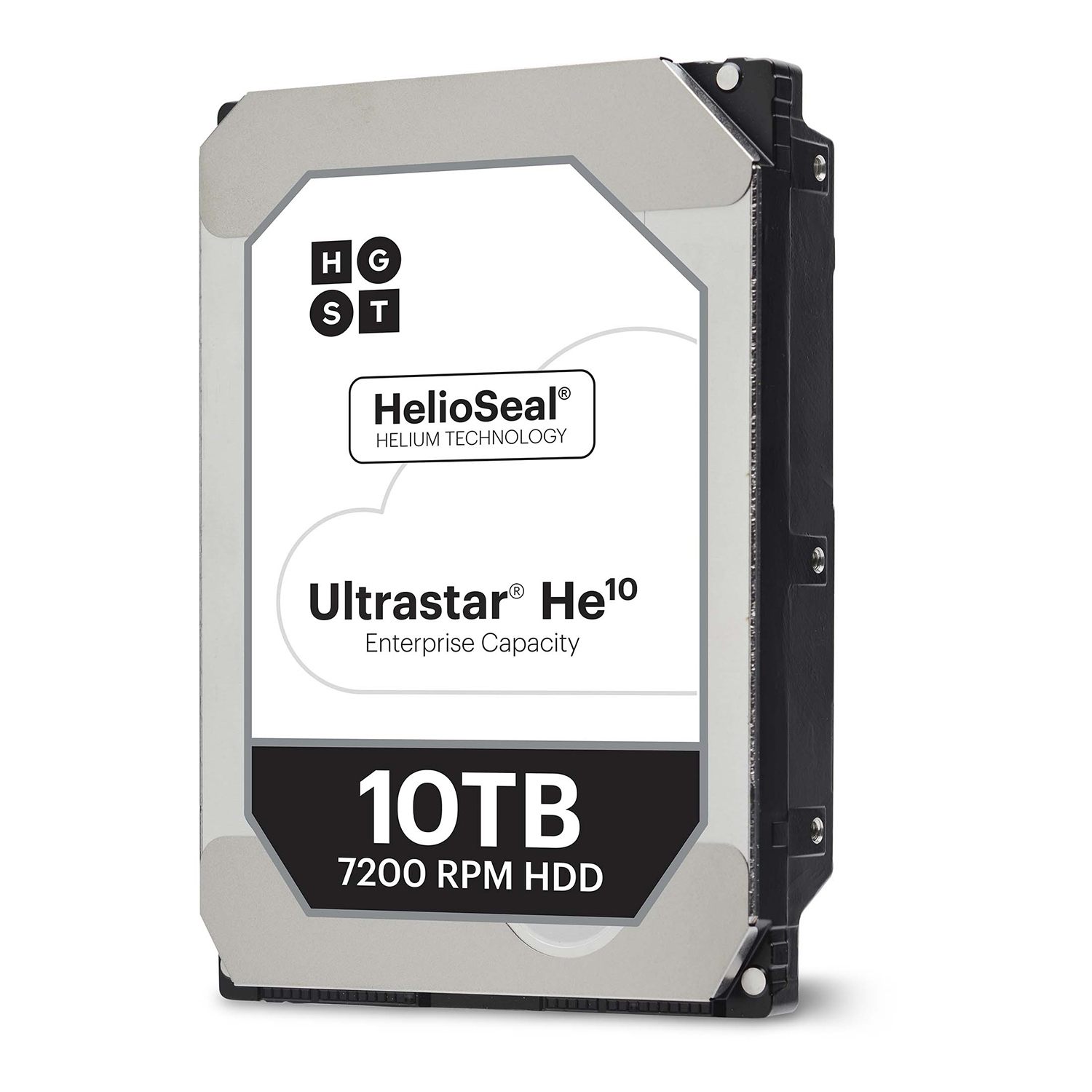 Hard drive: HGST Ultrastar HE10
Speaking of hard drive arrays, why fix what isn't broken? HGST is now part of Western Digital, one of our favorite spinning platter brands, and these helium-filled 10TB 3.5-inch disks are some of the best in the business.
Setting this pair up in RAID 1 gives us a total of 10TB of mirrored storage, with plenty of redundancy, for an on-site backup of everything and anything on the system.
And with their impressive sequential performance, backing up weekly or even daily shouldn't be too much of an issue, especially given the infrastructure residing within the rest of the system.
We had quite a debate in the office as to whether to include these or not. The Phanteks Enthoo Elite does have support for multiple HDDs in the bottom tray, although, in reality, we could only use two, because any more would impact on our liquid-cooling plans. And there's a certain noise element we're trying to avoid. 
Relegating these disks to backup drives, however, does neutralize the noise somewhat as, using incremental backups, these should only be operating for a small part of the day or week.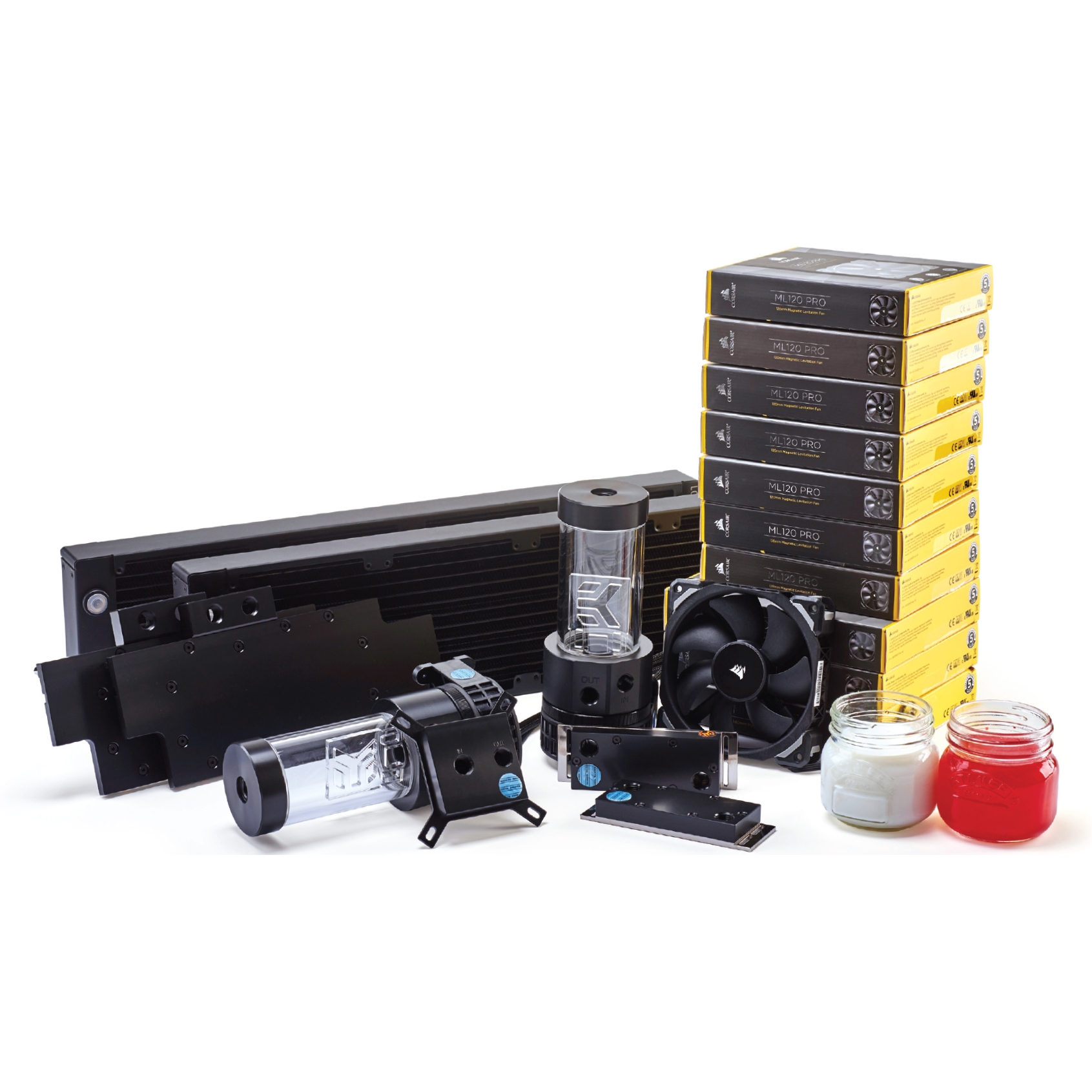 Cooling: EKWB liquid cooling and Corsair ML fans
As soon as we had confirmation of the parts we'd be featuring in our Dream Machine, we headed to EKWB's website to grab the very best liquid-cooling hardware.
For us, nothing beats the clean, subtle look of EK's parts. With the Core i9-7900X being notoriously hot under the collar, and those Titan Xps being no slouches either, we also needed some serious fan power to cool the loops, so we went with some of the best we've seen this year: Corsair's Mag Lev ML120 and 140 Pro series. With a huge RPM operating range, impressive static pressure figures, and a fantastic aesthetic, they're a no-brainer.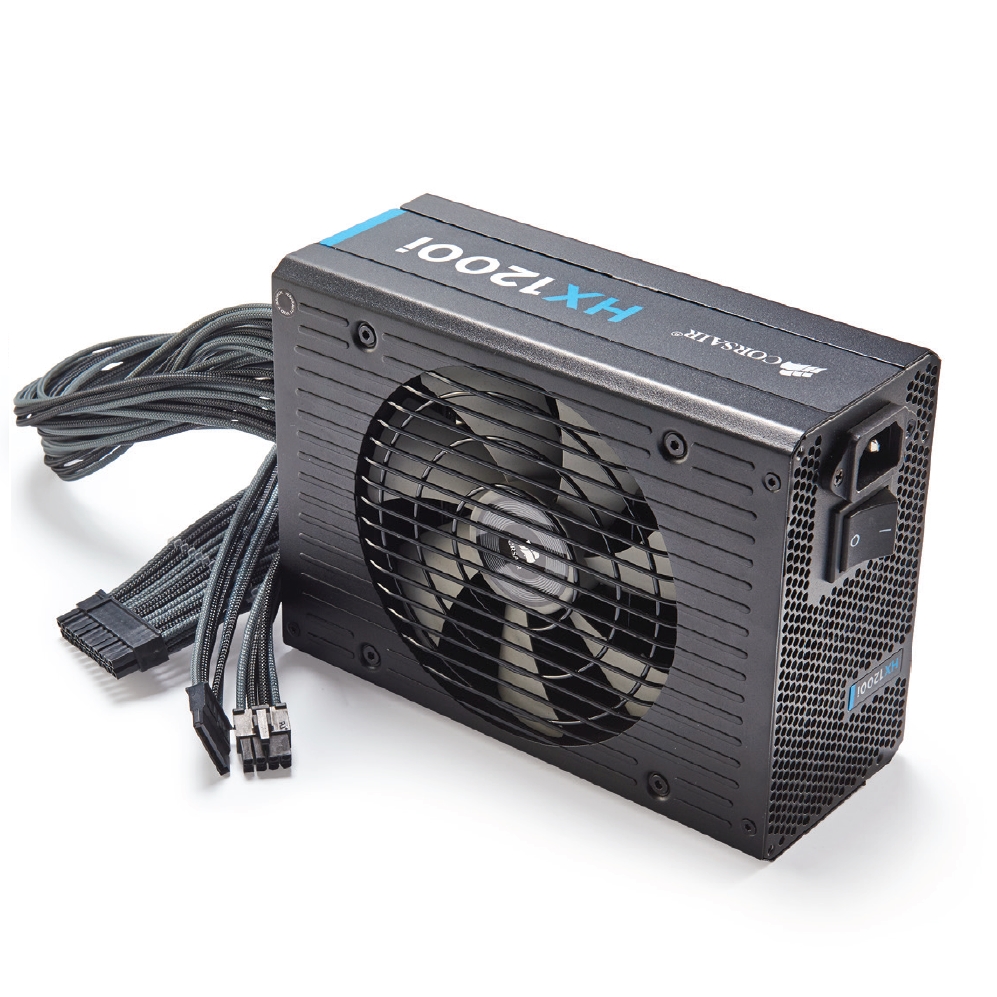 PSU: Corsair HX1200i
The choice of PSU this time around was an easy one to make: We went straight for Corsair's HX1200i. After using the 1,000W variant last year, and appreciating just how quiet it is with its 0dB fan tech, plus the fantastic Platinum energy efficiency rating, there really was no other choice.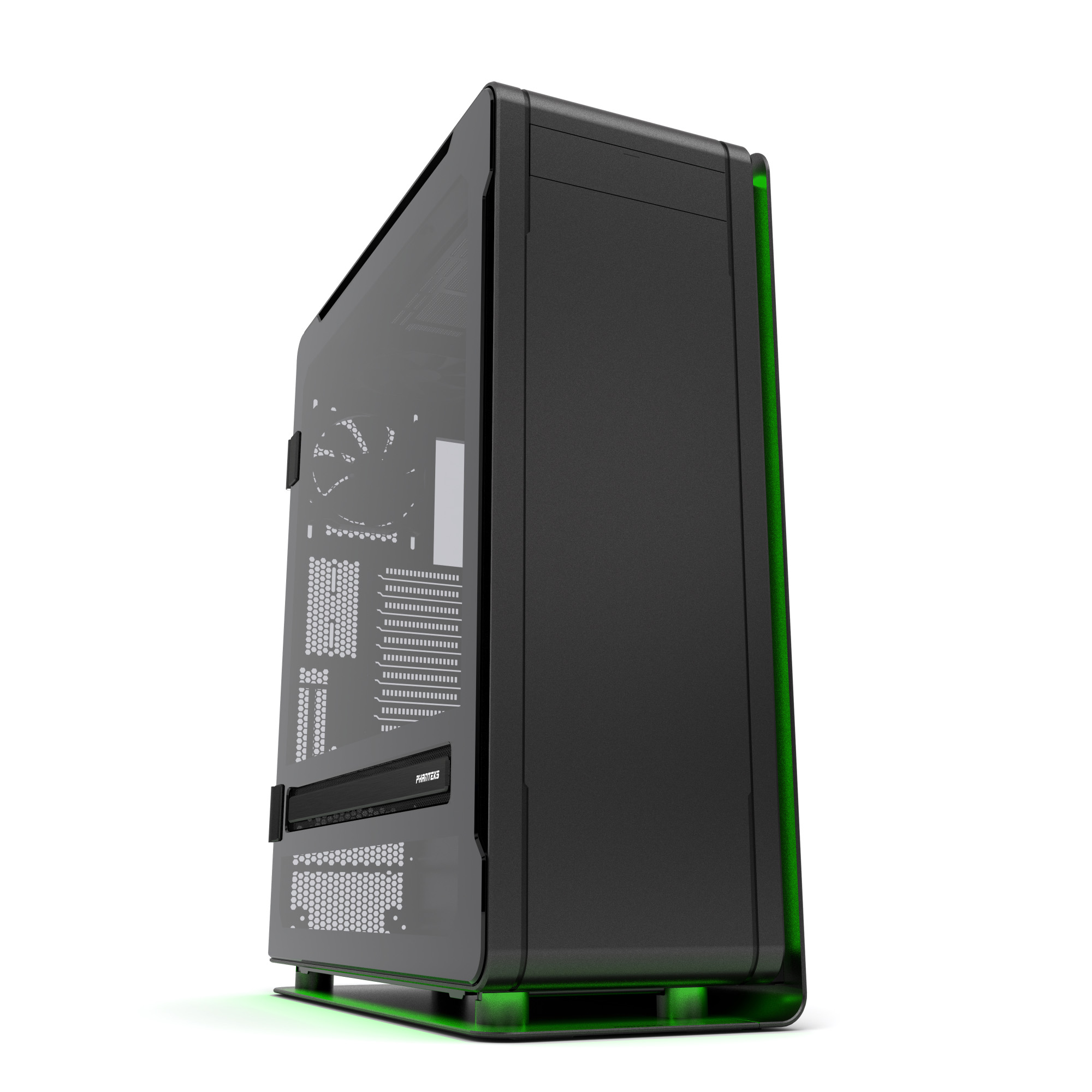 Case: Phanteks Enthoo Elite
The Enthoo Elite is undoubtedly the king of all fulltower cases. Coming in at a staggering $ 900 (around £660, AU$ 1100), this compartmentalized leviathan has the potential to support both an ITX and an XL-ATX system simultaneously. 
Combine that with its class-leading liquid-cooling support and exceptionally premium build materials, and there's simply no argument about why we chose this case.
The Elite comes in its own flight case to protect its massive 66lb bulk (when empty). It has two sets of accessory kits, and supports up to 20x 120mm fans, or 17x 140mm fans (with five included). 
Phanteks hasn't spared any expense with build materials, either, utilizing 4mm anodized sandblasted curved aluminum, a powder-coated steel chassis inside, and 4mm tempered glass with mesh ventilation baked in. The list of features is almost endless, and the Enthoo Elite even comes with a five-year warranty.
We give you an insight into the many troubles that we encountered when putting together this year's truly titanic Dream Machine.
This is not a build for the faint-hearted.
The dream realized
Dream Machine 2017 took a lot out of us. It was a mammoth task that took three months to plan, and over five days to build and shoot, driving everyone involved to the brink of insanity. 
Figuring out how the loops were going to operate, in which direction, and how the tubing runs were going to fit together was testing. Couple that with the modding of the panels to allow for the pass-throughs, the careful cable management to ensure the CPU power reached, making sure the fans fell into place, the blocks were installed correctly, and everything else was a success, and it was incredibly draining.
We're not afraid to admit when we make mistakes, and when it comes to the finer pursuits, such as liquid cooling and case modding—of which there was a lot this year—we still have much to learn.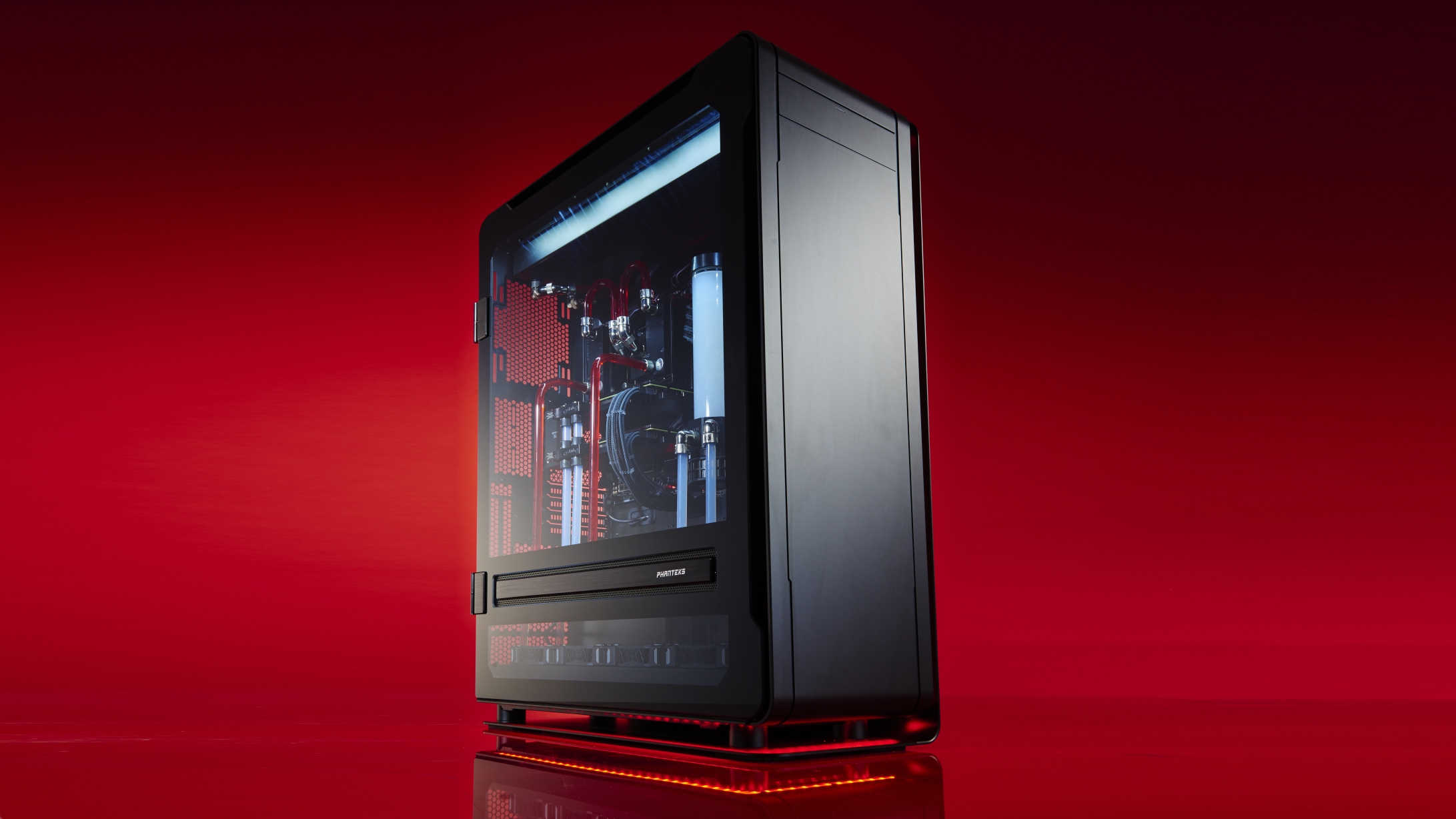 Tubing runs can always be cleaner and tidier, but it was the DIY aspect of the modding that really caught us off guard—mounting the reservoirs and the pass-throughs in particular. 
Using the correct drill bit to get through that aluminum is imperative, as is using the right technique. We certainly could have been more precise. Working with the steel panel behind the reservoirs also proved tricky.
If we did it again, we'd make sure that the pass-throughs below the GPU were better marked and separated, to make them more parallel, that the reservoir mounting in the back of the steel plate was cleaner, and that the tubing runs in the back of the chassis consisted of soft tubing, making it easier to route the tubing, tidy the cables, and be safer to transport.
That said, being flexible helped. There are 86 separate fittings in this build, in all sorts of combinations. The CPU block, for instance, uses two extension fittings at the base of the two G1/4-inch threads, followed by two 45-degree rotary fittings on each side, then a hard compression fitting on the end, to create an extended 90-degree fitting, with a bit more height to give some wiggle room with those top two tubing runs.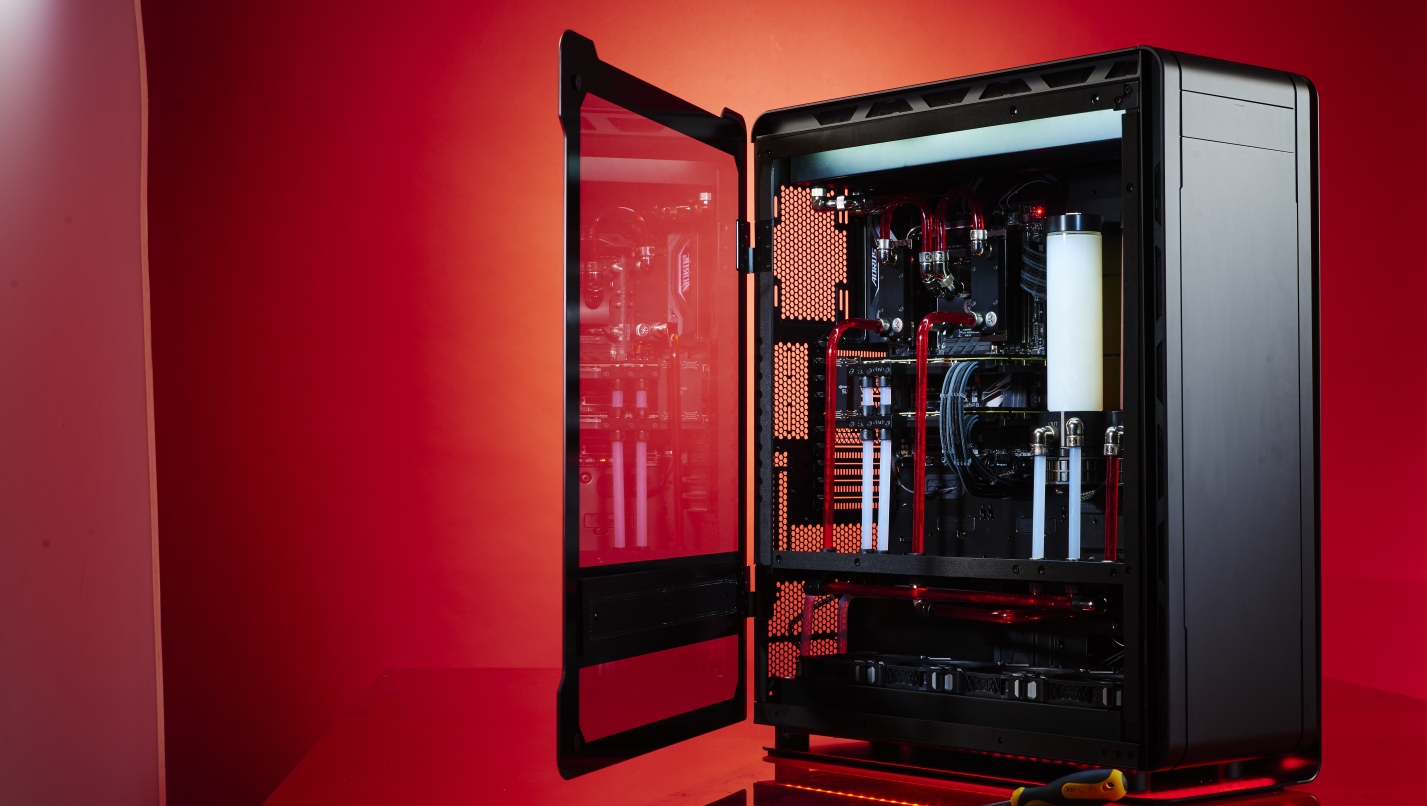 Additionally, we used a combination of 45-degree fittings with unused pass-through fittings to connect two lengths of tube at the back of the motherboard tray, to enable us to run the loop from the uppermost radiator to the CPU pump at the bottom of the chassis.
And, of course, finding some way of mounting the hard drives in the back of the chassis (potentially on the back of the reservoir tray) would have been far nicer than our solution, which was to mount them on the included Phanteks mounting trays, on the right, slightly above the bottom radiator at the front of the case. 
We removed them for the photo shoot, but it's certainly possible to run them like that, forsaking a touch of airflow over that bottom radiator.
Naturally, this isn't where our story ends. We'd tested the CPU, memory, hard drives, and GPUs outside the chassis, before we liquid-cooled them, but the one thing we hadn't done was test the motherboard. We just didn't have the time, as it arrived on the day of the build—so, after all the tinkering, building, and filling of the loops, on first boot we received a memory error, implying that we either needed to change the memory channels, or reseat them. 
Less than ideal, given what our setup entails. In short, using the two T-blocks at the top of the chassis, we attached a ball valve, drained off the CPU loop, removed the memory blocks, reseated the memory, and the problem was solved.
Such are the potential setbacks of hardline liquid cooling.
That said, all in all, it's a phenomenal build. On the next page you'll see our benchmark results that show just how powerful this machine is, and it's certainly a beauty to behold. 
Combine those looks with sub-50 C temperatures and minimal noise, and it's hard to argue with just how nice a system it is. The big question is, where do we go from here?
Summing up the concept of Dream Machine in a single sentence is difficult. It's a labor of love for those who work on it, often taking months to source the parts, plan the build, and finally construct the beast. 
But, in a lot of ways, it's impractical, implausible, and excessive in its ambition. We'd never, ever recommend you buy or build a system quite like it, because it's just not a feasible investment. 
That said, Dream Machine 2017 is a fantastic insight into what the very best of today's hardware can achieve.
Over the past few years, we've looked ever deeper into liquid cooling as an avenue of thermal venting for these monster machines, because it offers multiple benefits. Whether it's a reduction in noise, lower thermals, or higher overclocks, liquid cooling to this degree, for those who have the cash and the patience, is a no-brainer.
On top of that, in the office, we collectively feel that Dream Machine should be a challenge.
But performance is the kingpin that holds this concept together, and all the cooling in the world does little if you're running a Pentium processor and an Nvidia GT 720. 
Luckily for us, then, Dream Machine 2017 comes rammed with the best hardware around.
Unsurprisingly, it demolished everything we threw at it. Whether that was processor or GPU-bound benchmarks, it destroyed our zeropoint entirely—in some cases by nearly 500%.
It did lose out in a few areas, though. Our PCIe SSD M.2 RAID 0 array was excruciatingly lackluster, presumedly because we'd saturated the DMI between the chipset and the processor with those GPUs and three PCIe M.2 SSDs. 
And single-core performance is still lacking compared to its high IPC Skylake competition.
As far as cooling goes, Intel is still scrimping on the thermal interface material between the processor die and the heatspreader, unfortunately. With 1.25V, you can see temps spike up to 80-90 C (still lower than a 240mm AIO), but as soon as the load drops, it's almost instantaneously back to idle temps.
Overall, though, Dream Machine 2017 is one burly beast of destruction, filled to the brim with the best the world has to offer, and we're exceptionally proud of it.
Temperature benchmarks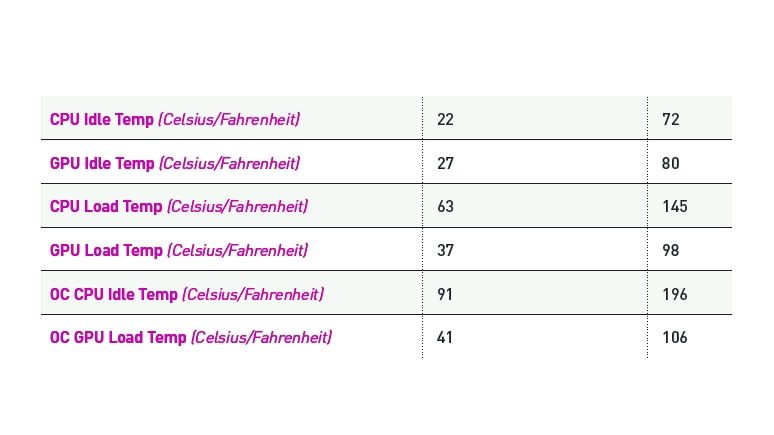 Overclock benchmarks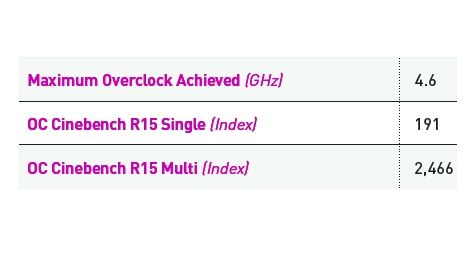 Benchmarks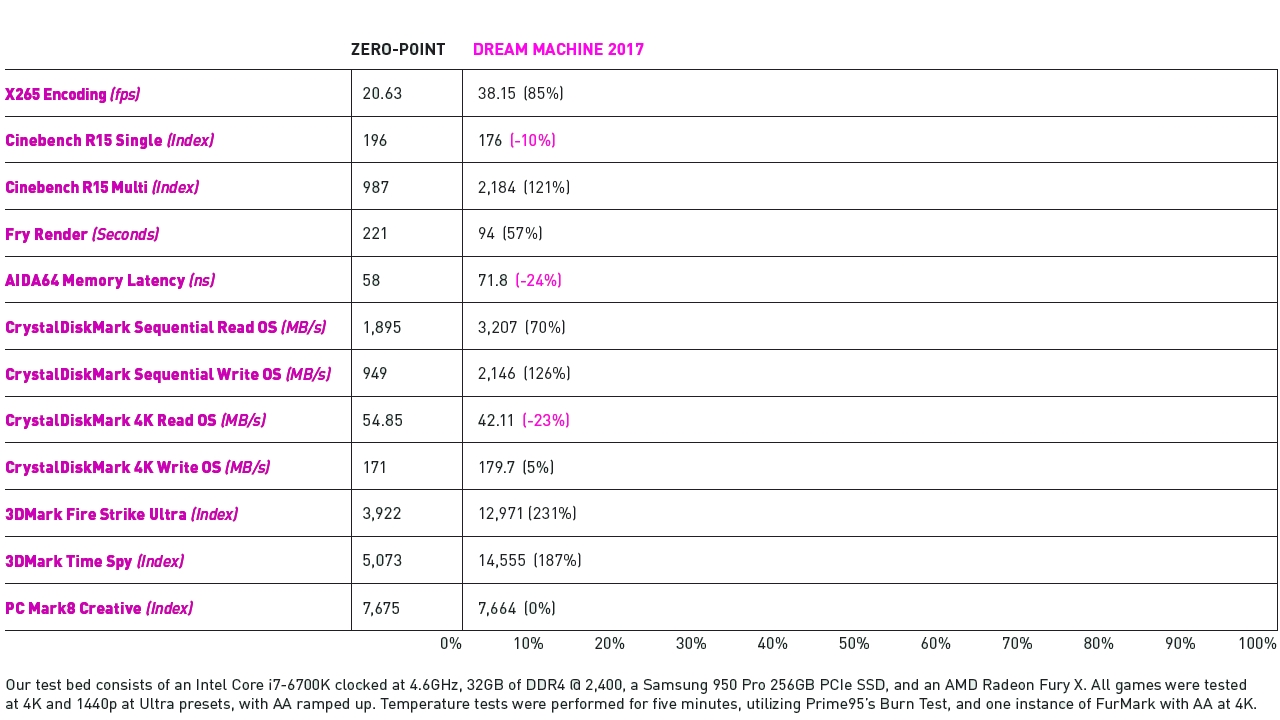 1440p gaming benchmarks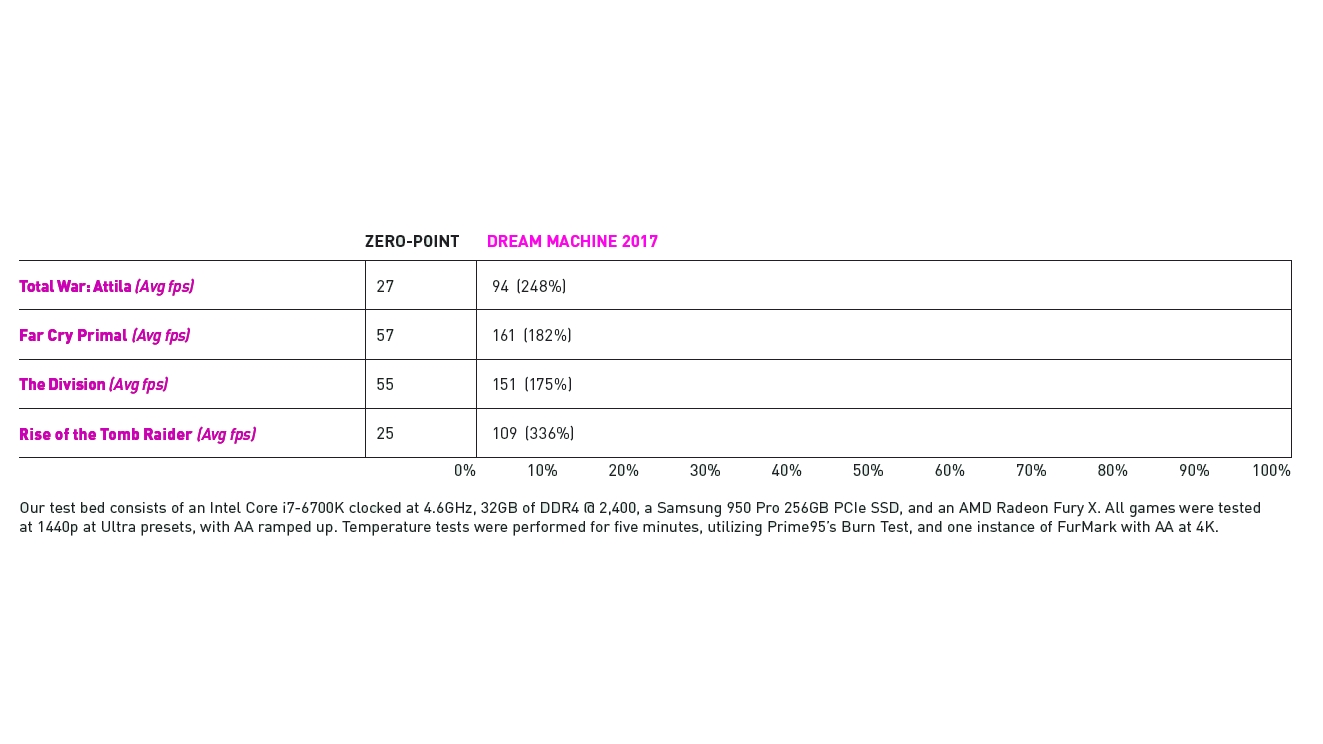 4K gaming benchmarks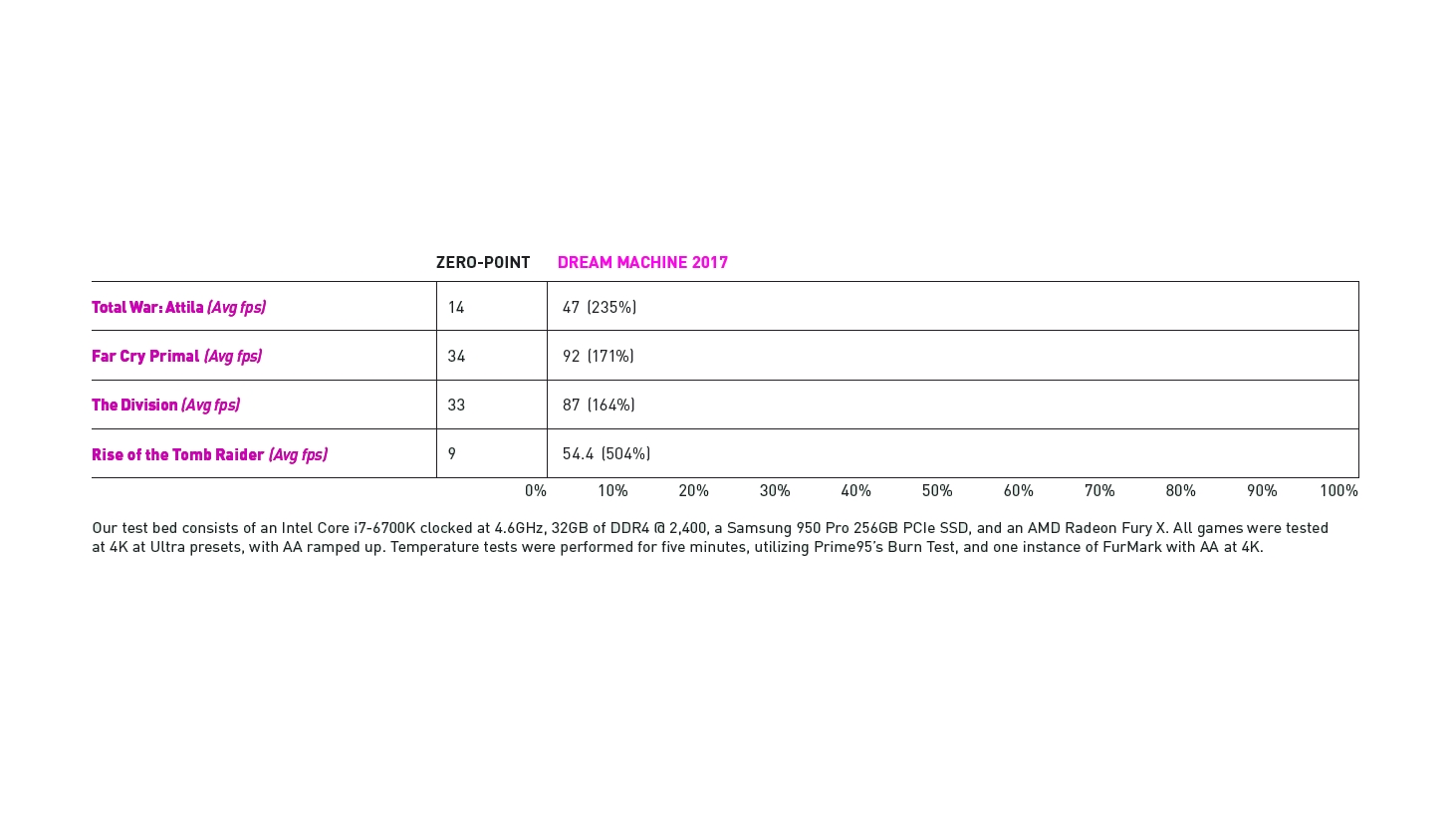 TechRadar: latest computing news
In 2002 the arrival of Mike Skinner's 'The Streets' legitimised music that had been produced at home on a laptop, and the inexorable rise of the 'bedroom producer' began.
Since then laptops have become more powerful, more portable and more capable of running the kind of high end software (Logic Pro, Ableton Live and Pro Tools to name a few) you would normally associate with a professional recording studio, and it's the norm for a band (at any level) to utilize a laptop in their live setup. 
Apple, with its Mac Garageband and Logic first-party music making software, has often been the go-to machines for those looking to record their own tunes. But, if you're a struggling songwriter waiting for your big break, buying into Apple hardware can be a pricey investment.
However, in the last few years the progress of technology has meant you can now get laptop performance in significantly smaller devices, namely tablets and 2-in-1 ultraportables, making producing music at home or on the road more convenient than ever, without needing to make the dive into Apple's MacBook line. 
With that in mind we have rounded up the best devices for music producers in search of their next production tool, when a Mac just isn't an option. Let's get started.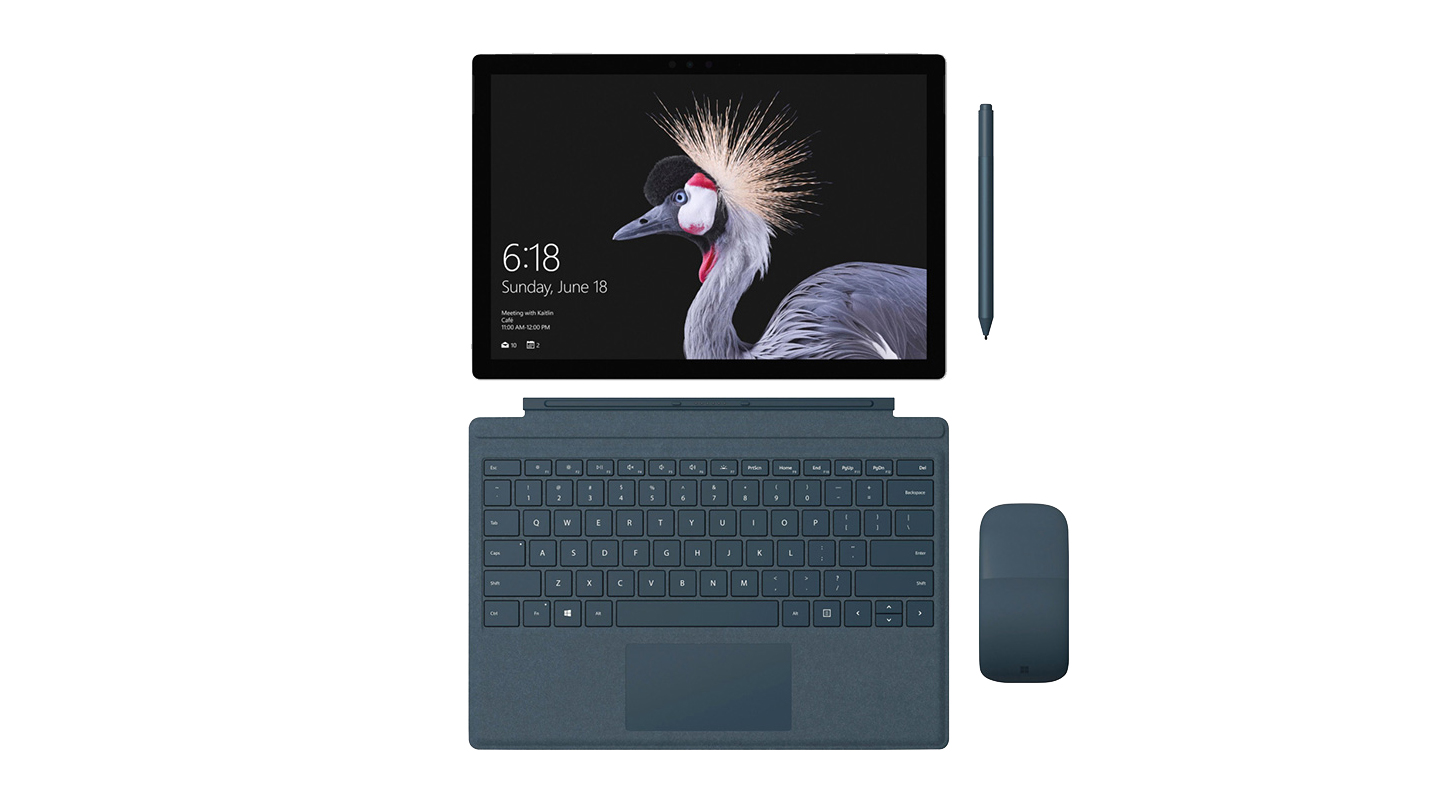 Now in its fourth generation, the Microsoft Surface Pro has been taking the fight to the MacBook since 2013, and the latest version is hugely compelling for music makers.
Build quality is excellent, and the magnesium uni-body casing feels robust enough to endure life on the road but is also pleasingly light at only 770g. 
The 12.3-inch screen is bright, crisp and clear. The panel is particularly luminous, so great in low light/club conditions, and the high pixel resolution means using a DAW (Digital Audio Workstation) such as Cubase isn't fiddly, especially when using the Surface Pen (sold separately £59.99/$ 94.95 AUD/$ 59.99 USD). 
Power comes from an Intel Core i5-6300U and 8GB of RAM and provides enough grunt to run most resource intensive music production software on the Windows Pro OS. Don't expect it to power Pink Floyd's next stage show though, with the battery life of around four hours disappointing.
Nevertheless, the excellent Type Cover £149.99 ($ 249.95 AUD/$ 159.99 USD) is a joy to use and the USB 3.0 port makes hooking up MIDI equipment easy.
Read the full review: Microsoft Surface Pro Review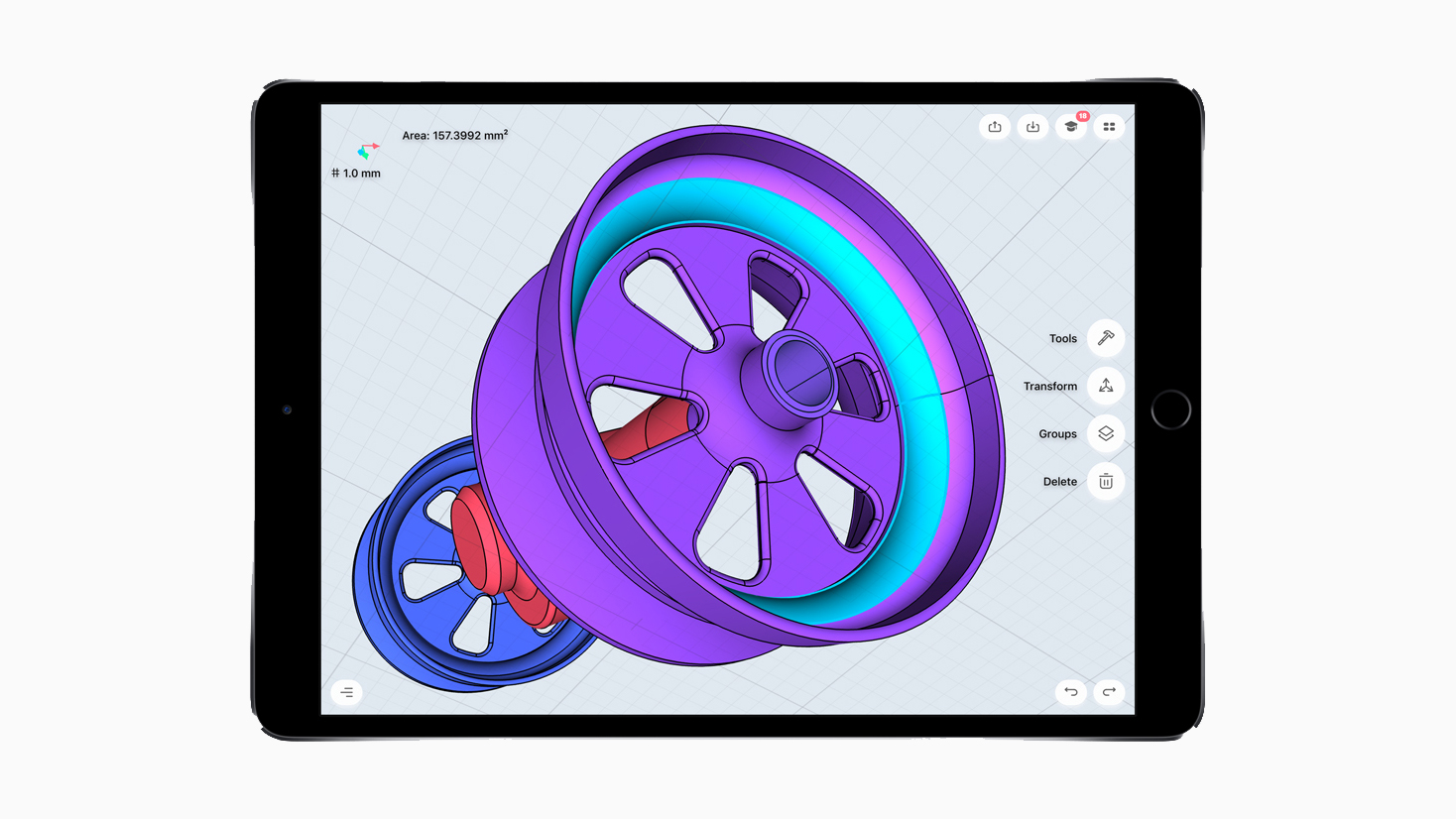 The iPad Pro 12.9-inch may be one of Apple's most misunderstood products (who wants/needs a giant iPad?), but it makes a stella platform for music creation – arguably even more intuitive than the company's MacBook offerings.
Importantly, the iPad Pro runs iOS 11, Apple's mobile operating system, so you can't run full DAWs as you might on the Surface Pro. What you can do is take advantage of the App Store's unparalleled wealth of music making apps (including Korg synthesizers and even FL Studio), and Apple's GarageBand (essentially Logic Pro light) remains the best entry level DAW around. It's a great introduction to digital music making. 
Build quality, weight (677 grams) and the phenomenal screen (2732 x 2048 pixels) are all impressive, but we're not such a fan of the Smart Keyboard's raised rubber keys.
However, we were impressed by the four-speaker audio system, and the lack of a USB port is somewhat compensated for by the fact that many DAW manufacturers let you use the iPad as a controller (connecting via Bluetooth).
Read our hands-on review: iPad Pro 12.9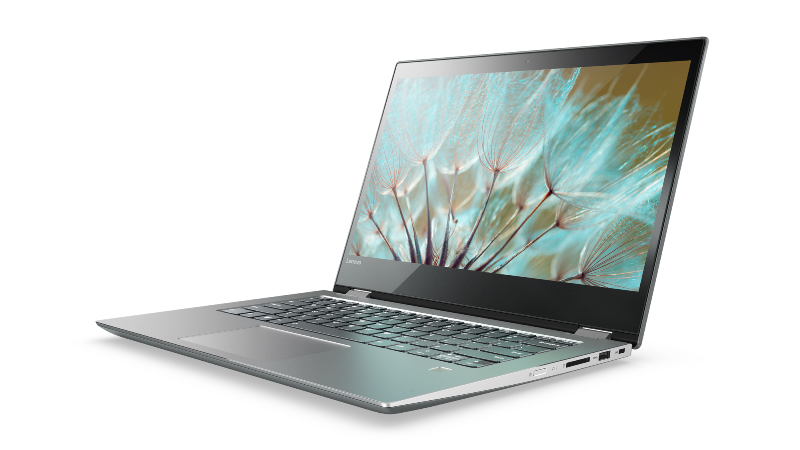 The 2-in-1 market endured a stuttering start, but persistence pays off and the Yoga 720 proves you can have the best of both tablet and laptop worlds.
The device offers a great deal to the music maker. The Intel Core i7 combines with 8GB of RAM to make it powerful enough to run complete DAWs, one USB and two USB-C ports make this ideal for connecting sound cards or MIDI equipment (you can always use a USB-C to USB 3.0 converter if you want more of the latter) and the battery life of nearly eight hours offers you the freedom to make music on the move without need for a power point. 
Build quality is very high and the sturdy hinge mechanism makes transitioning from laptop to tablet easy, the latter letting you use touch to manipulate instruments and effects to a greater degree than a mouse/keyboard combination ever could. 
Finally, the JBL speaker system offers a nice little extra in terms of audio performance. 
Read the full review: Lenovo Yoga 720 review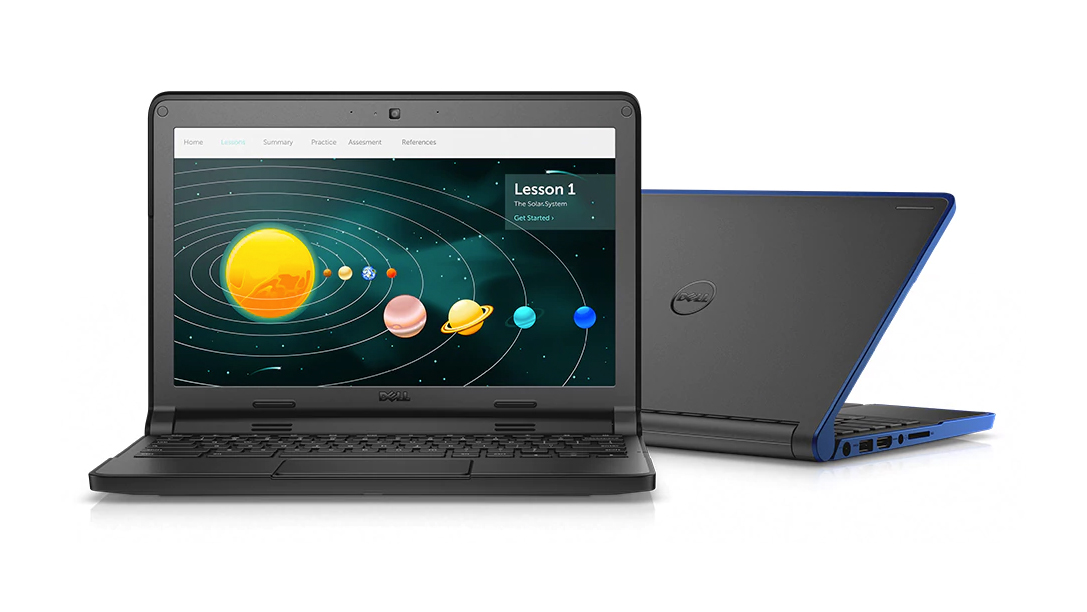 You wouldn't associate a Chromebook with music production: they lack the necessary meaty specs to process and render software instruments over multiple tracks. However a growing number of apps in the Chromebook Web Store and an online DAW called Soundtrap make the Dell Chromebook 11 considering – especially on a budget.
Originally designed for the classroom this is a rugged device that suits life on the road and the excellent battery life of nearly 10 hours provides some of the best portability in this group. The 180 degree hinge lets you achieve a comfortable viewing angle in any situation – perfect for making music in cramped conditions – and the stereo speakers are pleasingly loud.
The Chrome operating system is simplicity itself and will be broadly familiar to anyone who's ever used an Android phone, but it's important to remember the Chromebook needs an internet connection to access most of its features (although offline functionality is constantly improving).
Once online we suggest you head straight for Soundtrap. Here you can create sketches of songs over multiple tracks, and even share them with collaborators.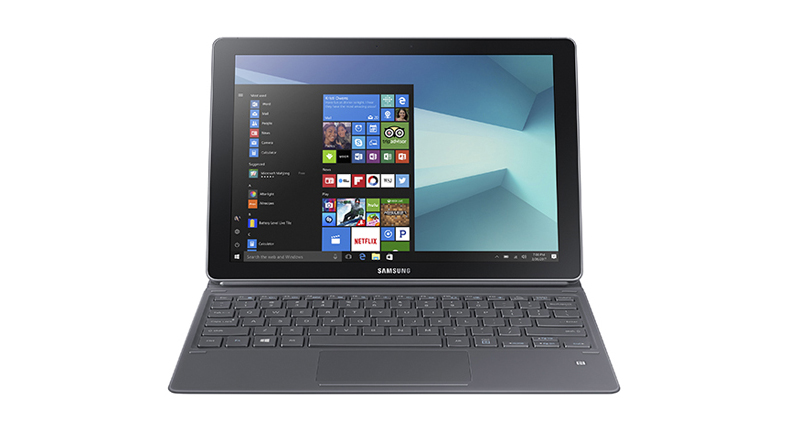 Bringing up the rear is Samsung's equivalent of the Surface Pro: the Galaxy Book. A large, 12-inch device that boasts an attachable keyboard (included in the price) and stylus, or S-Pen, that encourages you to make use of the device's touch capabilities. 
Build quality is good, if a little plasticy, but the screen is superb and produces razor sharp images that are extremely rich in color. When you're not making music, games and movies will look great.
A good amount of power is provided by a Core i5 processor and 8GB of RAM so you're music making applications should run without issue and, unlike the iPad Pro here, the Windows operating system means you aren't locked into one ecosystem, offering you flexibility in choosing what those applications are.
Pleasingly two USB ports provide plenty of space for attaching MIDI equipment such as a keyboard or microphone and the battery life of around four hours is about industry standard.
Read the full review: Samsung Galaxy Book review
TechRadar: latest computing news
If you're a DJ, or you're looking for the best laptop for music production, then you've come to the right place, as we've gathered together the top laptops for making music on.
For the best laptop for music production, you're looking for a machine that has plenty of processing power and RAM to handle multiple music tracks. A large (and fast) hard drive or SSD (solid state drive) is also essential, as you're going to be working with large file sizes. Excellent speakers, or at least connectivity to external speakers, is also important.
If you're a DJ and are looking for the best laptop for your needs, then you're going to need something that is reliable and robust, so it can withstand knocks and bumps as you travel from gig to gig. As you're going to be doing a lot of travelling, a laptop that is thin and light is also preferable. The best laptop for DJs will also have a large hard drive or SSD to store all of your track on. There's loads of choice out there, and while Apple products are the main choice for music makers, there's a lot of excellent Windows laptops available for DJs and music production as well.
To make your choice easy, our price comparison tools will show you where you can buy each one for the absolute cheapest price, so you won't have to trawl through the web comparing prices. If you want to see a more comprehensive list of prices and retailers, simply click the 'view all prices' link on each widget!
The best laptops for music production and DJs: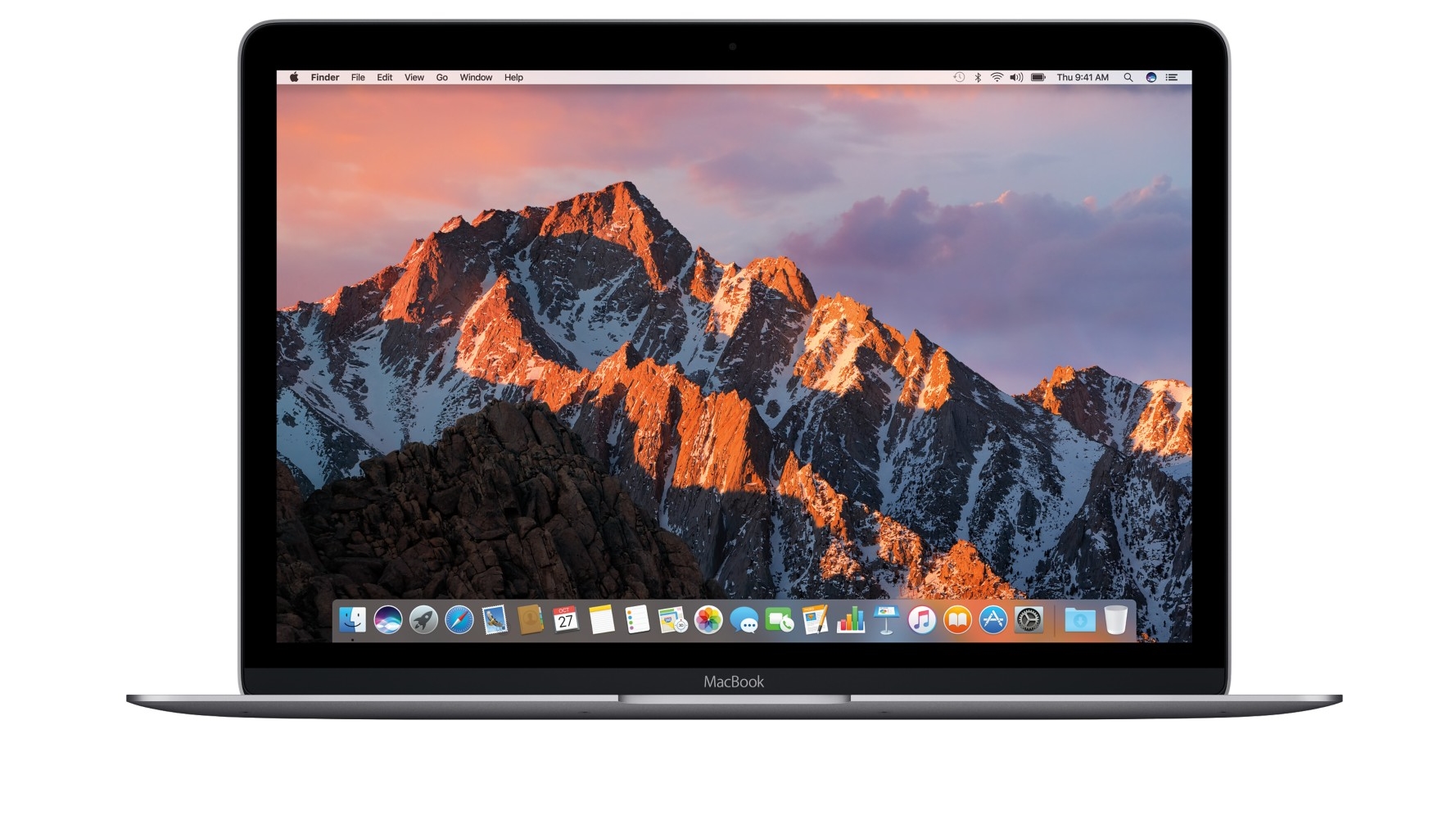 The new Apple Macbook is the slimmest, slickest and best-looking Macbook Apple has ever built and it's one of the most popular and best-selling laptops on the planet. This, along with the excellent music production software available for Macs, means it's the best laptop for DJs and Music production. It's a super slim and light Macbook that you can take anywhere without even noticing the weight, and gives you the same slick OS X performance.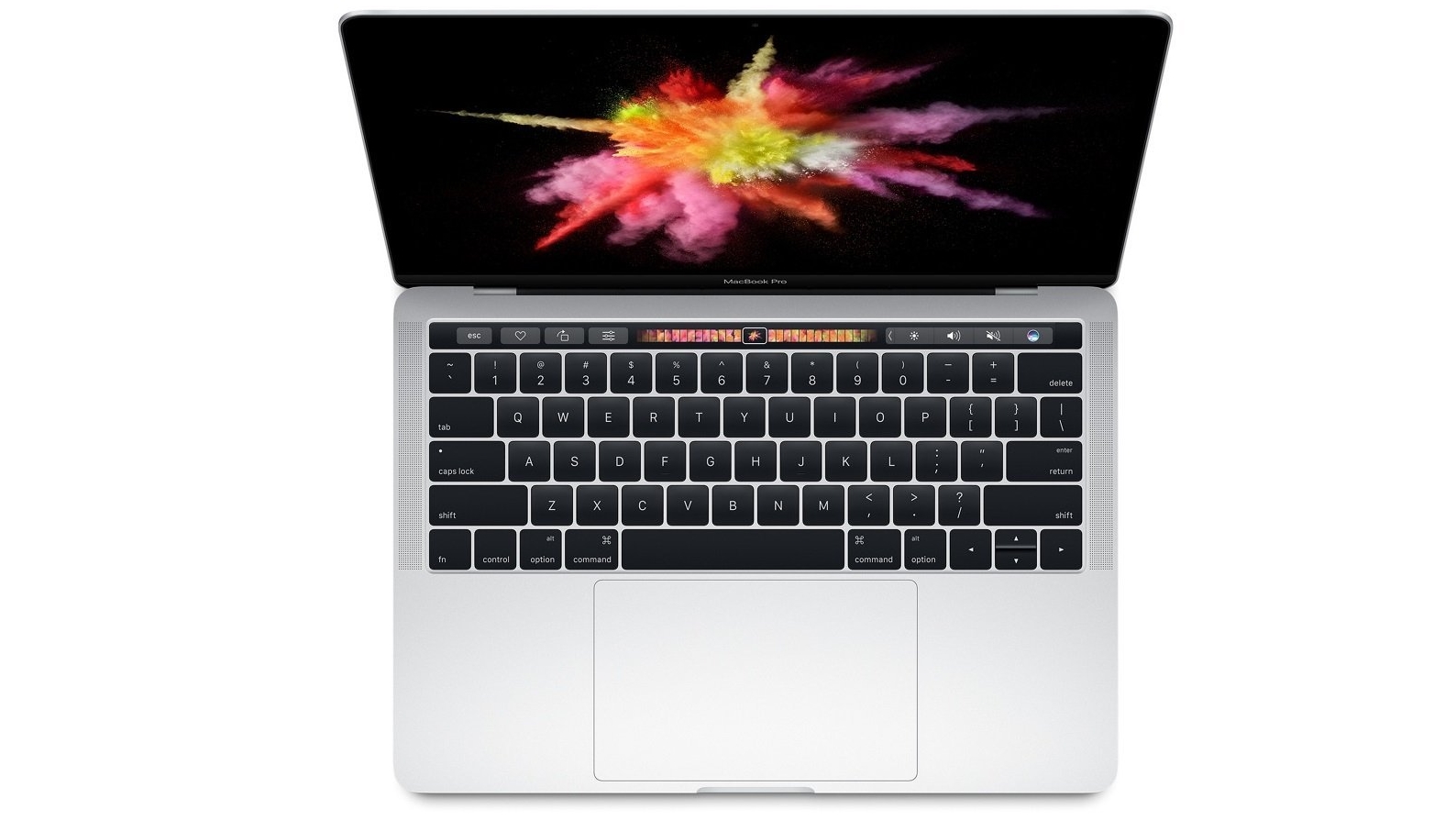 If you're after the latest and greatest laptop from Apple, welcome to the 13-inch Macbook Pro with touchbar. It's the best laptop Apple has ever made, and builds new features into the classic design. Of course the headline feature is the touchbar - it's a thin OLED display at the top of the keyboard which can be used for any number of things, whether that be auto-suggesting words as you type or offering Touch ID so you can log in with just your fingerprint. The Macbook Pro also offers more power than the Macbook, which means if you're a music producer, this is the best laptop for you, as it can handle complex arrangements with multiple audio tracks with ease. There's cheaper alternatives on this best laptop for DJs and music production list, but if speed and quality are the most important considerations, then this is the laptop for you.
Read the full review: Apple Macbook with touchbar (2017)
See more like this: The best Macs and Macbooks 2017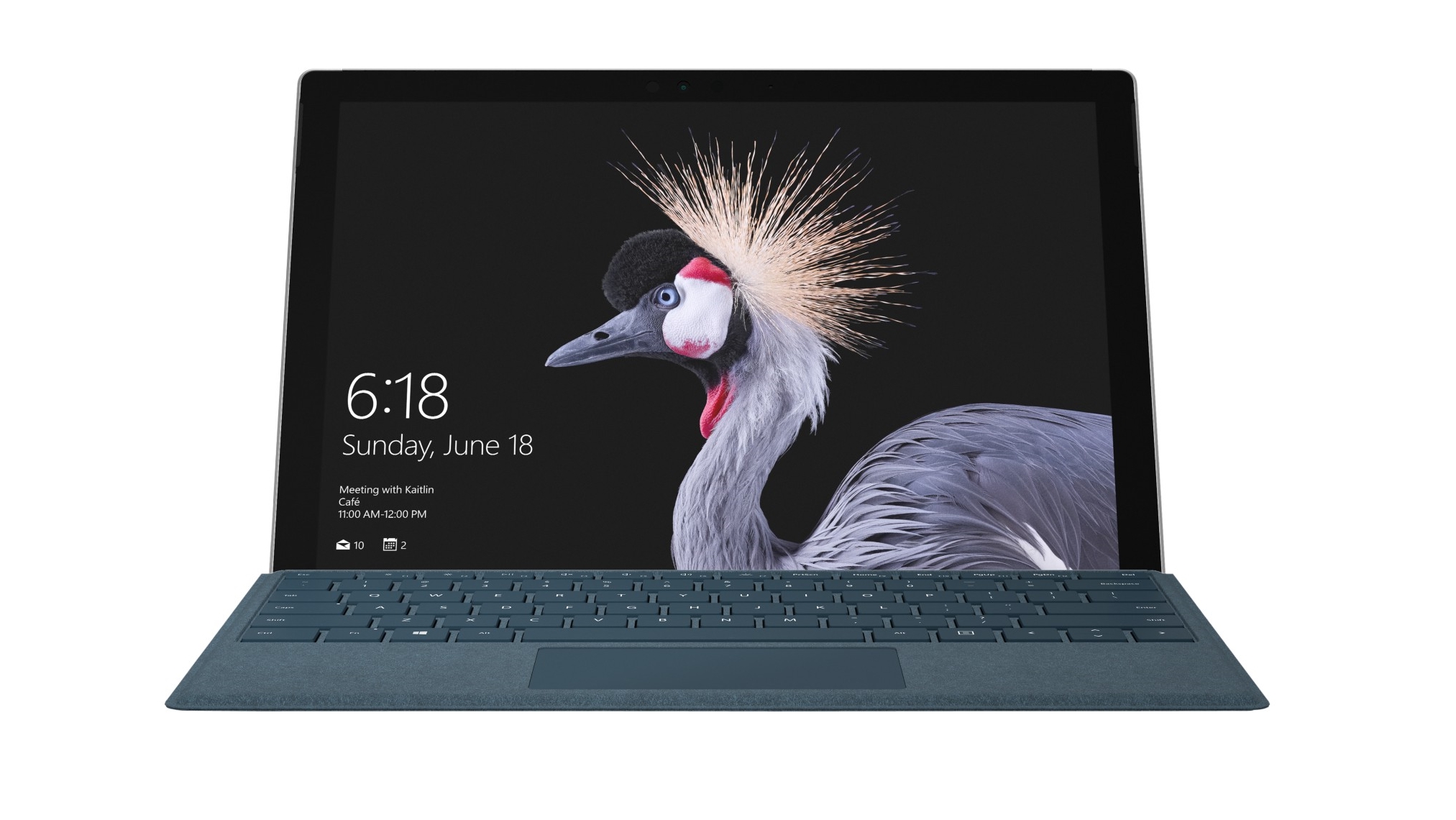 The Microsoft Surface Pro 4 is 2017's best laptop for you if you're looking for the perfect cross between a nimble Windows tablet and a fully functional laptop. The base version of the Surface Pro 4 is just a tablet - you get the main unit itself with kickstand but if you want the Surface Pen or the fantastic Type Cover keyboard you'll need to pay extra for a bundle or buy it separately. Again, this is a great laptop for writers who can use a stylus to jot down their notes to later turn into editable text. As the Surface Pro 4 is a tablet 2-in-1 that runs the full version of Windows 10, it means it is an extremely portable device that can run any music mixing and editing programs that are available for Windows.
Read the full review: Microsoft Surface Pro 4
See more like this: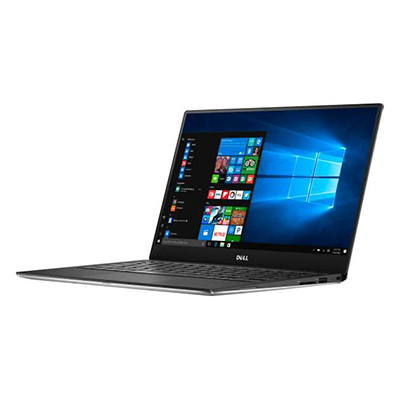 Slim, light, powerful and majestic - Dell's 2017 flagship XPS 13 is one of the best laptops for DJs and music production in the world. If you're after a brilliant all-rounder with powerful performance, a superb screen and extremely slim dimensions, then this is definitely worth considering. This laptop squeezes a 13.3-inch 'Infinity Edge' screen into an 11-inch frame- that means it's the smallest/slimmest 13-inch laptop out there, with the screen stretching almost all the way to the edge of the device. Couple that with Intel's latest Kaby Lake Core i7 and Core i5 processors, plus the availability of a multi-use USB-C port, standard USB 3.0 and SD slots, and what you end up with is the worlds' most popular Windows laptop. You can buy this one in many flavours too - the most expensive versions have super high-res multi-touch screens plus Core i7 processors and loads of memory and storage, but you can save money in several steps which include opting for a non-touch full HD screen, Core i5 processor and less memory/storage etc. But rest assured, whichever version of the Dell XPS 13 you go for, it'll be best in class and well worth the money.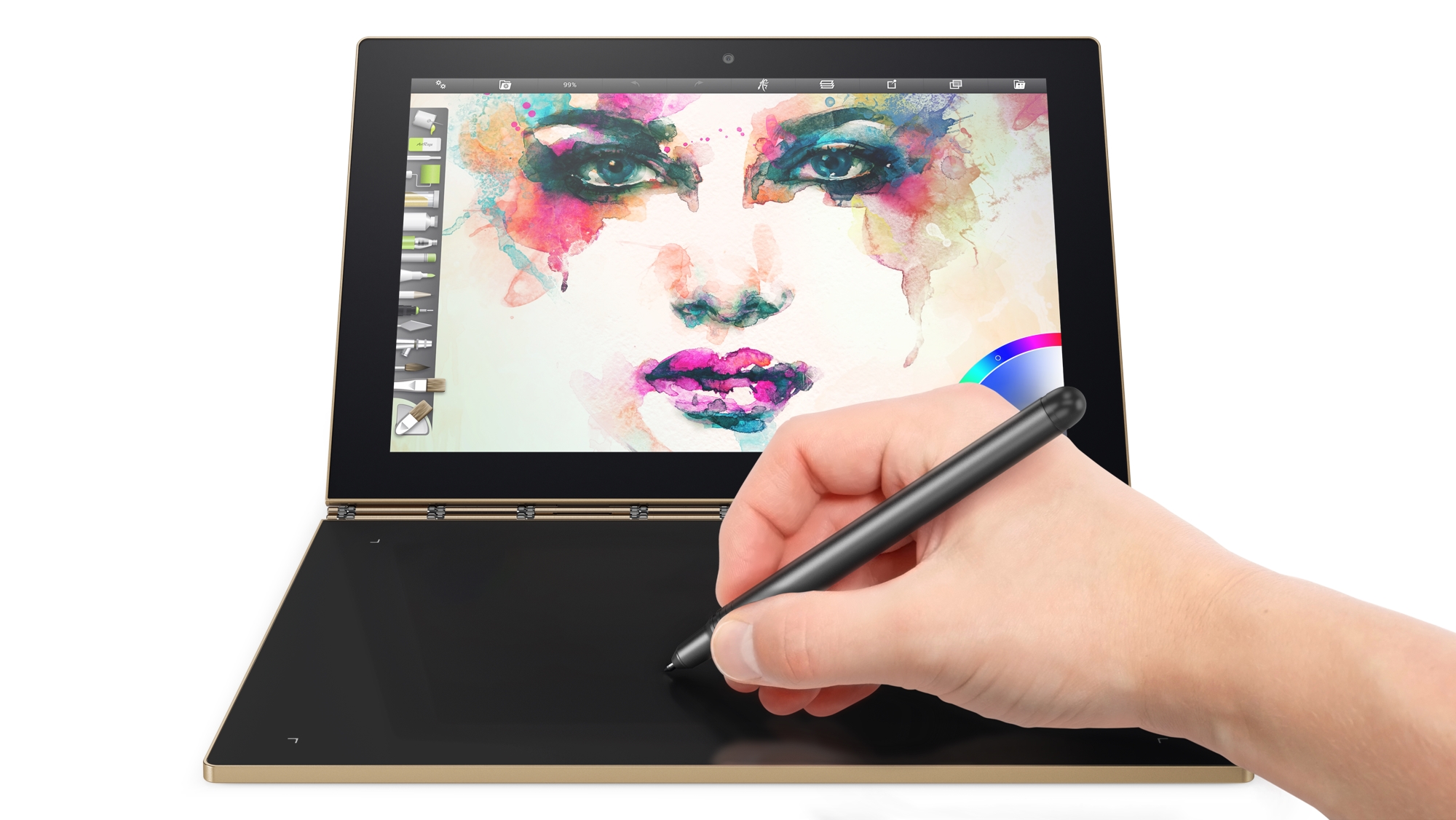 If you're after a cheap laptop for writing that offers something a bit special, look no further than the Lenovo Yoga Book 2017. As with all Yoga devices, the screen folds flat so you can use it either as a tablet or a laptop. To add more versatility, Lenovo has now added the option to buy it with either Windows 10 or Android 6.0 onboard - which one you choose will depend how you're more likely to use the device. The screen on this thing defies the cheap asking price and the keyboard and capacitive touch-keyboard are both fantastic too. While this is a bit under-powered for music production, if you're a DJ looking for the best portable laptop for playing and mixing your music, this is an excellent choice.
Read the full review: Lenovo Yoga Book
See more like this: The best 2-in-1 laptops 2017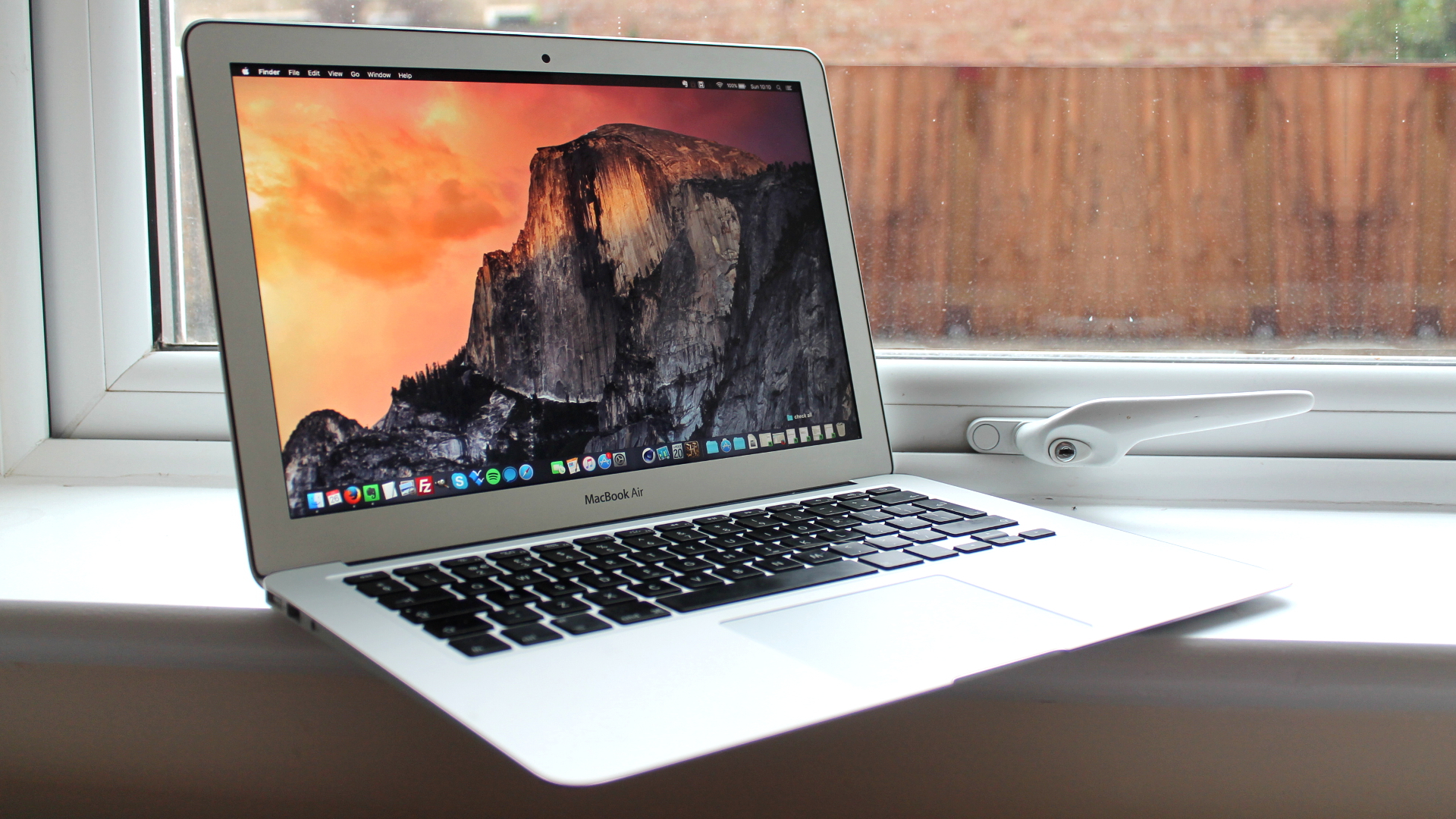 The Macbook Air is in an interesting spot. While it's still one of the most popular and well-known notebooks around, the iPad Pro and 12-inch MacBook have stolen much of its thunder. That is, unless you need the legacy USB 3, Thunderbolt 2 and SDXC card connectivity. Even without a Retina display or Force Touch trackpad, the 13-inch MacBook Air is a very capable machine, even if the 4GB of RAM and 128GB of storage leave a lot to be desired. Plus it still has the beloved MagSafe 2 charger onboard as well as an impeccable battery life. So, if you don't mind having a slightly older machine, the Macbook Air is an excellent - and now more affordable - choice for DJs and music production.
Read the full review: 13-inch MacBook Air (2015)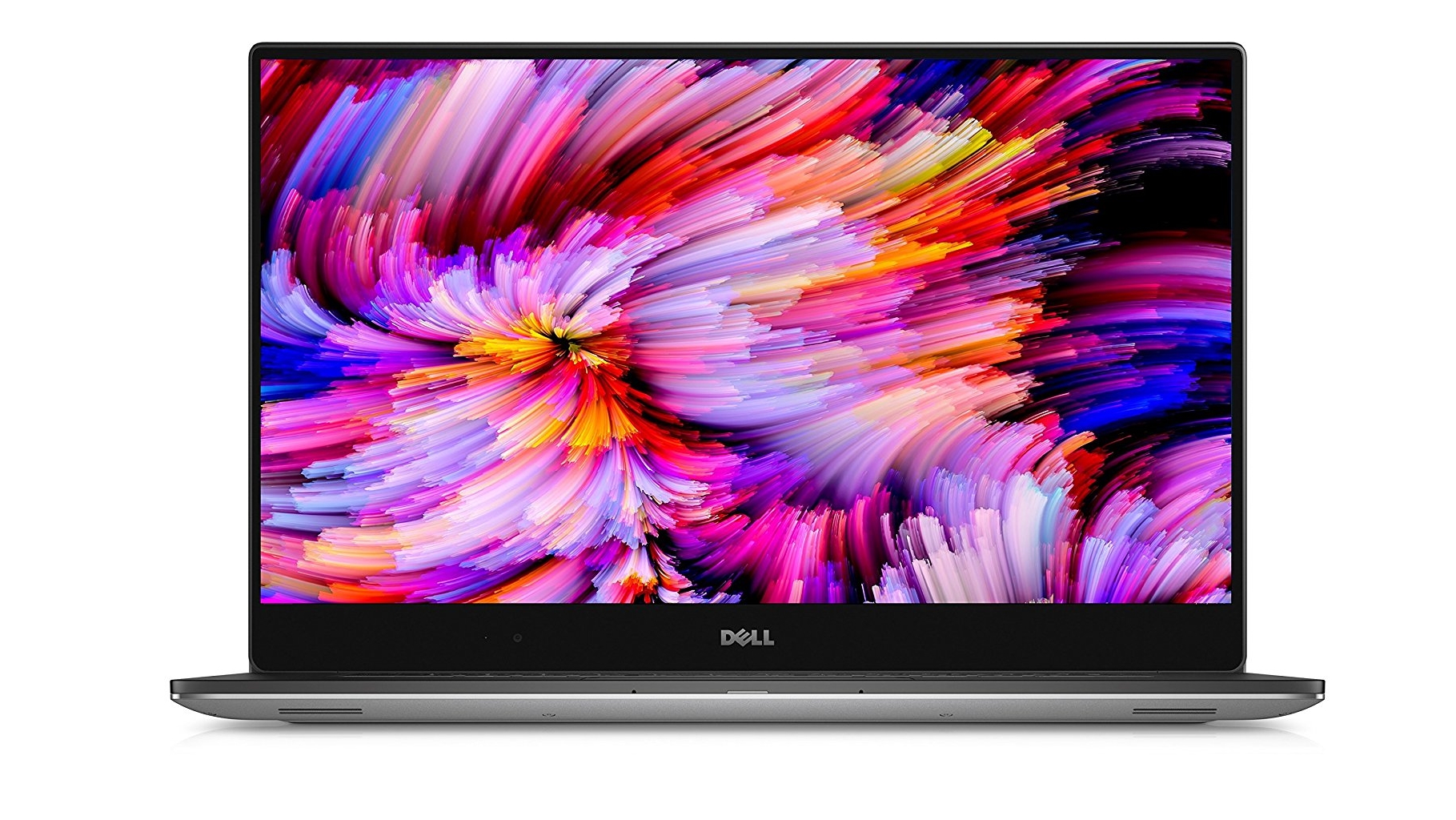 If you're looking for a larger and more powerful laptop for running music production software on, then the Dell XPS 15 could be for you. Packing the same InfinityEdge technology as the smaller XPS 13, the screen extends right to the edge of the machine which means it's as small as it's possible to make a 15-inch laptop in 2017. It's quite pricey though, depending on which version you get. The very top end version has a 4K color-accurate display, which can give you an excellent overview of all the tracks you're working on.
Read the full review: Dell XPS 15
TechRadar: latest computing news
If you're a writer, or you're in a job where writing is a big part of your day-to-day life, and are looking for the best laptop to suit your needs, then you've come to the right place.
We've gathered together the very best laptops for writers, taking into consideration the specific needs that writers and journalists need when looking for a laptop. That includes a comfortable keyboard that can be used for hours on end, a clear, easy to read, screen, long battery life and a slim and compact design that allows you to take your laptop with you where ever you go.
Because you'll be mainly using your laptop for word processing and research, it means you don't need the most cutting edge components. This can help keep the price of your laptop down. Also, even if you're not a full time writer, author or journalist, it doesn't means you're not writing a lot for your job. Emails, reports and presentations all require a laptop that is comfortable to write on.
What's more, our funky price comparison tools will show you where you can buy each one for the absolute cheapest price, so you won't have to trawl through the web comparing prices. If you want to see a more comprehensive list of prices and retailers, simply click the 'view all prices' link on each widget!
The best laptops for writers: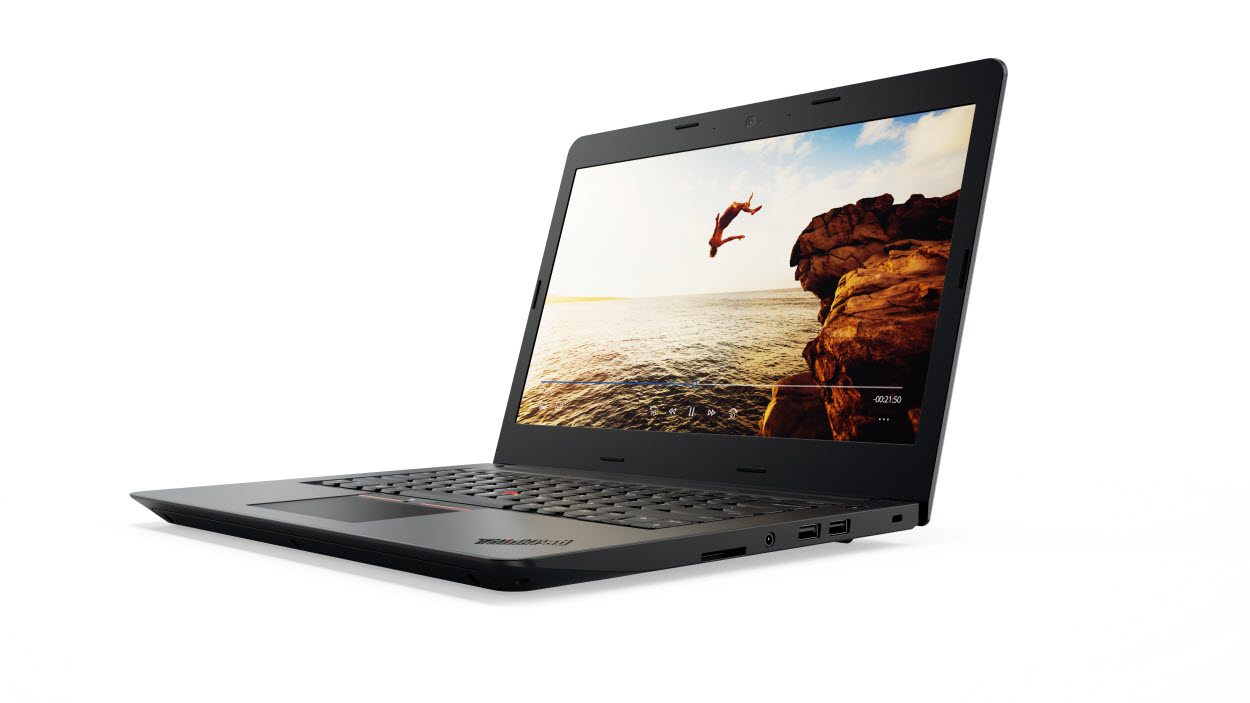 Lenovo took an existing form factor and refined it to deliver the new 2016-2017 ThinkPad E470. Powered by the 7th generation Intel Core processors, this particular SKU has a 14-inch FHD anti-glare display, powered by a discrete Nvidia Geforce 940MX 2GB GPU. While a discrete graphics card may be a bit overkill for writers, it means you've got a fast performing machine that can also handle the odd game when you need a break.
Equipped with a spill resistant keyboard, a TrackPoint and a 3+2 buttons click pad, the E470 has more than enough ports and expansion capabilities to keep the average user happy. Shame that it doesn't do DisplayPort, so no 4K output.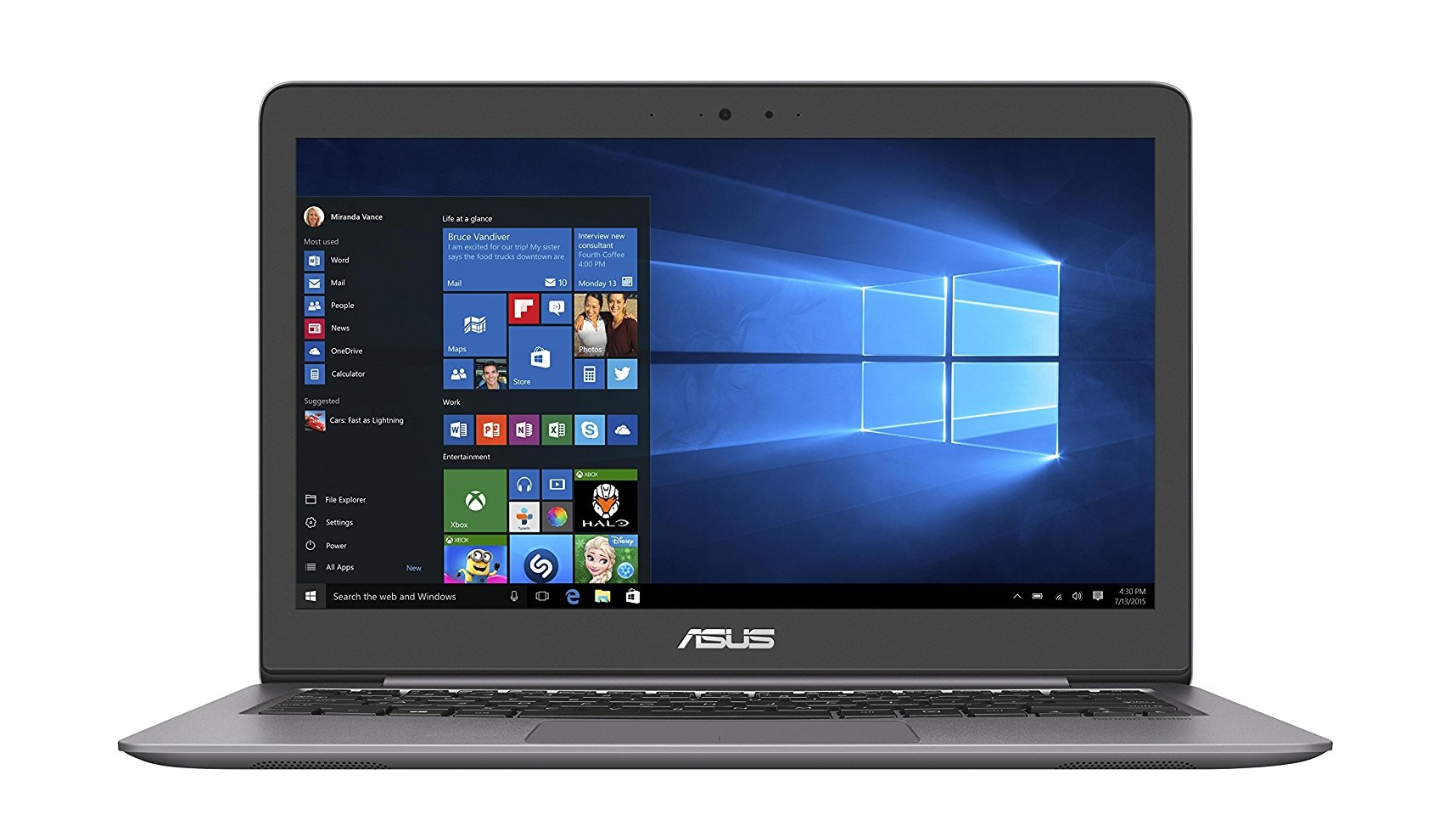 If you're looking for a sleek machine that's powerful and easy to carry around, then you'll love the Asus Zenbook UX310UA. As an 'ultrabook', this is a device that combines style with top-of-the-range components. For writers looking for a laptop, this means you get a brilliantly-performing machine that you won't need to upgrade for years, and thanks to its slim design it's easy to take with you if you do a lot of writing while travelling. The keyboard is a decent size which makes writing on it a pleasure.  Like most laptops of this kind, it comes in various specifications so the cheaper versions have Intel Core i3 CPUs and full HD screens while the most expensive options come with a super high res display and Intel Core i5. Whichever one you go for, though, you're getting a fantastic laptop. 
Read the full review: Asus Zenbook UX310UA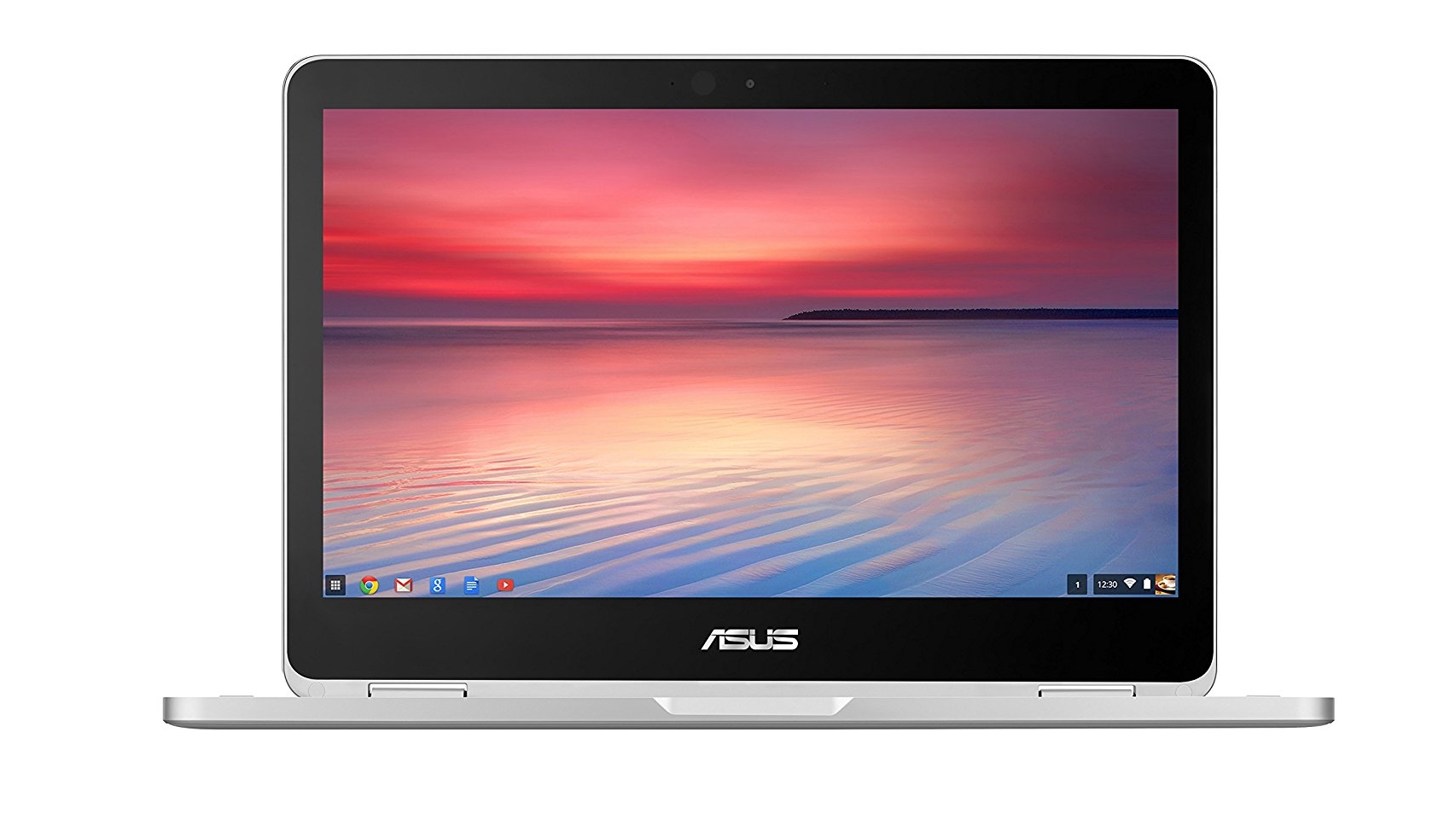 A Chromebook doesn't run Windows, Android or Apple's Mac OS. Instead it's powered by Google's Chrome OS - a super lightweight operating system based on the Chrome web browser. It's a great way to save money on a laptop, and if you're buying a laptop to use primarily for writing, it's a great choice, as Google Docs can be used as a word processor, and you of course also have the Chrome browser for research. The Chromebook Flip is the best Chromebook out there at the moment, offering truly premium build quality, a fabulous touchscreen and keyboard and excellent performance. All while offering great value for money too. 
Read the full review: Asus Chromebook Flip C302
See more like this: The best Chromebooks 2017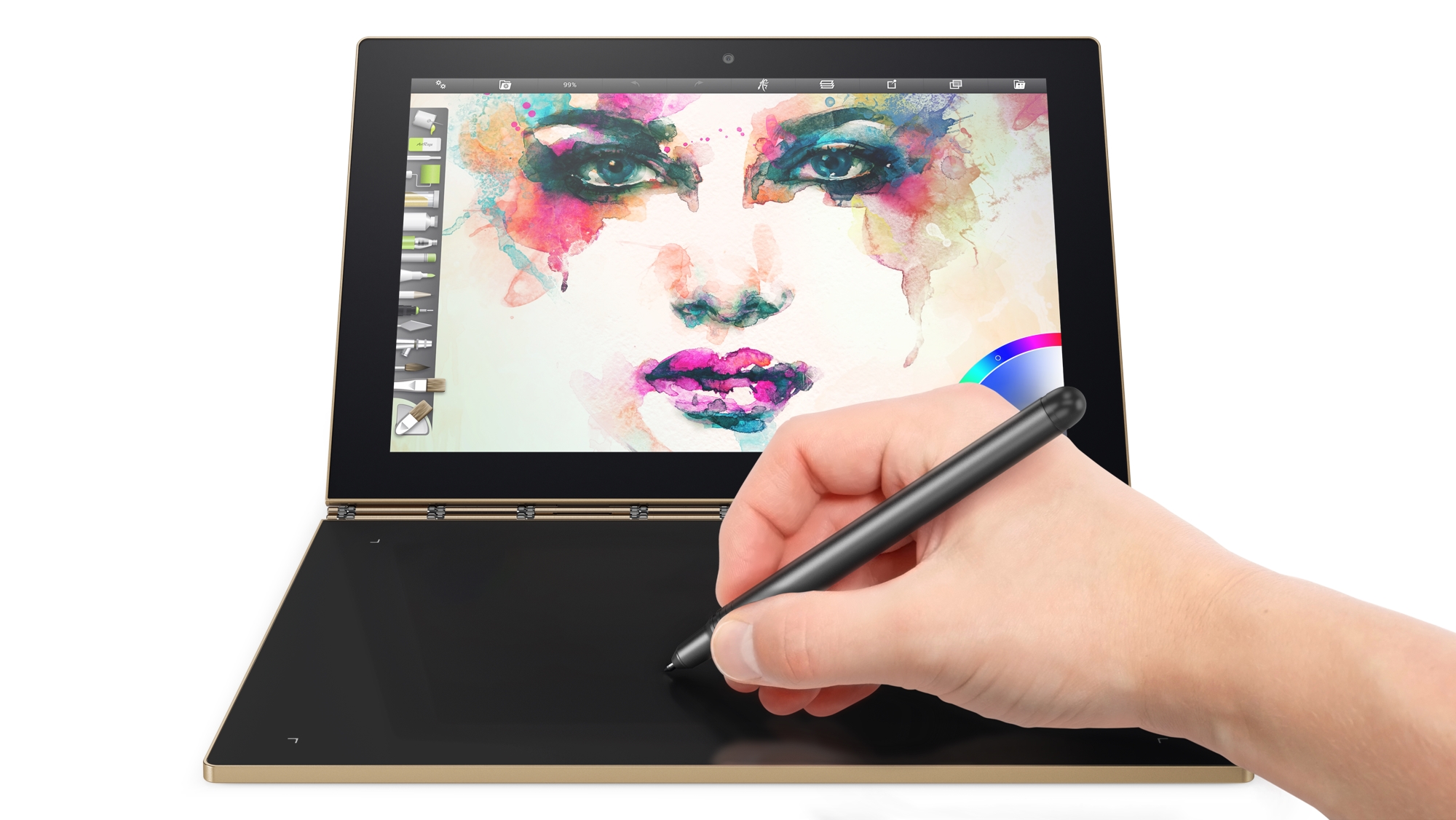 If you're after a cheap laptop for writing that offers something a bit special, look no further than the Lenovo Yoga Book 2017. As with all Yoga devices, the screen folds flat so you can use it either as a tablet or a laptop. To add more versatility, Lenovo has now added the option to buy it with either Windows 10 or Android 6.0 onboard - which one you choose will depend how you're more likely to use the device. The screen on this thing defies the cheap asking price and the keyboard and capacitive touch-keyboard are both fantastic too. The built-in Wacom digitizer stylus allows you to hand-write notes on the touchscreen, and then save them to the web - or convert it into text - which makes it the perfect device for quickly writing down notes when inspiration strikes.
Read the full review: Lenovo Yoga Book
See more like this: The best 2-in-1 laptops 2017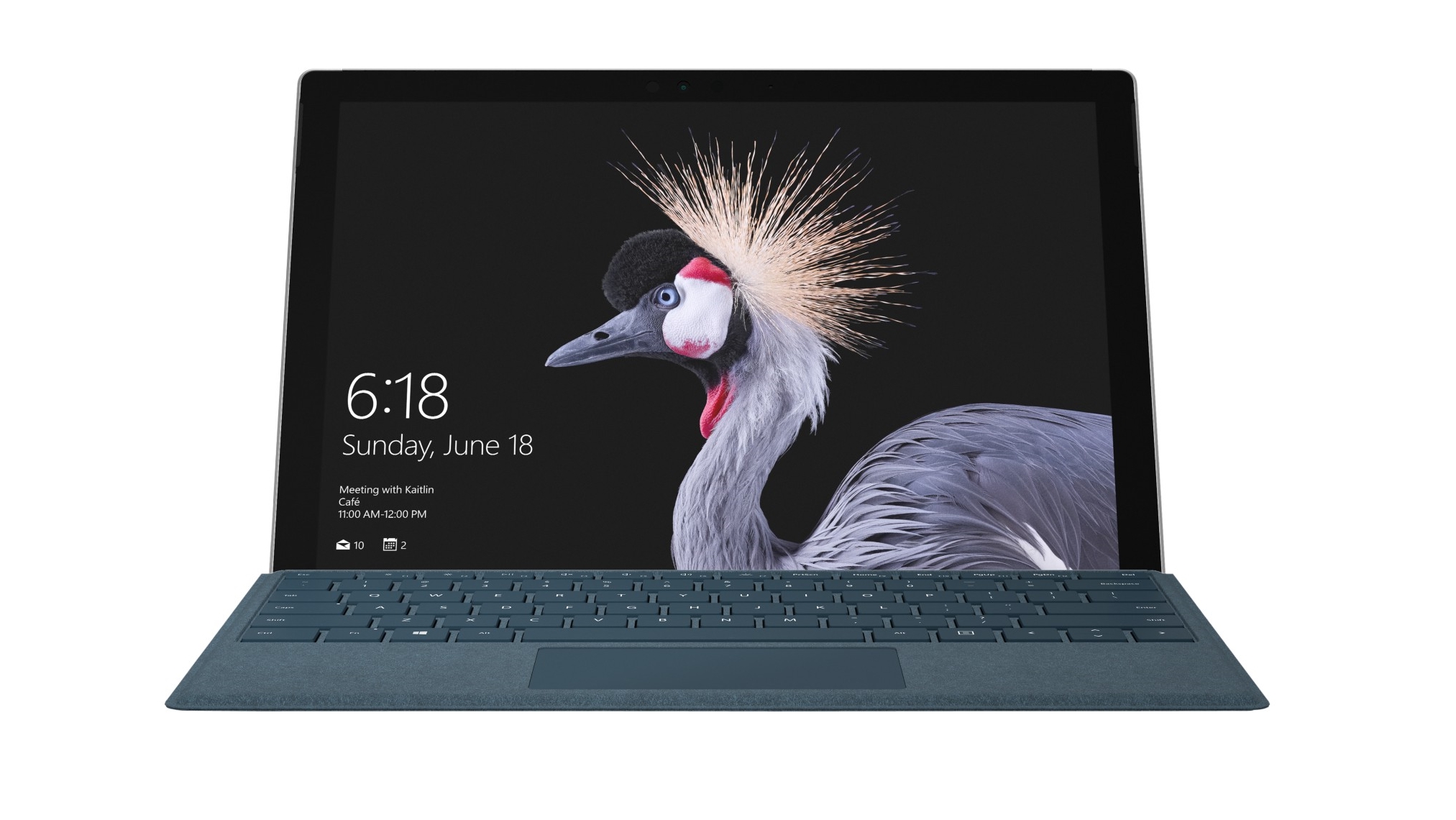 The Microsoft Surface Pro 4 is 2017's best laptop for you if you're looking for the perfect cross between a nimble Windows tablet and a fully functional laptop. The base version of the Surface Pro 4 is just a tablet - you get the main unit itself with kickstand but if you want the Surface Pen or the fantastic Type Cover keyboard you'll need to pay extra for a bundle or buy it separately. Again, this is a great laptop for writers who can use a stylus to jot down their notes to later turn into editable text. If you are buying the Surface Pro 4 as a device to use as a writer, then we strongly recommend buying the Type Cover keyboard, which adds a comfortable to use keyboard that also doubles as a protective cover for the screen.
Read the full review: Microsoft Surface Pro 4
See more like this: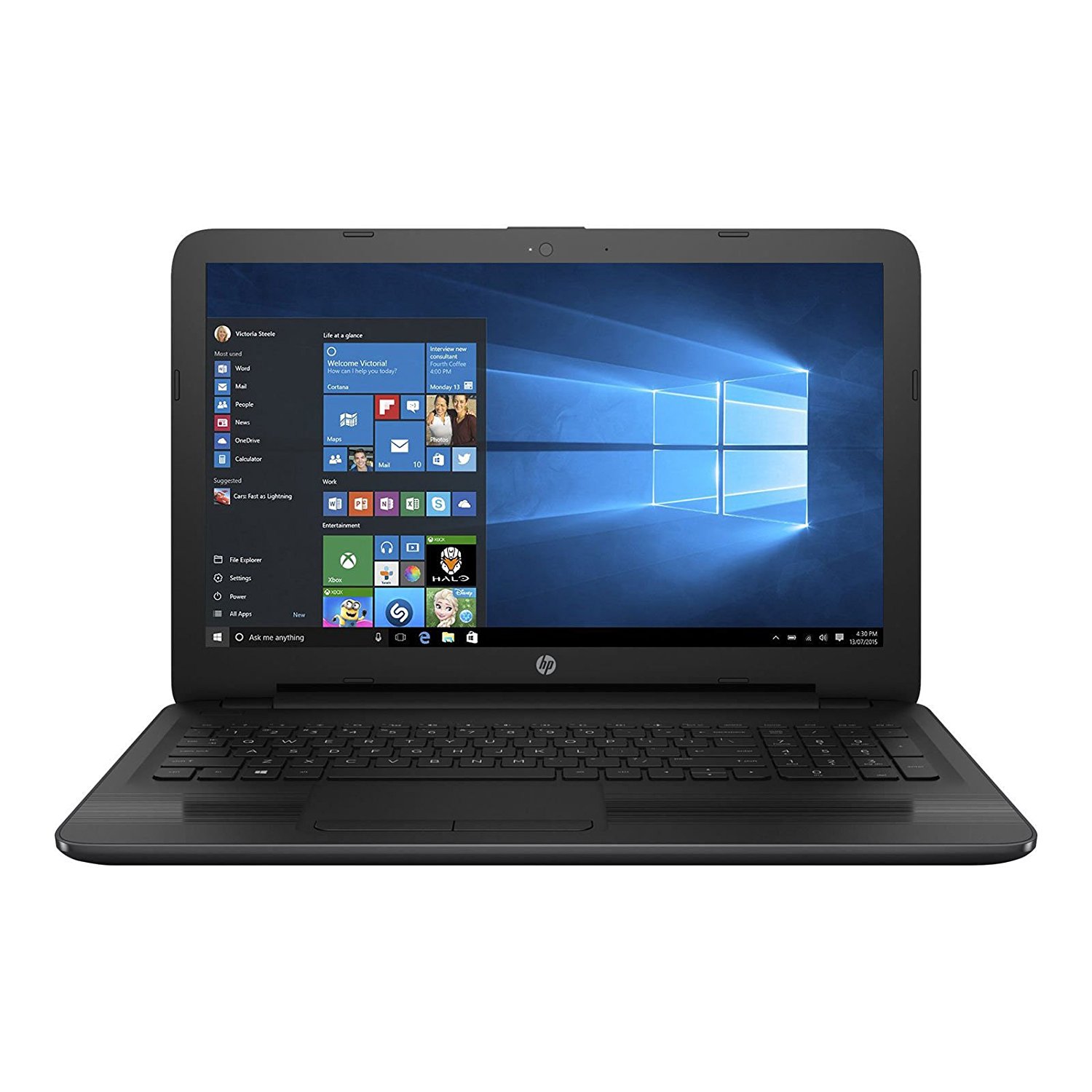 The 255 G5 is HP's entry-level business laptop and is a solid candidate should you be looking for a straightforward, reliable, workhorse at a bargain price. It's a great laptop for writers, as it has solid (if unspectacular) specifications, while keeping the price at a reasonable level. If you want a similar laptop with an Intel processor, rather than AMD, then the HP 250 G5 is worth looking into. There are various configurations of both the HP 255 G5 and the HP 250 G5, so it's worth shopping around and finding one with the right components for your needs.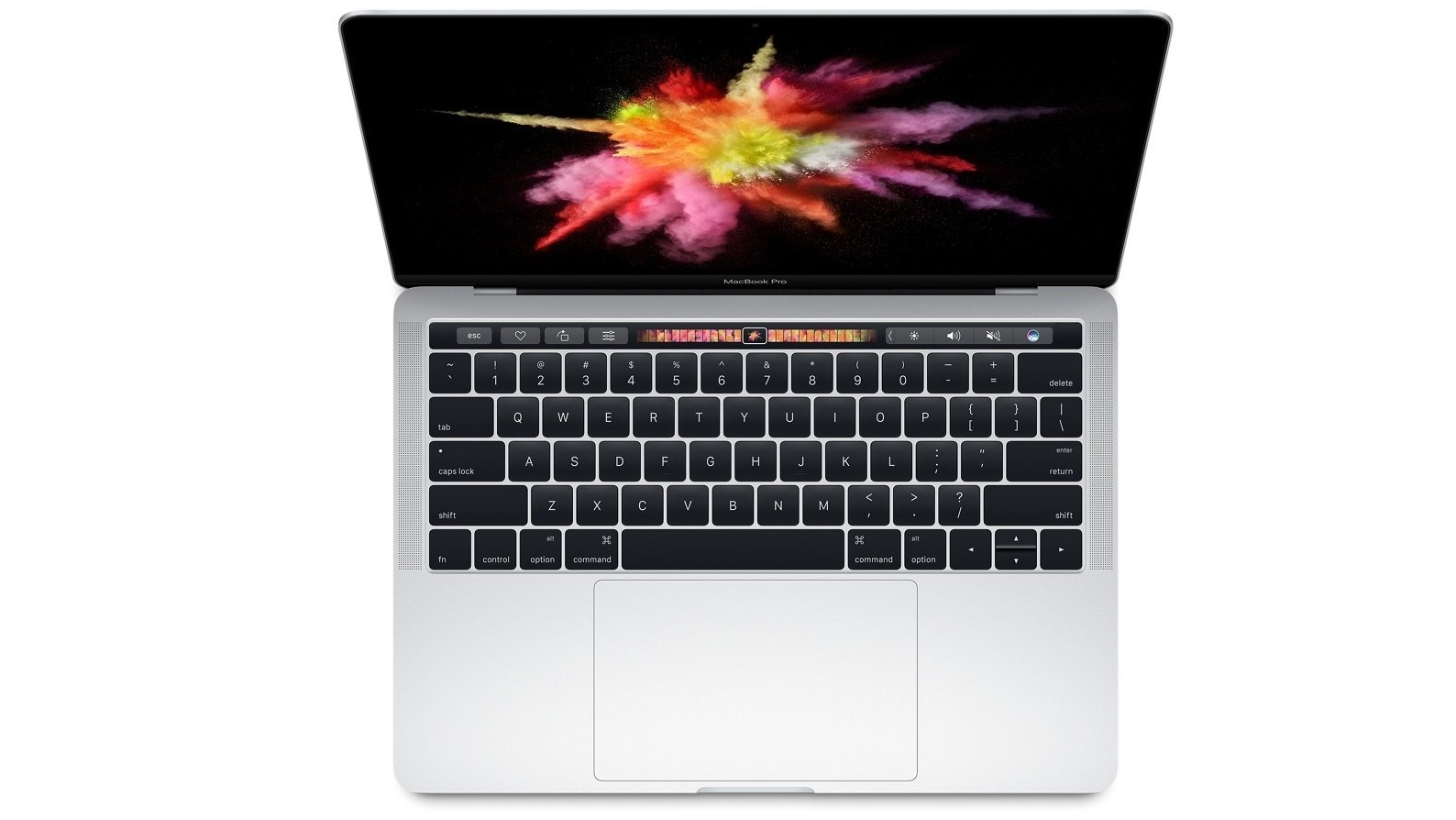 If you're after the latest and greatest laptop from Apple, welcome to the 13-inch Macbook Pro with touchbar. It's the best laptop Apple has ever made, and builds new features into the classic design. Of course the headline feature is the touchbar - it's a thin OLED display at the top of the keyboard which can be used for any number of things, whether that be auto-suggesting words as you type or offering Touch ID so you can log in with just your fingerprint. This makes it an excellent laptop for writers, and if you love Apple's way of doing things, then you'll love the Macbook Pro with touchbar. The reason why it isn't higher in our list of best laptops for writers is the price: this is an incredibly expensive laptop, and if you're just using it for writing, then there are plenty of much cheaper alternatives. However, if you're an Apple fan that wants a machine for performing more complex tasks, as well as writing, then there really is no other choice.
Read the full review: Apple Macbook with touchbar (2017)
See more like this: The best Macs and Macbooks 2017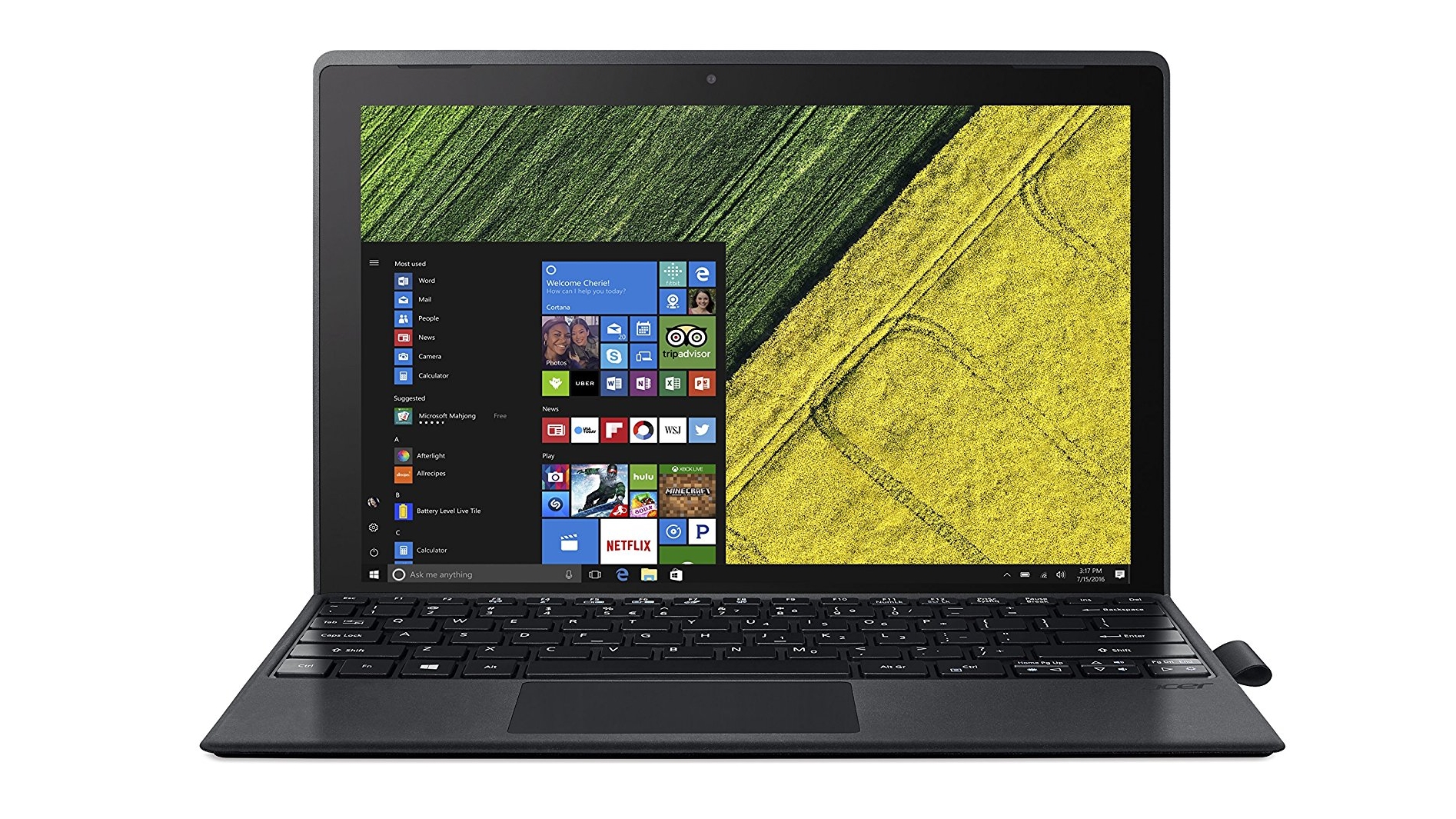 If you want the Microsoft Surface Pro 4 but you want to spend a lot less, the Acer Switch 3 2017 is definitely the your best option. It's designed around essentially the same concept as the Surface Pro and it's a less capable thanks to slightly lower power innards, but for most tasks, especially writing, it's a brilliant little machine. What's more, to add further value this 2-in-1 laptop/tablet comes with the keyboard upgrade which means no little extras to pay for. As usual it comes in several different versions, with USB Type-C, 8GB RAM, an IPS display and Intel Core i3 7100U CPU coming with the more expensive option.
Read the full review: Acer Switch 3
See more like this: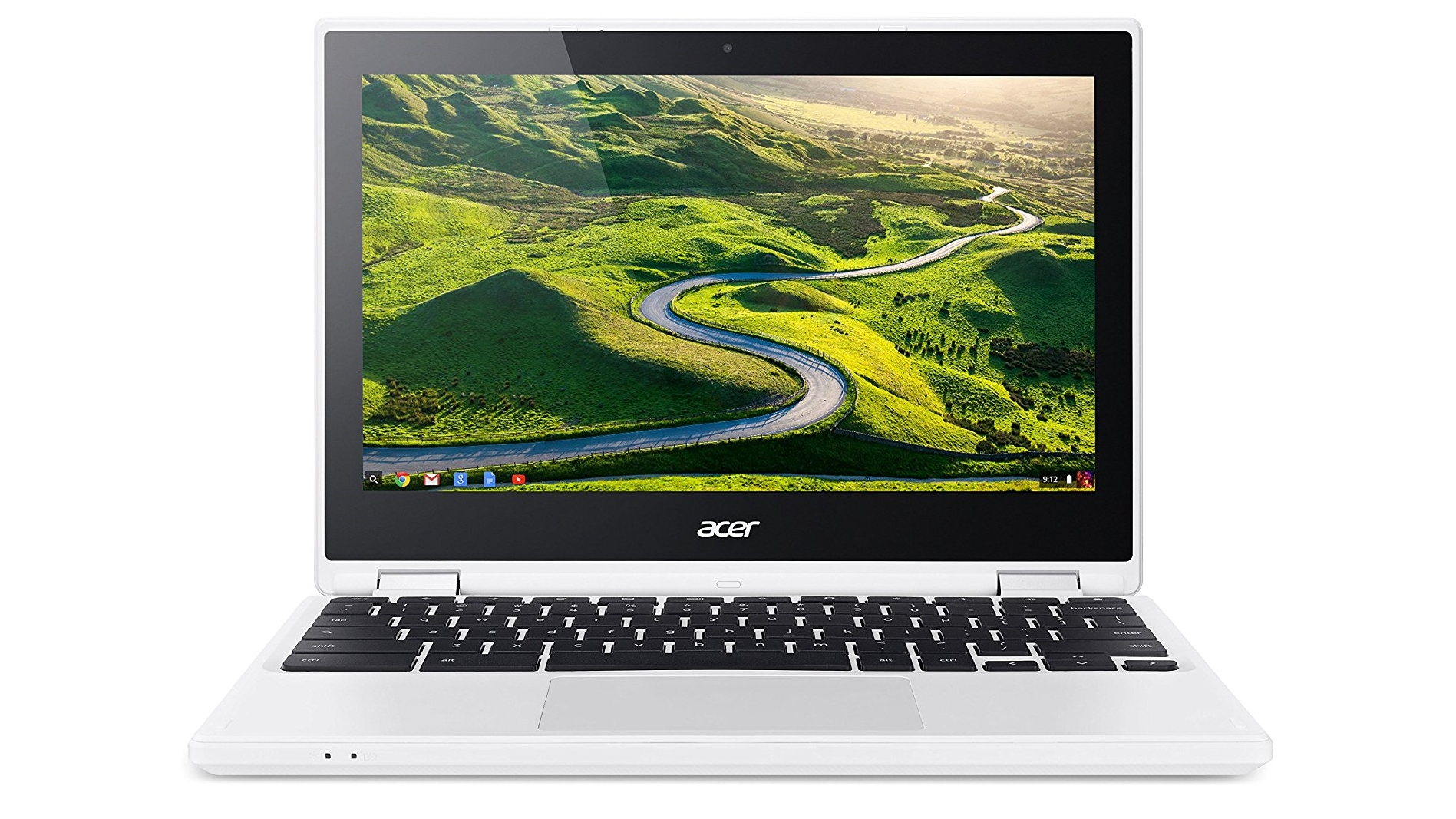 The Acer Chromebook R11 is probably the best cheap laptop around at the moment, and it's a great laptop for wirters. Like the Acer Chromebook Flip higher up this page, this laptop runs Chrome OS so does away with all the overheads that Windows brings. Consequently it's able to run nice and fast on less powerful components, which means a very cheap price! Its touchscreen is decent, though it's only HD, and it will flip to become a tablet too. What's more, it'll run practically all day thanks to its excellent battery life. So if you're looking for a capable but very cheap laptop that you can whip out and begin writing on, then this one is your best bet.
Read the full review: Acer Chromebook R11
See more like this: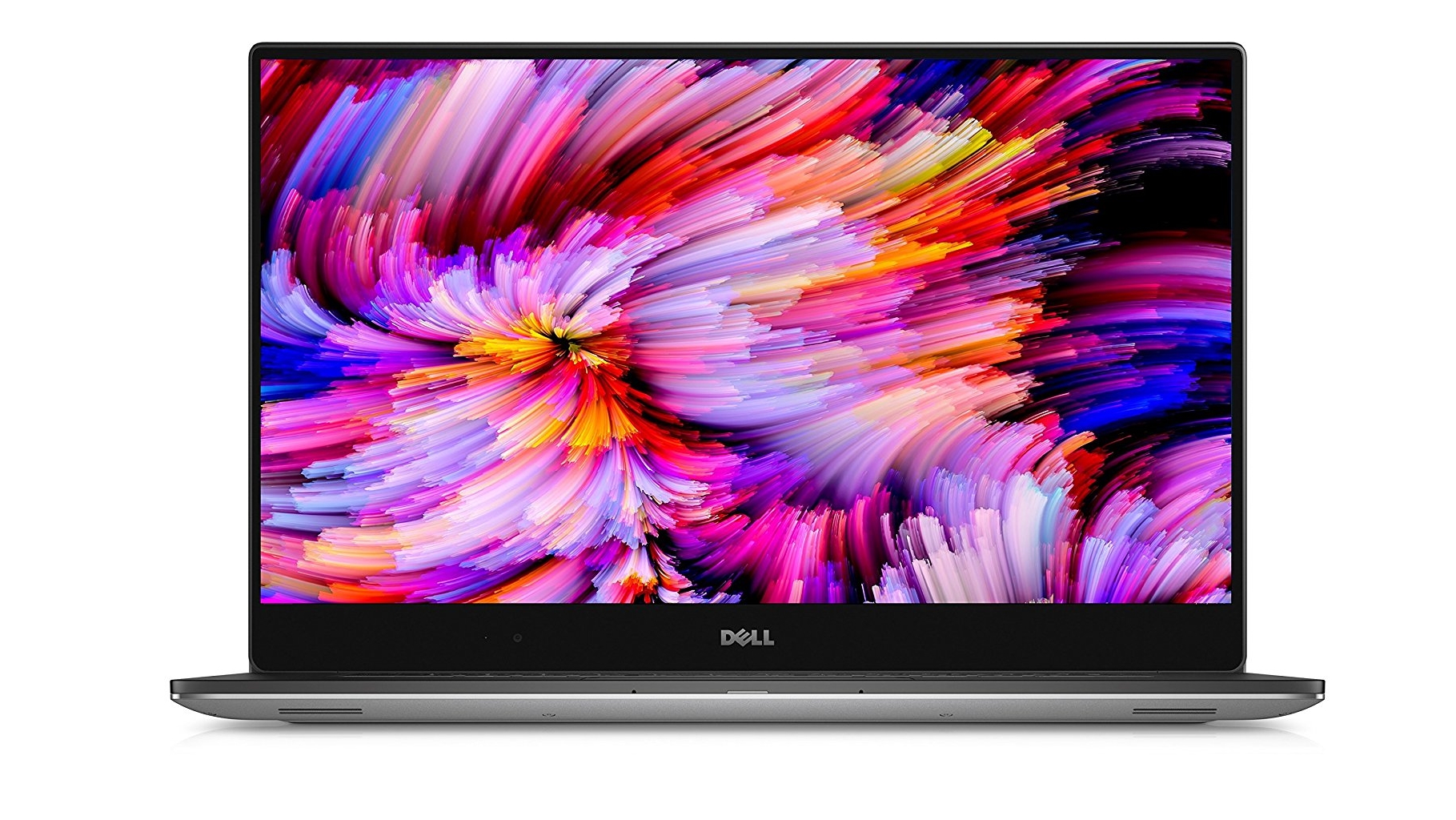 If you're looking for a larger and more powerful laptop for writing on, then the Dell XPS 15 could be for you. Packing the same InfinityEdge technology as the smaller XPS 13, the screen extends right to the edge of the machine which means it's as small as it's possible to make a 15-inch laptop in 2017. It's quite pricey though, depending on which version you get. The very top end version has a 4K color-accurate display, which may be a bit of overkill for a laptop for writing on, but it gives you more flexibility if you want to use this laptop for various tasks. Crucially, the large keyboard is also very comfortable to use.
Read the full review: Dell XPS 15
TechRadar: latest computing news
Brexit is all over the news headlines right now, thanks to Theresa May's negotiations with the EU, but since the vote to leave, we've seen a nasty impact on the prices of tech – a situation which is ongoing according to a new report from Which that underlines the rising prices of PCs.
This is the cover story from the latest issue of Which magazine (as highlighted by Computer Weekly), with the consumer watchdog quantifying the Brexit-fuelled price rises we've seen when it comes to popular computer manufacturers.
Apple's MacBooks, for example, have in some cases seen their price tags increase by almost 20% in the UK; and they were far from cheap to start with.
And Microsoft's Surface hybrids have witnessed hikes of from 11% to 15%, and again, those are premium pieces of hardware which had weighty asking prices before the decision to leave the EU.
Almost all major hardware vendors have put their prices up thanks to unfavourable currency fluctuations, and as well as the aforementioned two firms, that also means Dell, HP and Lenovo.
The average increase on hardware prices is around the 10 to 15% mark, with software prices getting a heftier whack of around 20%.
Put in Context
A recent report from analyst firm Context (spotted by Trusted Reviews) paints an even bleaker picture, asserting that the average price of PCs, workstations and laptops reached £480 in July and August of this year – a painful 30% increase compared to the same period in 2016.
Context noted that component shortages (including memory and SSDs) have had something of an effect in bringing on this price inflation, but the main cause was Brexit-related currency issues.
TechRadar: latest computing news
Update: iOS 11 is out now! It's 1.7GB in size, so if you're concerned at all about space, you may want to follow these tips to make some room on your iOS device.
Computers used to be all about expandability. Essentially you owned a box that could be tailored to your needs as your requirements evolved. A popular upgrade path was storage, adding new hard drives as your files grew in size and number. But with Apple's touchscreen revolution, everything changed.
The iPhone, iPad and iPod touch are more like appliances than 'traditional' computers - they're sealed boxes that forever remain as they were the moment you purchased them. You can no more extend their storage capabilities than you can add a new compartment to your fridge-freezer.
A quick look at Apple's modern hardware suggests its entire line-up is heading in the same direction, but iOS devices are more restricted than Apple's desktops and notebooks. After all, if you need more storage for a MacBook Air, you at least have the option of offloading large documents to an external hard drive (and, of course, then sensibly backing up that data along with the internal drive's, either locally or to an online service such as CrashPlan).
But iOS devices aren't designed that way. They don't have a USB port or a user-accessible file structure. The intention is that you store everything on the device itself (well, almost everything - services like iTunes Match enable you to grab your music from the cloud).
Therefore, an important tip when it comes to better iOS device storage and management comes at the moment of purchase: buy the model with the most storage that you can afford, unless you're absolutely convinced you won't need it.
Even then, reconsider; be mindful that as technology evolves, demands for storage increase. Retina screens require larger applications, and iOS cameras can shoot HD video, which requires a huge amount of space.
Also, demands on iOS devices are increasing purely on the basis of what they can now do. People frequently shoot and edit video, work with photography, read magazines and compose music on iPads and iPhones. All these things require lots of storage.
If your device gets really full, it alerts you. Also, things stop working. You won't be able to install new apps or shoot video new footage. You may find that updating apps becomes problematic, because the device doesn't have enough space to download, unpack and install updates before deleting older versions.
We offer advice for dealing with such a situation, along with managing iOS storage in general. Note that this isn't intended as a start-to-finish walkthrough, more a series of ideas that can be utilised to free up space.
As ever, we should stress the importance of back-ups before making major changes to iOS devices. Even if you're backing up to iCloud, make the occasional local back-up (select your device in iTunes and click 'Back Up Now' on the Summary page).
Local backups are also useful when it comes to dealing with app data, because you can later use iExplorer to fish out settings and other documents from such a backup, even if those things have long been removed from your device. Also ensure before making any major changes in terms of deleting content that you don't only have said content on your iOS device.
For music, sync your device with iTunes to transfer tracks to your Mac (although you can grab previous purchases from iTunes, if necessary). For photos and movies, transfer them across by attaching your device to your Mac via USB, launching iPhoto, selecting the device and clicking the Import button.
How to manage iOS device storage
1. Check device capacity in iTunes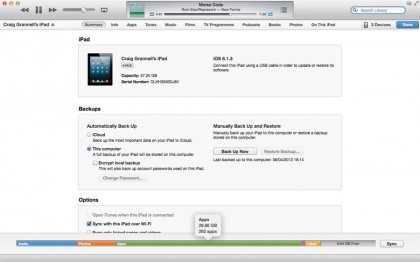 Although iOS devices no longer require iTunes, Apple's desktop app remains useful from a device management standpoint. Connect your device (via USB or over Wi-Fi) and select it from the Devices button. Across the bottom of the window, you see a chart detailing what's taking up room: audio, photos, apps, books and 'other'.
If storage is an issue, you could free some up. For example, if you've lots of music or photos on your device, select the relevant tab, uncheck the sync box and then sync your device. The relevant media is removed. You can then perform updates and manage your apps, perhaps free up more space, and later restore your media by resyncing it.
Occasionally, you might find the 'other' section becomes massive. In our experience, this is usually down to you having a lot of in-app data (see Step 3) or failed app updates, which can happen on trying to update without enough free space. Resyncing should help; if not, a restore from a local backup.
2. Discover app sizes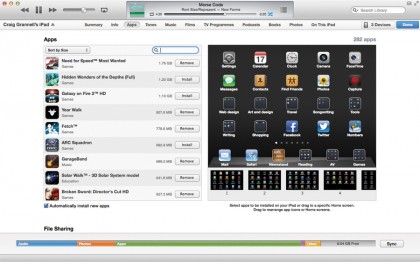 Apps can be massive. Sizes are shown in iTunes and the App Store, but that's the size of the compressed download. Once installed, an app's size can balloon.
In iTunes, check app sizes by clicking on the Apps tab and selecting Sort by Size from the pop-up menu at the top of the apps list. Peruse the list, and if there are apps or games you no longer use, consider deleting them. You can do so by clicking Remove in iTunes; when you've done so for all apps you'd like to delete, click Sync.
Alternatively, tap-hold an app on your device to make all the icons jiggle and, for each, tap the cross icon and then 'Delete' to remove it.
3. Examine app data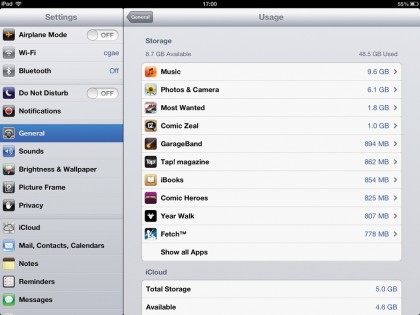 Open the Settings app on your device and in the General category, select Usage. You see available and used storage and a list of apps. These are ordered by the total amount of space they require, including app data.
Newsstand and similar apps tend to be storage-hungry. Their containers might be small, but the actual magazines rarely are. If you want to see how much space an app's data is using, tap the app in the list and look at the Documents & Data figure.
If you've several such apps taking up loads of room you need, consider deleting data. For example, if you subscribe to magazines, delete old issues from within each app. You can usually redownload issues later if you need to. If you fancy taking a speedy option and don't have a capped broadband connection, deleting a Newsstand app takes all its data with it. You can then download a fresh copy from the App Store and the latest issue.
Magazine and book apps aren't the only storage culprits, note. Dropbox can (optionally) store documents locally (by flagging them as favourites) and some video apps have download capability, so check those too.
4. Back-up app content
Should you no longer use a game or creative app, but think you might one day return to it, download its data to your Mac using the free version of iExplorer (macroplant.com/iexplorer).
Connect your device to your Mac via USB, select Apps from iExplorer's sidebar and select the app in question. Select the Documents and Library folders, Ctrl-click and select Export to Folder. (Alternatively drag them to a Finder folder.)
The contents of these folders can later be sideloaded into a fresh install of the app, meaning you won't lose your progress in a game that doesn't support iCloud, or could get saved compositions from a music-app back to your device with a minimum of fuss.
5. Use last-chance folders
If you tend to frequently download new apps, chances are some fall out of favour, but you might not necessarily know which. Create date-based folders (07-2013, say) and place apps within that you don't think you use any more. If you find yourself using one, 'rescue' it from the folder. Otherwise, delete the folder's contents after a few months, first backing up app data as necessary.
(Note: if you don't download apps to iTunes on your Mac, sync with it before deleting the apps, so you've a back-up you can later install to your device. You can of course redownload apps from the App Store, but only if they are still made available to you.)
This is a fairly ruthless app-management method, but it's useful for keeping installs current and ensuring you have space.
TechRadar: latest computing news
Eben Upton, founder and CEO of the Raspberry Pi Foundation, is trying to illustrate how huge the Raspberry Pi phenomenon has become:  "In 2011 I had a spreadsheet that told me where every single Raspberry Pi prototype was (there were 50). Fast forward to 2017, we've sold nearly 15 million units and we've a guy in Japan using one to sort cucumbers!" 
He is referring to his favourite project in which a Japanese man has used a Raspberry Pi to categorize cucumbers on his parent's farm. 
This year marks the fifth anniversary of the original Raspberry Pi launch, and the cucumber anecdote provides an interesting indication of how far the Foundation and its product (a credit card sized microcomputer designed to inspire the next generation of coders) has come. 
What started as a recruitment drive for the Computer Science department at Cambridge University rapidly became a movement that has helped the world fall in love with the subject. 
The Raspberry Pi Foundation was born out of a problem. In the mid 2000s Eben was the Director of Studies in Computer Science at St John's College Cambridge and, in his own words, "the number of people applying to study here had collapsed". 
In the 1980s Cambridge's course attracted 600 applicants annually but by the early 2000s that number was down to 200 and that drop convinced many that the dwindling interest must be addressed. The Foundation also had concerns about the profession's male dominated nature ("our industry has a diversity problem") and recognised inspiring kids with a fun product for all might go some way in rectifying the gender divide. 
These concerns resulted in the 2009 formation of the Raspberry Pi Foundation whose aim was "to develop and market a $ 25 microcomputer for education" and in 2012 that microcomputer, the Raspberry Pi 1 Model B, went on sale ('Raspberry' to follow in tradition of fruit named computers, and 'Pi' because it promotes the programming language Python). 
500,000 units a month
Before launch the Foundation "had a very parochial view of what success might be, we were just interested in getting a few more applications to Cambridge". But when the 29th February 2012 arrived (launch day) and online retailers repeatedly crashed under the weight of orders it became clear the Foundation was onto something. The figures are stunning. A million units sold in the first year, in a good month the factory (Sony's Pencoed facility in South Wales) churns out 500,000 of the hero product (the Pi 3) and there's a good chance they'll shift six million units in 2017 alone.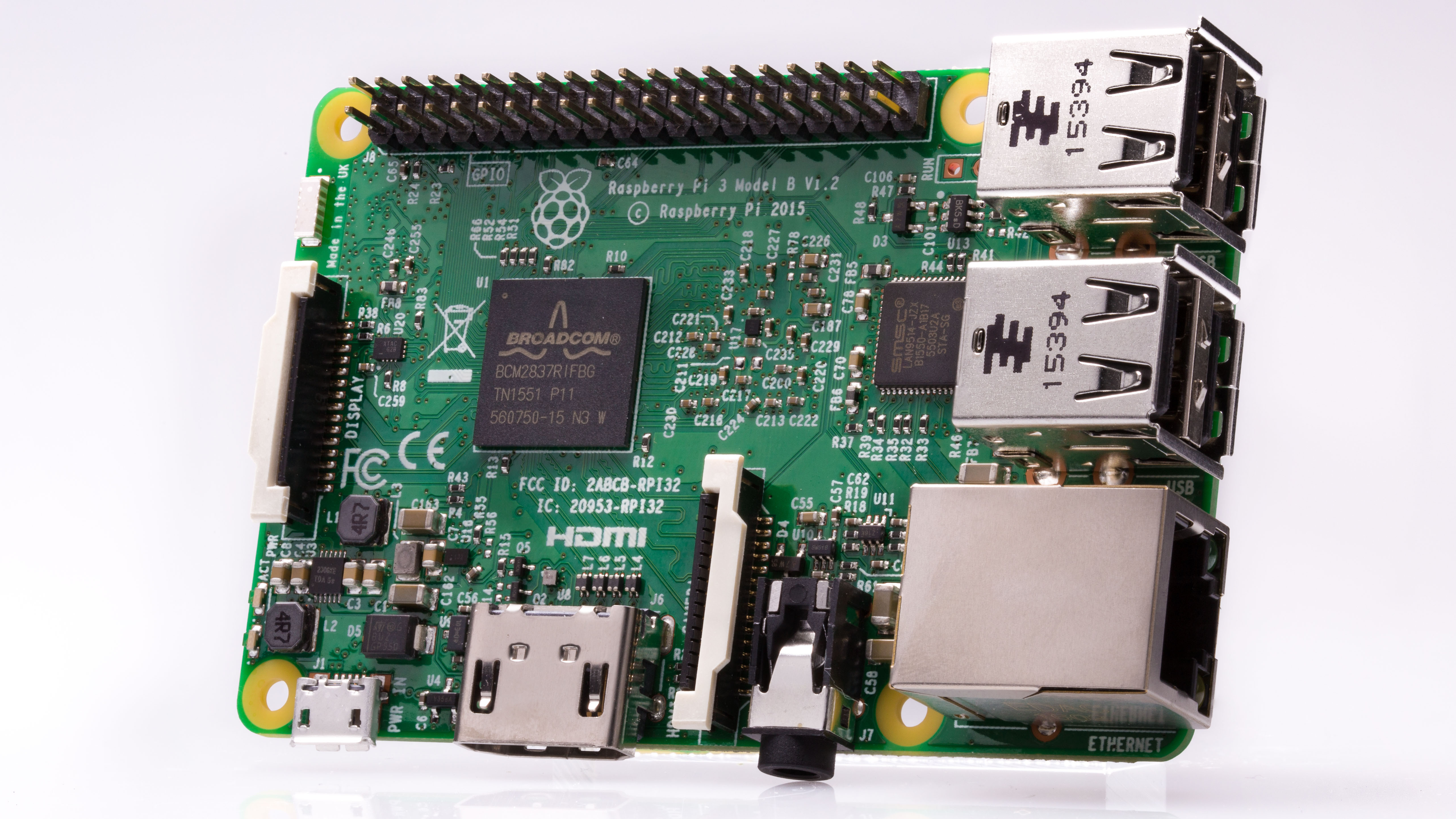 So why the success? Eben puts it down to giving kids control: "when you're a young person you don't have an enormous amount of power". But give a child Lego, Minecraft or a one of the six Raspberry Pi models on sale (the most expensive of which is only £32.98/AUD $ 67.95/USD $ 35) and the creative possibilities prove irresistible.
The community of dedicated hobbyists and enthusiasts has also been crucial to its success, and Eben points out that "we've been a community a lot longer than we've been a product company". In 2011 development of the first Raspberry Pi was broadcast across the company's website and social media channels, and a following quickly grew. 
Astro Pi
Since then the community has been wowing the internet with their commitment to producing projects that include everything from an artificial pancreas to a missile system that shoots foam darts at underperforming colleagues. Two Raspberry Pi (called Astro Pi) even spent some time on the International Space Station with Major Tim Peake in 2016.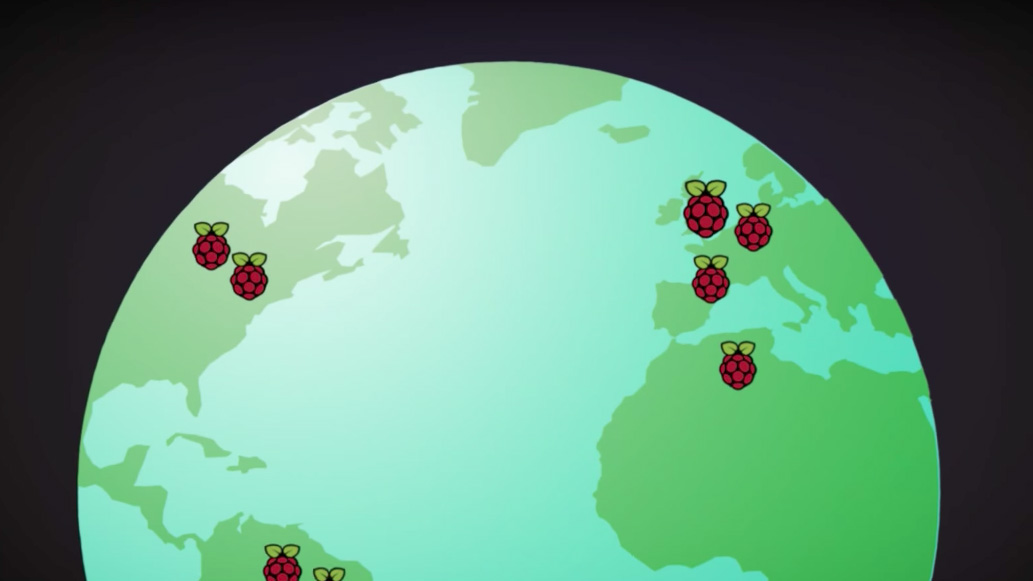 If the community, the Foundation's lifeblood, is a success it is because it's carefully moderated and curated online. It is "a community where there are no stupid questions". As a result there is a culture of learning that encourages inclusion, and this has helped the community boom.
Perhaps most pleasingly for the Foundation (and the other institutions involved in the computer science revival in Cambridge's 'Silicon Fen') applications to study the subject have recovered significantly, and today the university receives around 800 applications each year to learn at the faculty. 
Accolades have joined the stella sales, and in June 2017 the Foundation was awarded Britain's top engineering prize, the Royal Academy of Engineering MacRobert Award, and the Raspberry Pi overtook the Commodore 64 in sales to become Britain's best selling computer. The Amstrad Emailer, this is not. 
Making it simpler
So what of the future? In the long term the Foundation will focus on more hardware, but the Pi 3 (launched in 2016) is likely to be a three year product and so the company is currently focusing on the software side of things, with Eben stating that "to achieve the mission for everyone we need to make it (the Raspberry Pi) a little bit simpler to use". 
Things should be made easier by the charitable work of the Foundation itself. This has numerous organisations focused on getting Raspberry Pi into the hands of the next generation, and teaching them how to use it. 
Among the Foundation's successes has been a free magazine for teachers called 'HelloWorld' and the 'Picademy', which teaches educators to make the best of Raspberry Pi in class.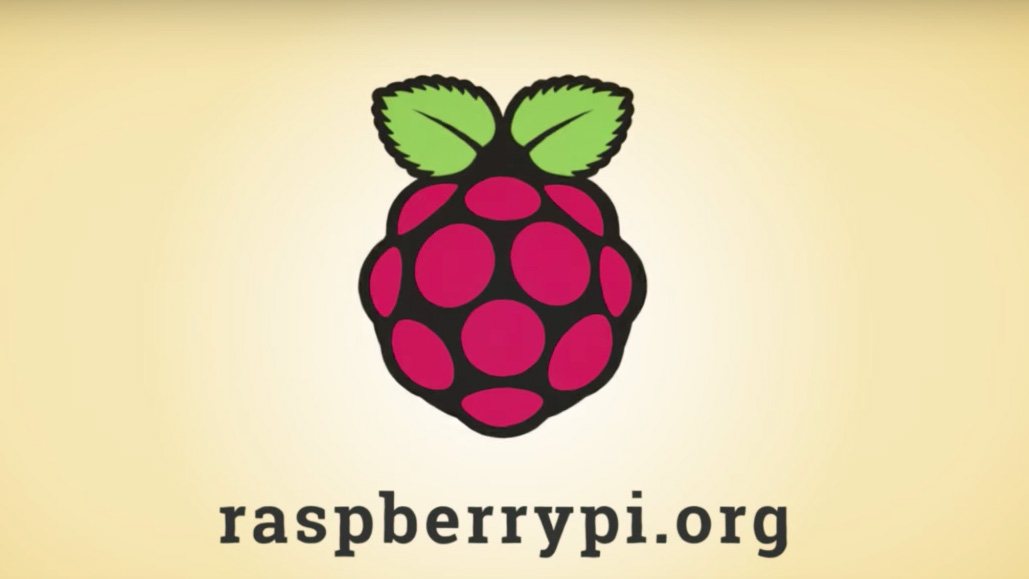 Perhaps the most successful bit of business has been to increase the reach of the Raspberry Pi by merging the Foundation with Code Club and CoderDojo, two of the "premier international club brands" that introduce children to coding.
Code Club has recently extended its age category to 13 so that secondary schools can take part, and so far 40% of kids involved are girls. In the long term the Foundation is keen to bring its products, and eventually full charitable programs, to the developing world.
It has been a busy five years for the Foundation, the Raspberry Pi and Eben. When I ask what he'd like the microcomputer's legacy to be, he says that in 30 years if just "one person will look back on Raspberry Pi with the same fondness that I look back on my BBC Micro" he will be a happy man. Given his sales figures I wouldn't say he has much to worry about. Happy Birthday Raspberry Pi.
Our top five Raspberry Pi projects
From the sublime to the ridiculous, our top five Raspberry Pi projects...
TechRadar: latest computing news
Dell has begun taking pre-orders for its Dell Visor mixed reality headset, one of the most high profile headsets that will be coming to Windows 10, and which supports Microsoft's mixed reality initiative. The Dell Visor is set to go on sale on October 17, which is the same day that the Windows 10 Fall Creators Update will be made available to download.
In the US, you can pre-order the Dell Visor from the Dell website, and it will cost $ 349.99. You can also buy the headset with two motion controllers for $ 449.99, with the controllers being sold as a separate package for $ 99.99.
In the UK, you can , which is sold with the controllers for £429.99.
Sadly, the Dell Visor is not currently available to pre-order in Australia, but we will update this article as soon as it is.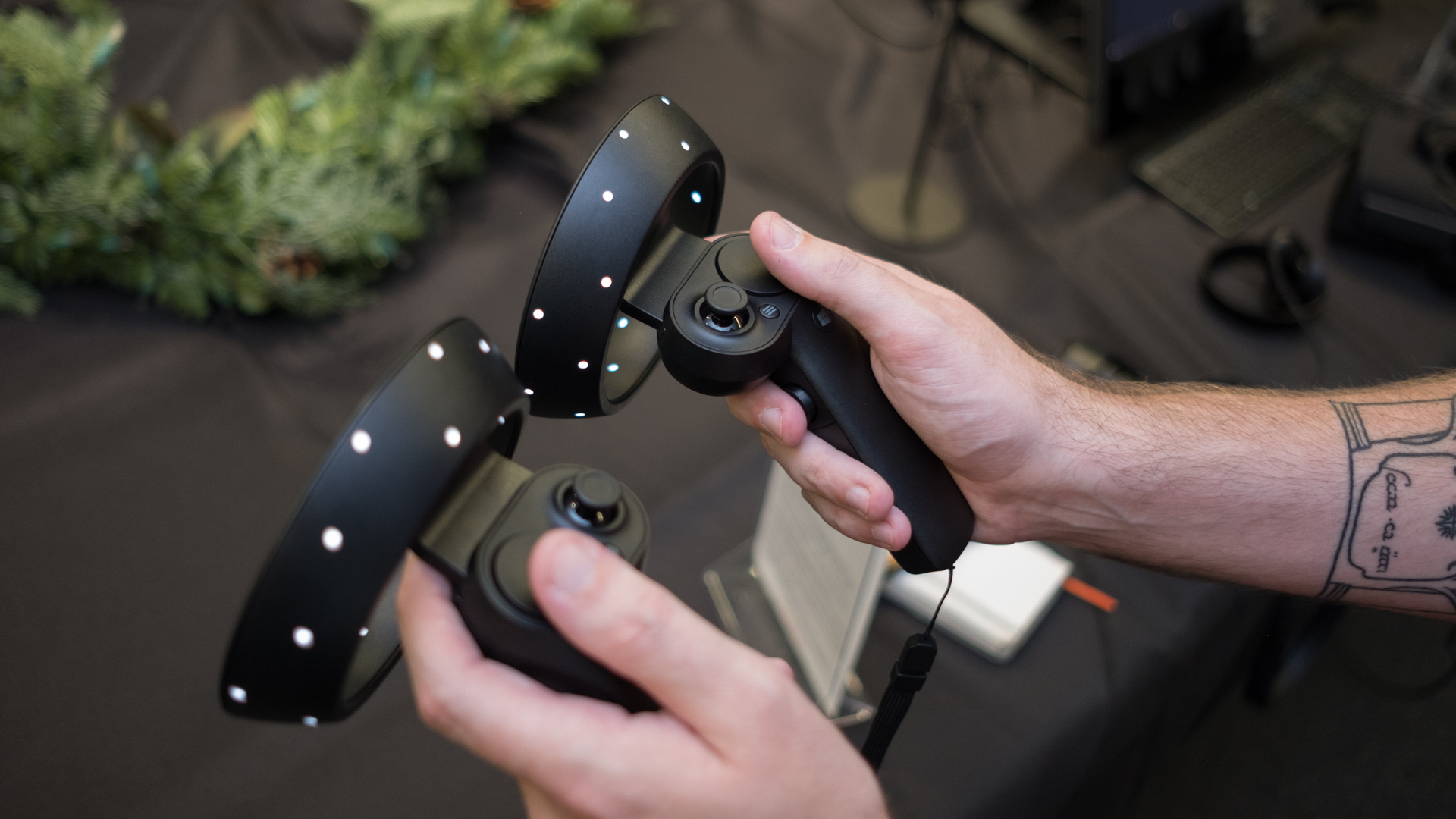 Dell's mixed reality vision
The Dell Visor features two 1440 × 1440 @90 Hz LCD panels for each eye, with a total resolution of 2880 x 1440, and motion tracking is handled by two outward-facing cameras.
It connects to a PC via HDMI and USB, and so far looks like a more convenient and stylish alternative to the Oculus Rift and HTC Vive. Whether it can handle virtual reality games with the same level of aplomb is yet to be seen.
The Dell Visor joins the likes of the Lenovo Explorer, Acer Mixed Reality Head-Mounted Display and Asus Windows Mixed Reality Headset as the first wave of mixed reality headsets coming to Windows 10.
Microsoft is making a big deal of mixed reality support in Windows 10, and with so many big names making their own headsets, it looks like its enthusiasm is shared. We'll have a full review of the Dell Visor soon.
Via AnandTech
TechRadar: latest computing news
HP Inc. highlighted its new premium, collaboration and immersive solutions designed for today's ever growing mobile workforce at its global partner conference, HP Reinvent.
Notions regarding are changing rapidly with new research revealing that 54 per cent of work is now being down outside of the office and over the next two years home office hours are expected to increase by 150 per cent.  
are also unsatisfied with the current collaboration solutions available and HP has decided to dedicate its efforts to ensuring the next generation of the workforce can be productive, collaborative and secure whether they are working from home or on the road.
The vice president of Business Personal Systems EMEA at HP Inc., Benoit Bonnafy highlighted the company's efforts at enabling employees to work from anywhere, saying:
"As traditional boundaries between work and life go away, HP is focused on designing customer experiences that allow users to seamlessly transition between the two. With new collaboration solutions and the latest Elite 1000 series, devices are engineered to deliver breakthrough thin and light design, best-in-class performance, industry-leading security and manageability, and experiences for improved collaboration that adapts to the work style and lifestyle of each user."
HP's new Elite 1000 Series has been optimized for both collaboration and connectivity with a number of new features including built-in collaboration keys to easily manage calls, Skype for Business certifications, Audio by Ban & Olufsen, HP Audio Boost and HP Noise Cancellation.  
The HP EliteBook x360 1020 G2 is the world's thinnest convertible which features five different modes as well as ink capabilities to help users maximise productivity while the HP EliteBook 1040 G4 is the most powerful ultra slim 14-inch business notebook designed to manage even the most demanding tasks.  The company also announced the HP EliteOne 1000 AiO which is the world's first all-in-one designed specifically for collaboration.
The future of work is rapidly changing and HP's new solutions will allow mobile professionals to be at their most productive wherever they happen to find their inspiration.
TechRadar: latest computing news
Dell has just released a new all-in-one desktop series in India and the company claims it to be the world's most powerful all-in-one workstation. Named as the Precision 5720, the desktop comes with flagship grade specifications and aimed to cater the needs of professional users. The latest desktop line-up offers dedicated VR (Virtual Reality) support at a decent price point.
Dell Precision 5720 All-in-One Specifications
The Dell Precision 5720 features a massive 27-inch 4K Ultra HD display with optional touch support. Under the hood, you may choose between 7th generation Intel Core i5 and Core i7 or 6th generation Intel Xeon processors. Coming to the graphics, the company wants is offering a 4 GB DDR5 AMD Radeon Pro WX 4150 or an 8 GB DDR5 AMD Radeon Pro WX 7100 GPU. Needless to say, with this kind of specs the Precision 5720 shall never run out of breath.
Talking of the memory, the brand new desktop can load up to 64 GB of DDR4 RAM running at 2400MHz. For storage, you can pick a 7200rpm hard drive or a flashy SSD. Dell's latest desktop comes pre-installed with Windows 10 Pro 64 bit operating system. The Precision 5720 can support as many as 3 additional 4K screens with 60 Hz refresh rate or an extra 5K monitor at 60 Hz and one 4K display at 60 Hz.
The Dell Precision 5720 All-in-One comes with an array of connectivity options like a M.2 slot for SSD, two 2.5-inch SATA slots for the conventional HDD, USB 3.0 port, SD-card reader, 3.5 mm audio jack, HDMI ports, DisplayPort 1.2, Thunderbolt 3 port, USB Type-C port, 1 Gbps RJ45 LAN port, etc. The brand new desktop also features a 10-speaker sound system powered by dynamic amplifiers capable of 50W/channel.
Commenting on the launch, Mr. Indrajit Belgundi, General Manager, Client Solutions Group, Dell, India said, "At Dell, we are committed to constantly revolutionizing our technology to deliver the best products and services, in line with the evolution of customer needs. The launch of the Precision 5720 All-in-One is a testimony to our belief in the legacy of Dell's Precision range, which offers the best-in-class experience for creative minds to bring their ideas to life. We are proud to offer the world's first VR capable AIO supporting professional graphics and staying true to Precision's legacy of powering some of the greatest projects, for customers who depend on quality design for success – and what better time to do this than the 20th anniversary of the product line."
Dell Precision 5720 All-in-One availability and pricing
The Dell Precision 5270 all-in-one is already available for purchase from the Dell India's official website. The enterprise-grade desktops start a price of Rs. 1,09,000 in the country.
TechRadar: latest computing news