When Apple launched the game-changing iPhone, many people in the business world – including Microsoft's CEO at the time, Steve Ballmer – sneered at it. It didn't have a keyboard, was expensive, and didn't even have 3G in its original form. A lot has changed since then, and the numerous updates and tweaks that Apple has made and apps that have been released have turned it into the perfect on-the-go smartphone for business.
The App Store is the main driver behind the surge in productivity on Apple's mobile devices, but it has become very crowded – more than 2 million iPhone apps at the last count – and finding exactly the right apps can be difficult.
Which is exactly why we've compiled this list of the brightest and best business apps for the iPhone, including email, messaging and other productivity apps.
Since Microsoft reluctantly brought the Office suite – Word, PowerPoint, Excel, OneNote, and so on – to the iPhone (and iPad), the apps have been getting better and better.
The suite, which is broken down into separate apps, initially needed an Office 365 account to do many tasks – like editing documents – but that has since changed and Office is now the best way to create, edit, and distribute documents on an iPhone.
Everything syncs to the cloud and documents created on a Windows PC or Mac can be opened and edited seamlessly. It's the best of the best for productivity and even beats out Apple's own iWork suite.
For those who want a more Google-y experience – or, most likely, rely on Google services – the company has a good set of apps for the iPhone which do pretty much what you'd expect.
The Google Docs app, which is free and does not require a subscription, can be used to edit, export, and view documents (among other things), making it the perfect way to interact with Google's productivity software.
The Docs suite is incorporated into one application which can be used to create word, spreadsheet, or presentation documents. Google has worked hard to make it as smooth and seamless as possible and the results are impressive.
The Wolfram Alpha app is a mobile version of the website and it can be used to do almost any task. Unlike Google, which can add, subtract and so on, Wolfram Alpha can work out dates, times, food, complex mathematical equations, the weather and so on. The list is endless.
The app costs £2.99 ($ 2.99 in the US, which is just under AUS$ 4) – there is also a subscription option which adds extra utilities – and is a valuable asset if you need to quickly work out something obscure, like how many days away a specific date is or, you know, the physical properties of white pine wood!
Having a dedicated PDF reader can come in handy and Adobe does it best. The Adobe Acrobat Reader app, which is absolutely FREE, can be used to make edits and comments on PDFs, and much more.
The software can also be used in conjunction with an Abode account, which adds various high-end features like the ability to export files into different formats. Apple does provide a PDF reader in most apps, such as Mail, but having a third-party app can come in handy if you look at, edit, and receive a lot of them.
Speaking of PDFs (see the previous page), one of the iPhone's biggest flaws is not being able to create them from an image. Luckily, Genius Scan – another free app – has you covered.
The app has various different options and offers guidance on the best settings – camera position, lighting, and so on – for creating crystal clear PDFs, which can then be sent via text, email, or another messaging app, or exported to Dropbox, Evernote, Google Drive, or elsewhere.
And Genius Scan can also organise PDFs within the app by tags, titles, and so on, making it ideal for creating and then storing large volumes of documents.
According to Google, Gmail now has more than 1 BILLION active users! There's no doubt about it - Gmail is a goliath. Apple does offer support for the service in its own Mail app, but many users like having the Google-made app itself installed – mainly because it comes with a number of considerable added benefits.
The biggest advantage of using Google's own app is that it integrates directly with other Google services, like Docs or Calendar. Invitations can be answered right within the app while Google+ posts become interactive inside Gmail.
The app has the full range of achieving, tagging, labelling and categorisation features you'd expect, and is quite simply much better than Apple's built-in client.
Slack, the enterprise messaging app, has over three million daily active users, and is spreading to more and more workplaces around the world as companies move past email, which is now seen as slow and hierarchical, for a friendlier solution.
Having Slack on the iPhone is a big bonus and can help with staying in touch on the move, which is essentially what the app is designed to do.
Private and team chats are kept intact, notifications sync between devices, and even the read messages go across, which is especially useful if your team works around the globe and you often wake up to hundreds of new missives.
MailChimp is useful for anyone who wants to distribute an email newsletter to a number of people. The service, which launched in 2001, sends billions per month on behalf of its users and is free for anyone who doesn't have a massive mailing list.
The iPhone app, which is a free download, does many of the same things as the desktop client but in a miniature format. Lists can be checked, created, edited and emails sent to recipients. Analytics for emails – who opened it, where, and so on – can also be viewed, giving valuable insights on-the-go.
For those who manage a mailing list via MailChimp, the iOS app is a good thing to have installed on your device.
Good to-do list apps are in high demand as the iPhone becomes more and more ingrained into our daily lives. Setting a reminder for long- or short-term goals, tasks, and objectives is an easy way to keep track of everything.
Apple recently beefed up its iOS-based offerings with a new Notes app, which features tick boxes, and a refreshed Reminders app. While these two efforts are good they don't come anywhere near Things 3, which has apps across the iPhone, iPad, and Mac.
Things is, essentially, the king of all to-do apps with a list of features that is too lengthy to go into fully, but starts at simple cross-device syncing and ends somewhere around creating tasks that are labelled and repeat every other week. For people with lots to do, Things can't be beaten.
Saving articles for offline use is handy in so many ways. Commuting, for example, is far more tolerable with a lengthy piece from The Atlantic, Financial Times, London Review of Books, or any other publication that is saved offline and therefore not subject to a spotty internet connection.
Pocket can also store videos and has the ability to sync, tag, and search the full text of any article if you get the monthly subscription option.
While Pocket may not be a business app in the truest sense of the word, it's a valuable addition to any iPhone and makes the commute – or any other travel time, or perhaps your lunch break – much more interesting.
TechRadar: latest computing news
Earlier this year, Blizzard said it was going to cease supporting Windows XP and Vista across its library of contemporary Battle.net games, and the company has just confirmed that this will happen on a rolling basis starting in October.
That means dropping support for World of Warcraft and StarCraft II, as well as Diablo III, Hearthstone and Heroes of the Storm (Overwatch never supported these outdated operating systems anyway).
So what, you might think? Well, as we saw with the recent WannaCry outbreak, there are still around one in 14 PCs out there running Windows XP (and a small amount still on Vista), despite the fact that Microsoft stopped supporting XP over three years ago now (and Vista earlier this year).
And of course, there are still some people playing some of these games on older machines with these outdated operating systems (depending on the exact spec of the old PC, they may run well enough). We certainly saw complaints earlier this year from World of Warcraft players on XP who heard this move was incoming and weren't too chuffed.
That said, Blizzard has obviously balanced up the numbers of folks playing its games on these platforms, and the effort/cost of continuing to support XP and Vista, and decided it was time to call it game over.
As the company explains: "There have been three major Windows releases since Vista, and at this point, the vast majority of our audience has upgraded to one of the newer versions."
Staggered switch-off
As mentioned, dropping support will be implemented on a rolling basis, in other words, a staggered schedule of one game at a time, rather than the whole lot at once. Blizzard says it will give folks a bit of advance warning of when a title is about to have support switched off.
Once that switch is flicked, the game in question will no longer run on Windows XP or Vista.
Even though this will come as a blow to some of the XP diehards out there, it's true that given the age of this OS now, they should have been looking at a Windows upgrade some time back. Or perhaps a Linux sidestep (and emulation). If you're connected to the net on a PC which isn't receiving security patches, you really are taking a big risk.
Of course, this has also sparked chatter online concerning when Windows 7 might suffer the same fate, given the many stalwarts who have refused to upgrade to Windows 10 for a variety of reasons.
Microsoft's extended support for Windows 7 will finish in 2020, so if you look at XP which has been abandoned three years after its extended date, that will put us in 2023 or thereabouts.
Via: Betanews
TechRadar: latest computing news
The Raspberry Pi was a magical innovation with its highly-compact form-factor, but what if you made it bigger in order to give the thing more flexibility? That's exactly what Gigabyte has done with a new mini-computer board, the larger size of which grants the benefit of selecting your own memory and storage (and indeed potentially upgrading these components at a later date).
Gigabyte has just revealed the specs of the GA-SBCAP3350, which has dimensions of 146 x 102mm (compared to the Raspberry Pi 3 at 85 x 56mm), and it comes with an Intel Celeron N3350 processor (dual-core with a clock speed of 1.1GHz and Turbo to 2.4GHz, with integrated HD Graphics 500). However, that CPU can't be changed.
But you are free to employ whatever (supported) memory stick you want in the single channel DDR3L SO-DIMM slot, up to a maximum of 8GB (the CPU can't cope with any more RAM than that).
And you get a mini PCIe slot to fit your choice of mSATA SSD, with a second slot for a half-length Wi-Fi card.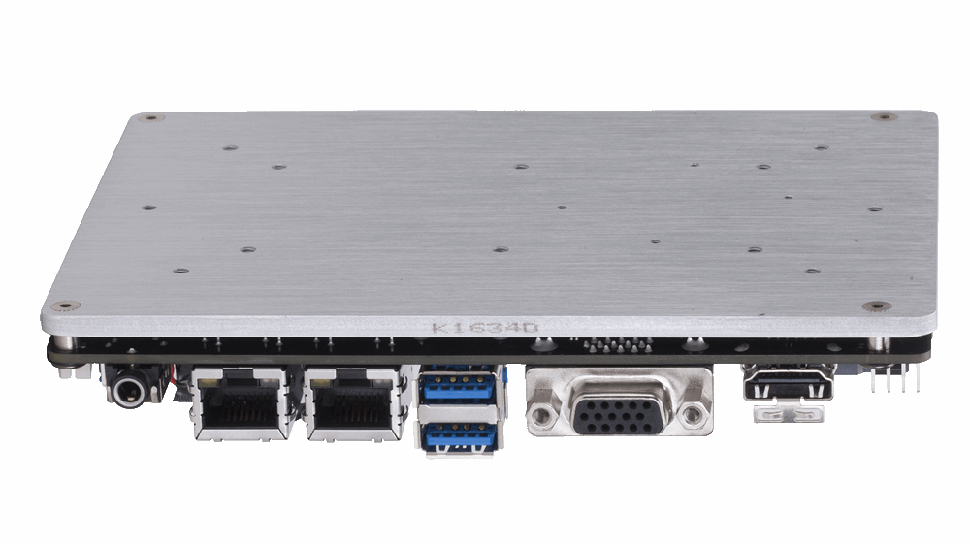 Plenty of ports
Connectivity includes dual Gigabit Ethernet connectors and a pair of USB 3.0 ports, and there are a further four USB 2.0 ports available via internal USB headers (along with various other headers including SATA, LPT/GPIO, LVDS and serial port headers).
For video output, you get a VGA port and HDMI, with the latter supporting 4K resolution at 30Hz.
Gigabyte also boasts that this miniature PC benefits from a 2X Copper PCB design and there's a large aluminum heat spreader on the underside of the board, a combination that provides effective heat dissipation and better long-term reliability and lifespan.
While the company is pitching this board at commercial usage, looking at the full spec (and also considering that emphasis on reliability), there's certainly no reason why this won't make a great versatile board for the enthusiast computer tinkerer at home.
Unfortunately, there's no confirmed launch date or price for the GA-SBCAP3350 just yet, but hopefully it'll hit the market soon enough, and we can see how much it costs compared to the other Raspberry Pi-alikes out there (which are plentiful in number these days).
Via: Liliputing
TechRadar: latest computing news
The 2017 version of the Surface Pro (Microsoft has decided to dispense with version numbers) is a huge improvement on the previous iteration, showing that Microsoft has taken the time to listen to users and factor in their feedback on last year's device.
The Intel Core i5 version, and the expected Core m3 edition of the Surface Pro are both fanless thanks to an improved thermal design, and battery life has been improved. The Surface Pro's hinge has been improved too in response to comments from users, and can now bend back to a flatter 165-degree angle.
The Surface Pro's accessories – the Surface Pen and Type Cover – have also had a major reworking. The Surface Pen offers far more degrees of sensitivity, plus lower latency and tilt detection for artists and designers, while the Type Cover now features deeper-set keys covered with a material the feels more pleasant to the touch. Neither of these peripherals are included with the Surface Pro as standard though, so you'll have to buy them separately.
Latest updates
The Surface Pro's launch hasn't been entirely smooth, but Microsoft has responded quickly to users' worries.
One problem involved the device entering a 'Sleep' state at random intervals, sometimes causing them to lose work if they haven't been hitting the save button regularly. Thankfully, Microsoft was quick to respond and released a fix via the Windows Update Channel within days of the problem being reported.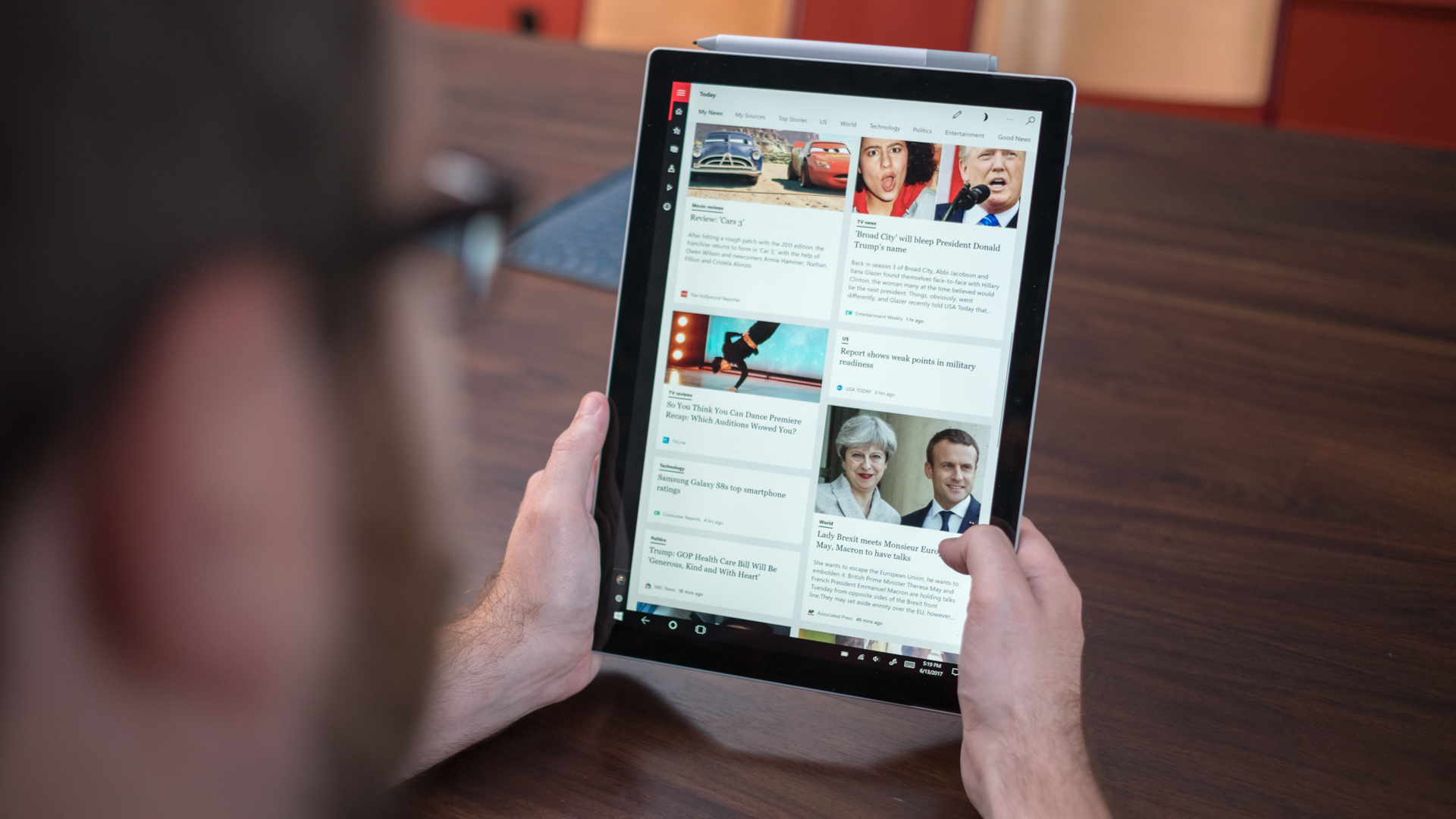 What's coming next?
We recently saw a leaked version of Microsoft's forthcoming Whiteboard app, which looks like a perfect fit for the new Surface Pro and Surface Pen. The app is essentially a collaborative drawing board for group brainstorming and doodling, and will include a customizable toolkit of pens, plus Bing image searches so you can find pictures for your presentations without opening your browser.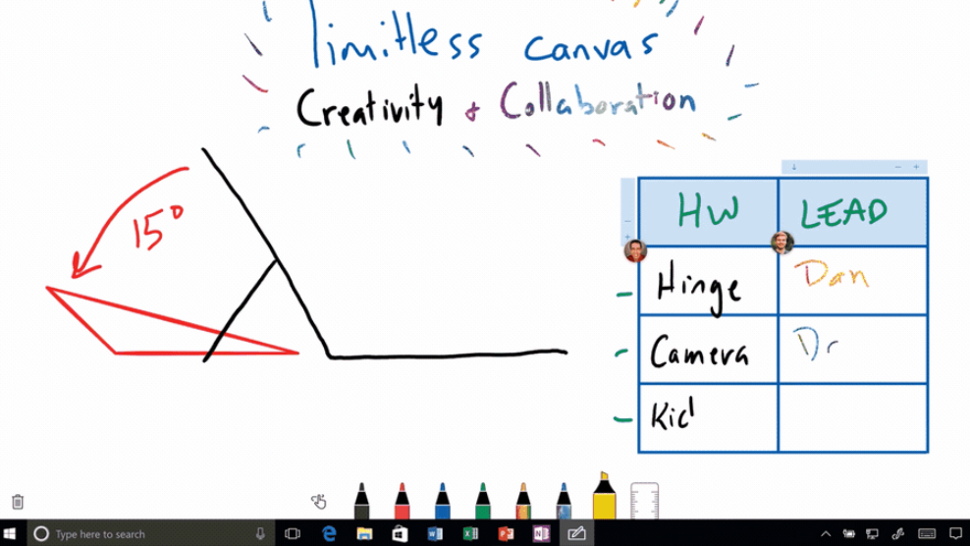 We're also expecting lots of additions and improvements in the Windows 10 Fall Creator's Update later this year.
One of the new tools coming soon is Windows Story Remix, which lets you combine lots of different media, including photos, 3D objects, videos and music, to create a mixed-reality presentation.
The Creator's Update will also see the introduction of Fluid Design – a new design language created with accessibility in mind. Fluid Design will make greater use of touch and ink, as well as voice, gaze and gesture on devices like the new Surface Pro.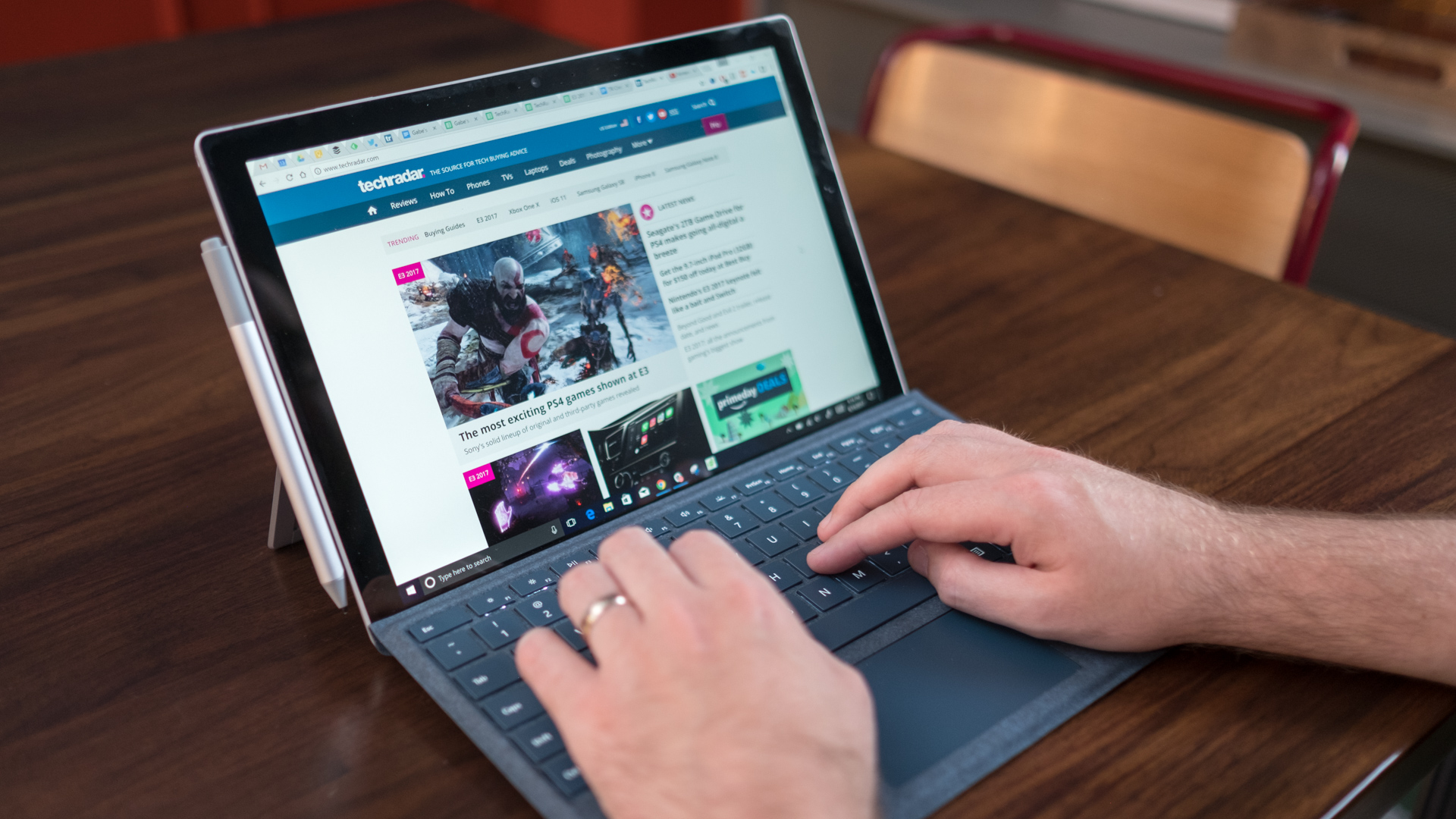 Below, you'll find some of the most useful and popular tips for your Microsoft Surface Pro. We're always digging into the Surface Pro to find what's new and interesting, so stay tuned for more tips.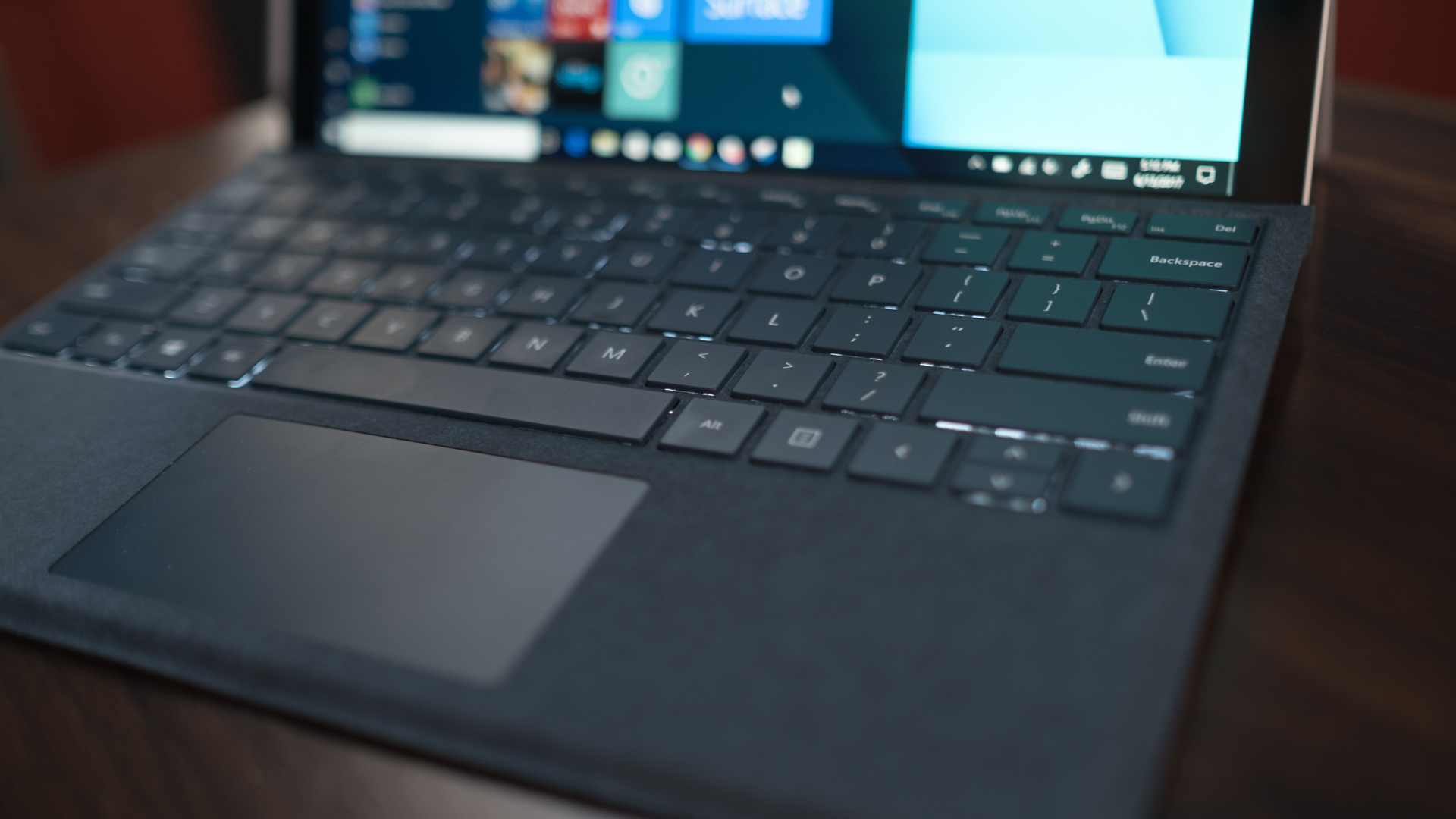 Your new Surface Pro will come with Windows 10 installed. It's the best version of Windows yet, smoothly adapting when you change between tablet and laptop modes, and this guide will help you get the most from it.
We'll show you how to use the new Cortana personal assistant, access all of Windows 10's brilliant touchscreen features, keep your files safe with the built-in OneDrive cloud storage, customize your desktop and much more besides.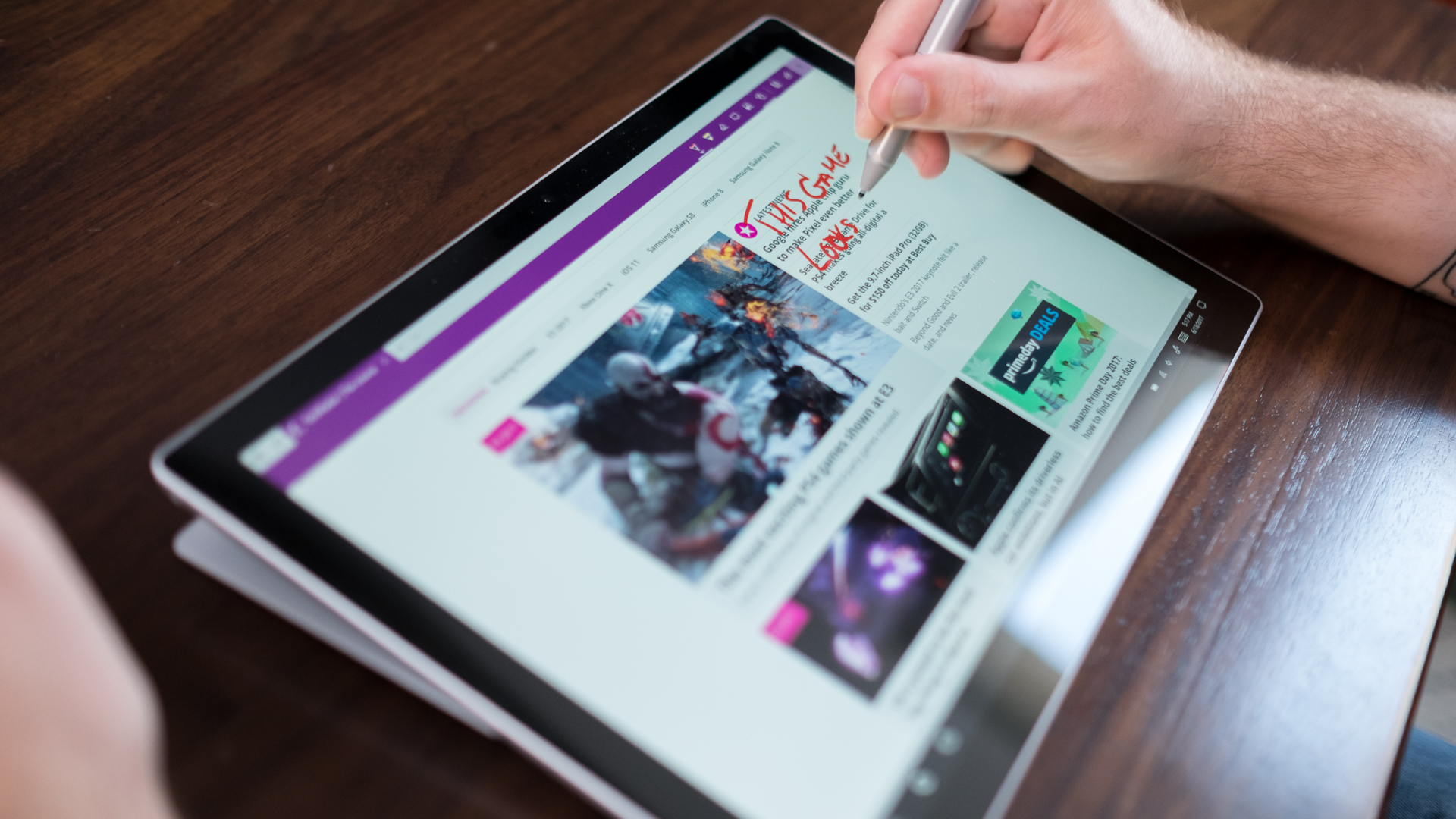 Once you've paid for your new Surface Pro, as well as the Surface Pen and Touch Cover, you won't want to spend even more money on software. Thankfully, there are brilliant free programs available that cover all the essentials.
Here you'll find office software, media players, photo editors and security software, and none of them will cost you a penny.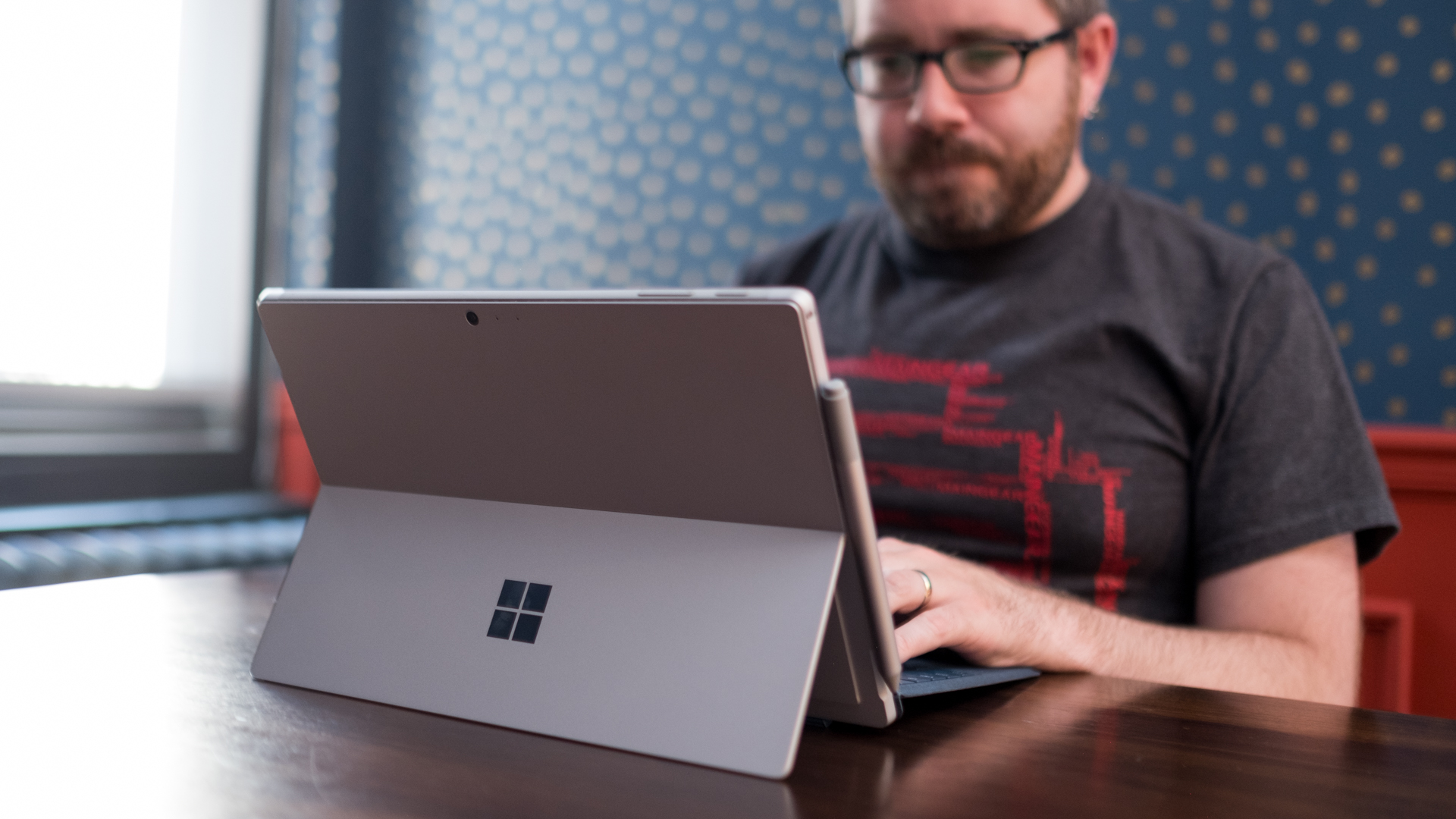 Once you've mastered the basics, these advanced tricks and tweaks will help you customize Windows 10 so your new Surface Pro works exactly how you want it to.
Discover how to make your Pro's battery run longer on a single charge, save time with gesture controls, and change the default apps to your favorites.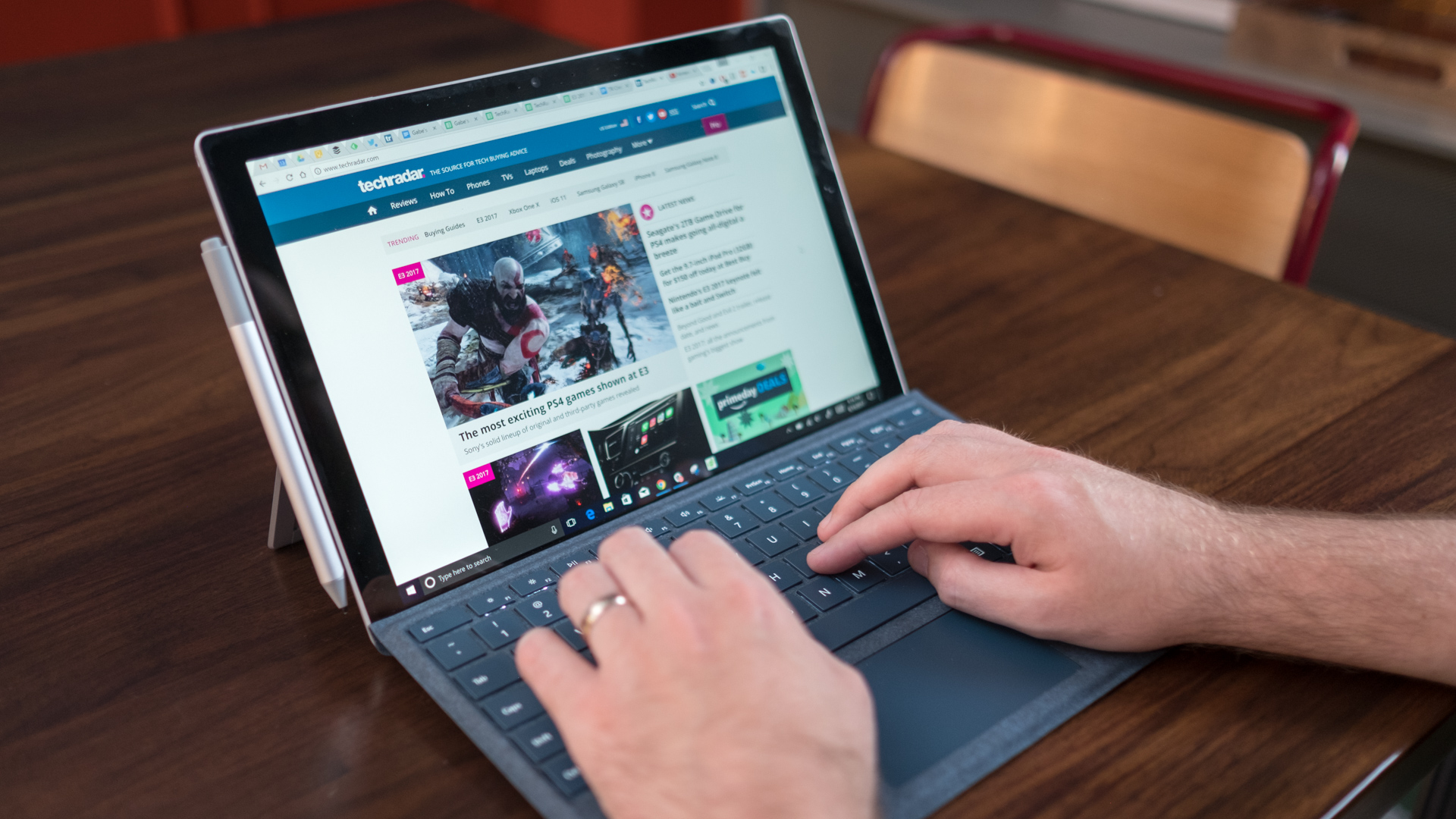 When you open your new Surface Pro, all you'll find is the tablet – no keyboard, pen, or other accessories – so you'll need to make a few extra purchases to get the most from your new device.
These are the best deals on all the essentials for your Surface Pro.


Microsoft Surface Pen
The new Surface Pen is currently available to pre-order from the Microsoft Store for £99.99/US$ 99.99 (about AU$ 130). 
It now features tilt support for shading drawings, reduced lag, and 4,096 levels of pressure sensitivity. It will be available in four colors: silver, burgundy, black and cobalt blue.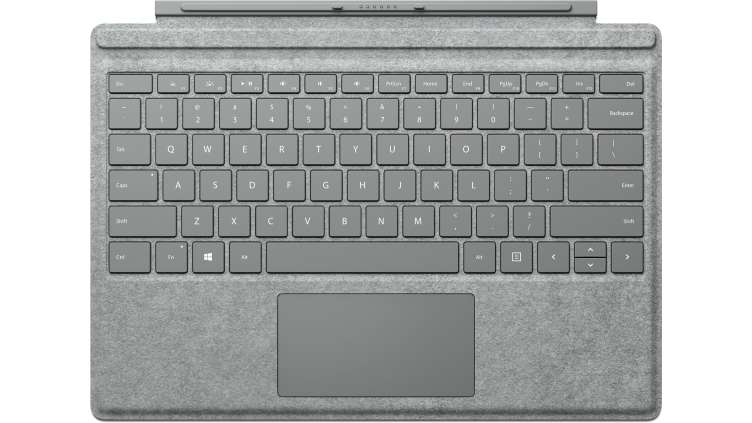 Microsoft Surface Pro Signature Type Cover
The latest Type Cover is a marked improvement over the previous iteration – pleasant to use and more robust feeling. The new Alcantara fabric feels like it will stand the test of time, and Microsoft claims it looks better with age.
The keys pop back up with more force when pressed down too, making typing a more enjoyable experience.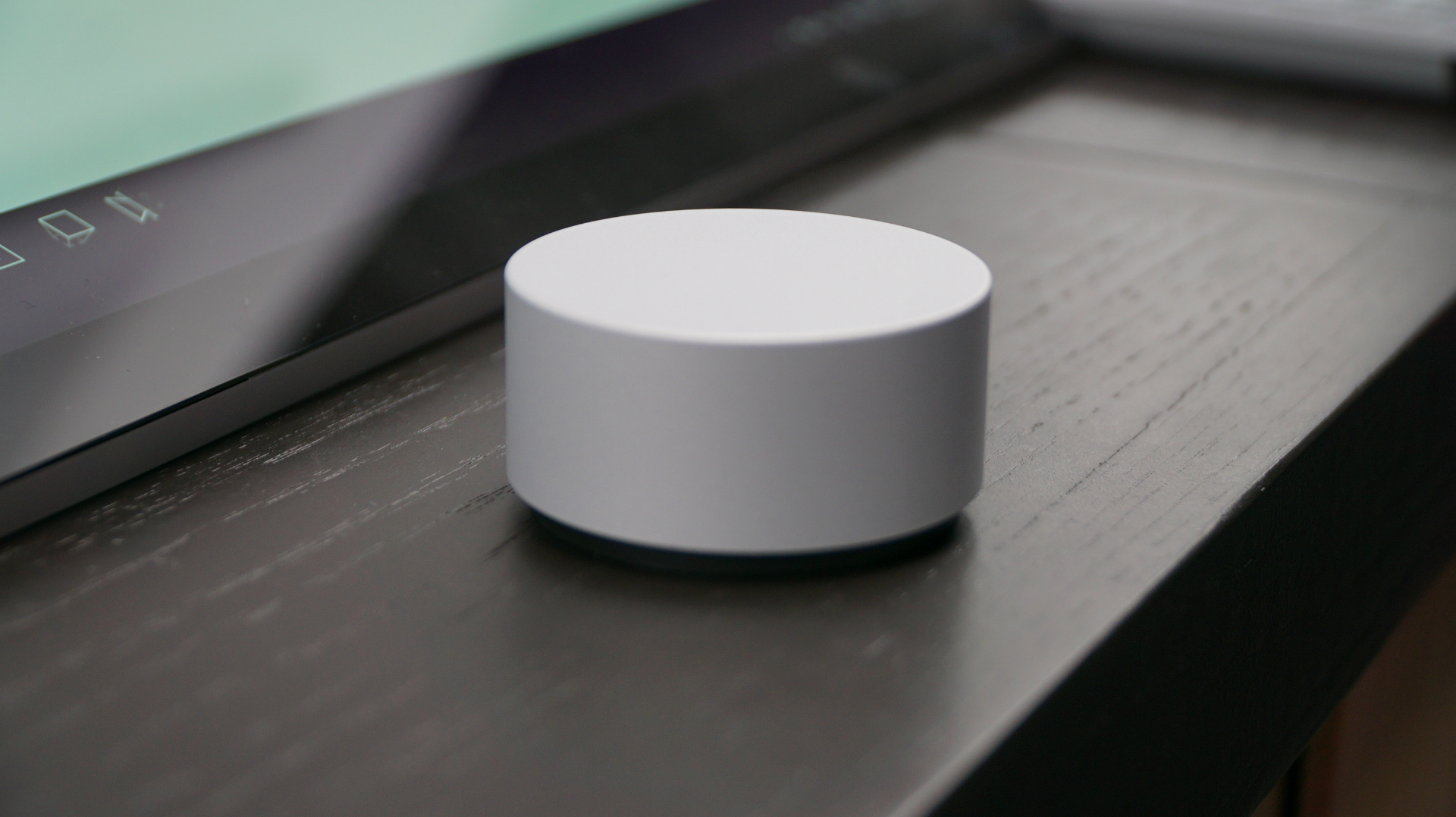 Microsoft Surface Dial
The Surface Dial is an unusual little peripheral that sits on the screen of your Surface Pro, providing quick access to controls and shortcuts in your favorite apps. You can turn the Dial to scroll through web pages, control volume, rotate images, and switch between drawing tools.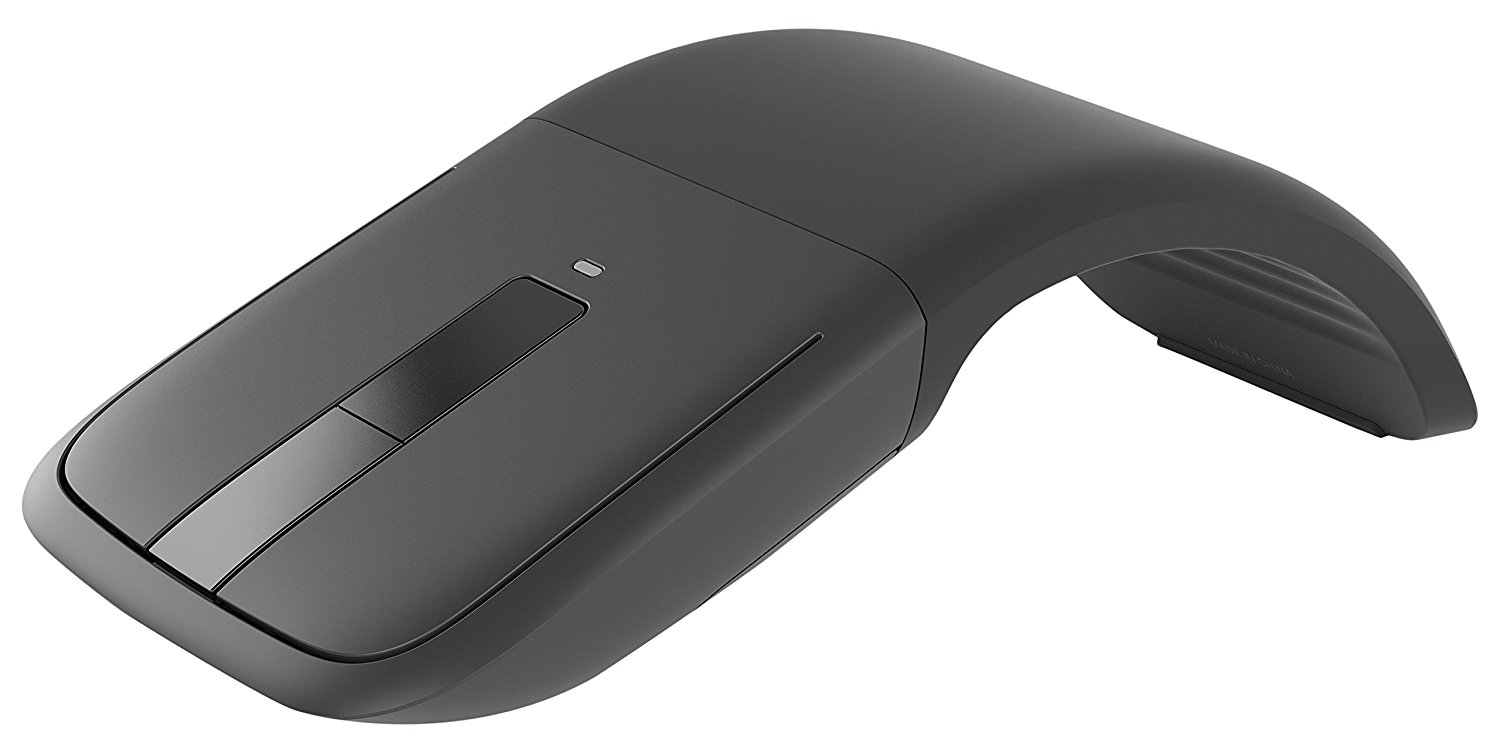 Microsoft Arc Touch Mouse Surface Edition
This special edition of Microsoft's stylish Arc Touch Mouse is designed to look smart paired with your new Surface Pro. It's super lightweight at just 81.9g, works from up to 30 feet away, and can even be used on rough surfaces like wood and carpet.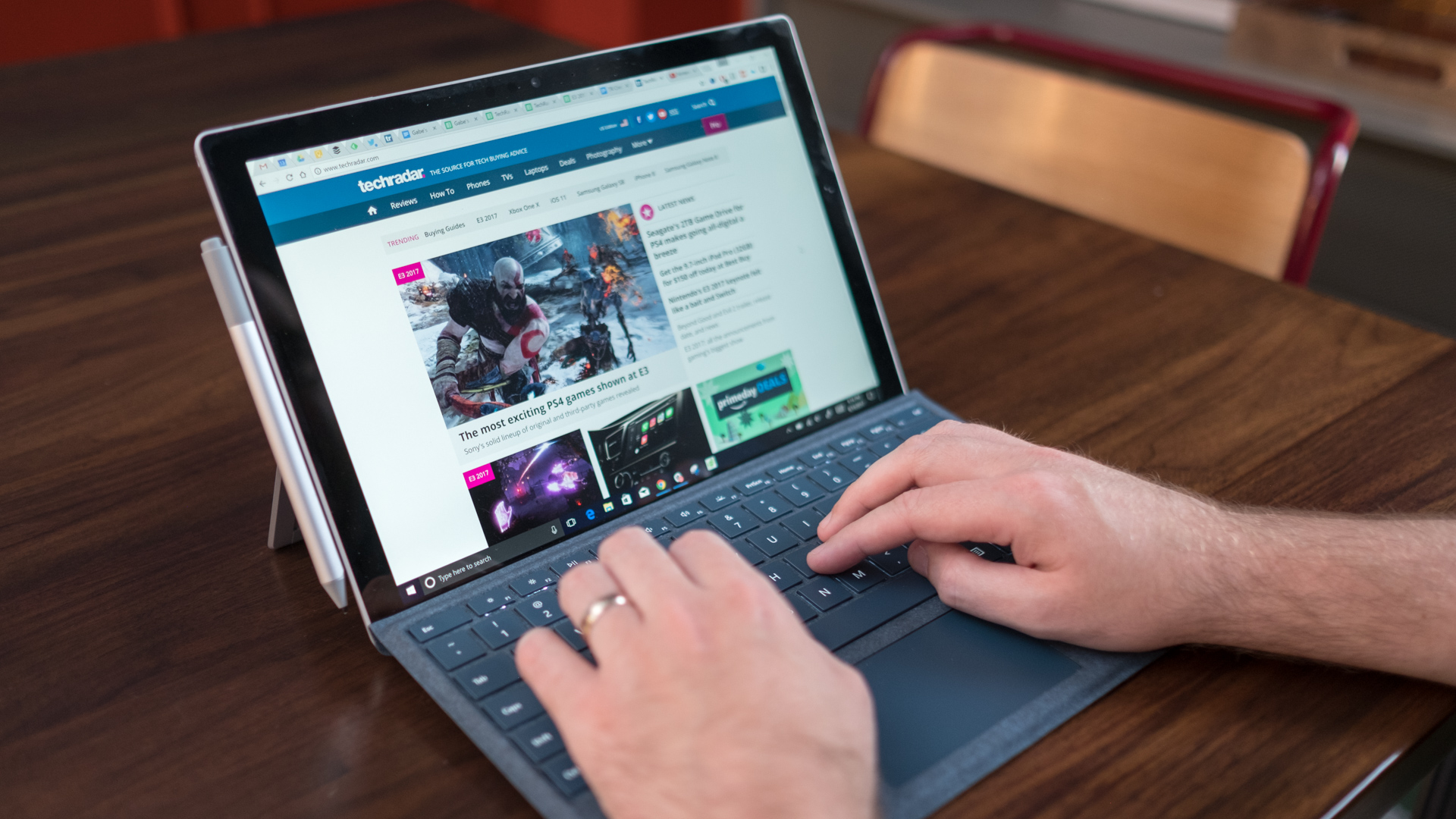 The new Surface Pro is designed for use on the move, and the Surface Pen makes it a brilliant option for creative apps, entertainment and games. These are our top picks from the Microsoft Store.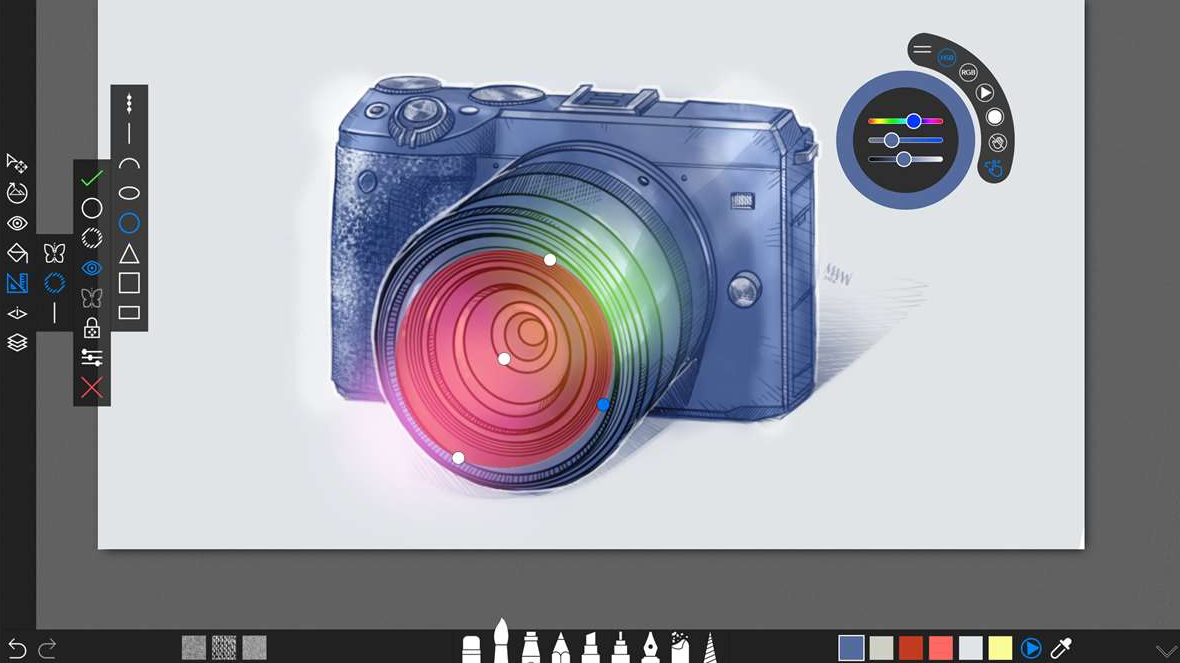 Sketchable
Sketchable is a drawing and painting app that's a perfect fit for your new Surface Pro. You can use the Surface Pen to create sketches from scratch, take and edit photos, and make quick notes.
If you've invested in the Surface Dial, you can switch between drawing tools and colors with a simple twist.
More advanced options, including layers, masks and transform tools, are available as in-app purchases.
Download here: Sketchable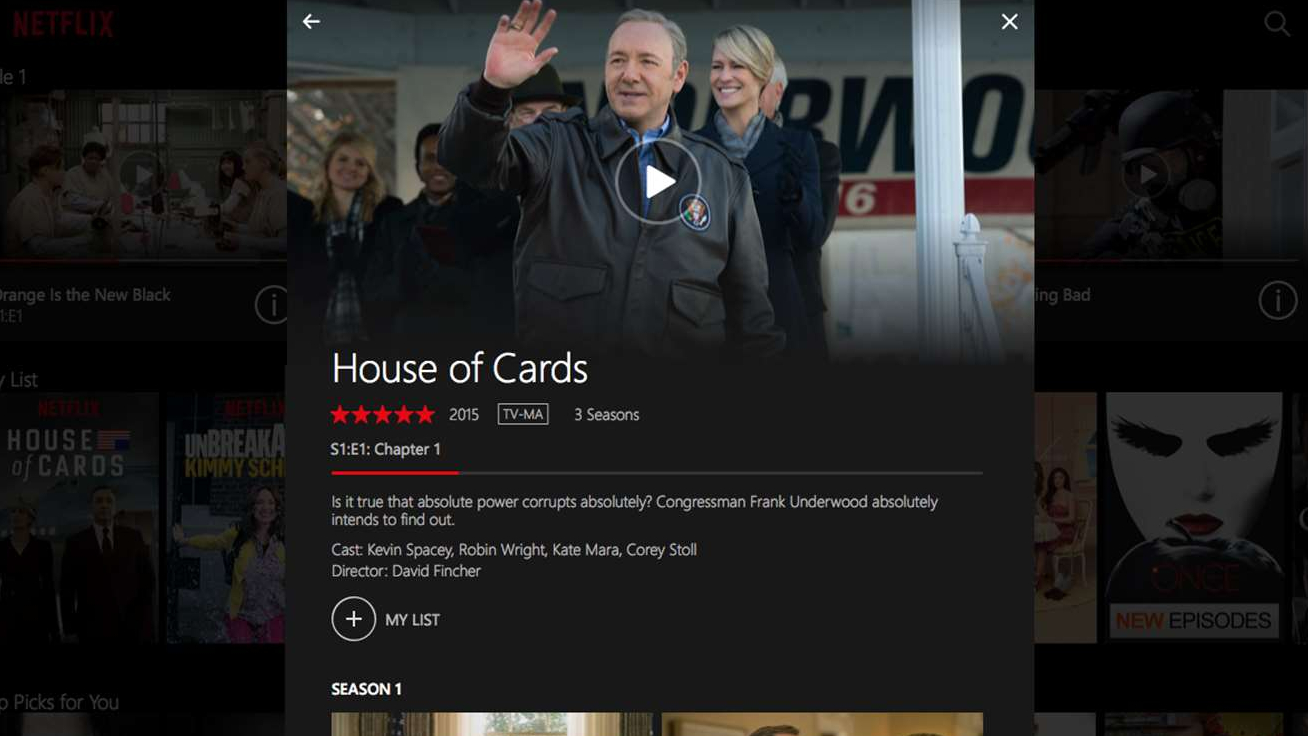 Netflix
If you're on the road with your Surface Pro, the Netflix app is the perfect way to keep yourself entertained. 
The app is free to use if you already have a Netflix account, and if not, you can use it to register for a one-month free trial. 
Once you've signed up, you'll have access to a huge selection of movies and TV shows. You can begin watching on your TV, then pick up where you left off using your Surface Pro when you're away from home.
Download here: Netflix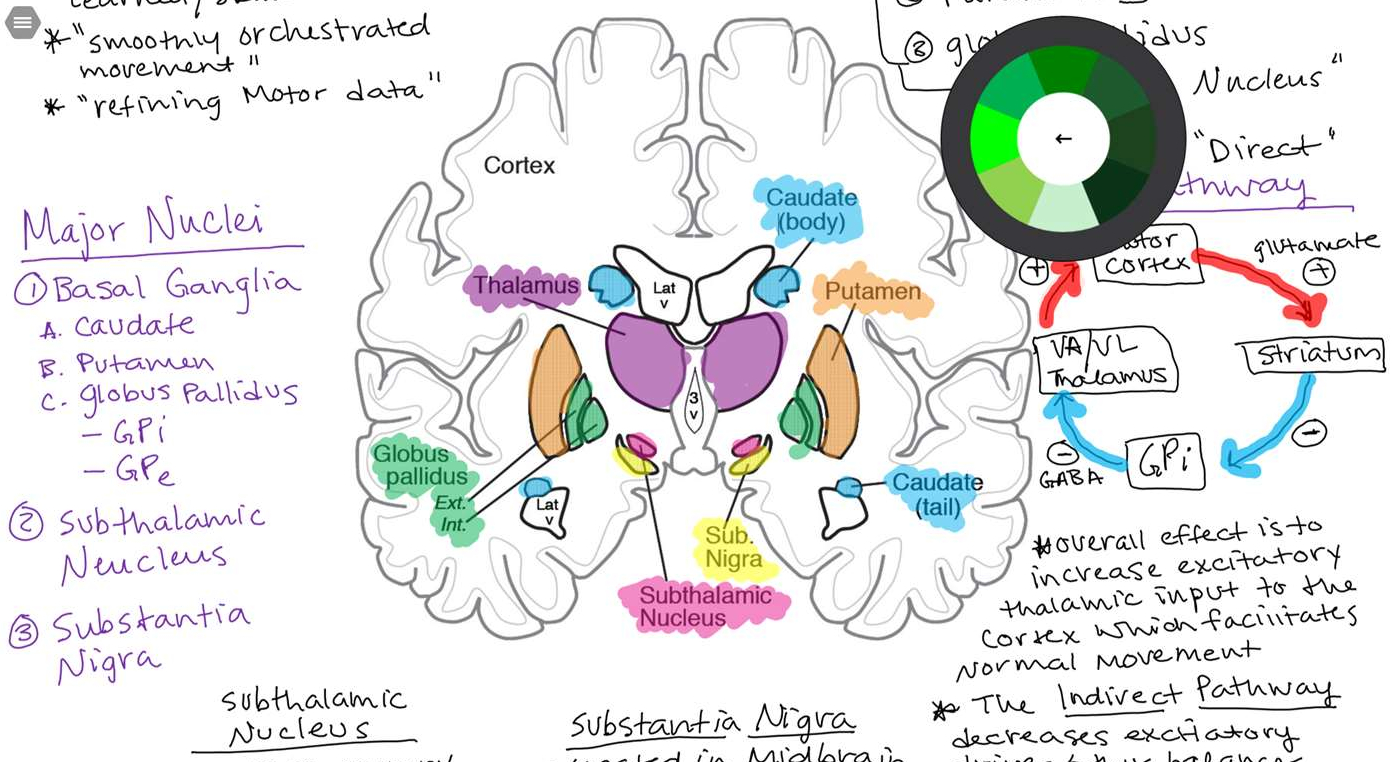 Drawboard PDF
Drawboard PDF is another excellent companion for your new Surface Pro, Pen and Dial. It's the easiest way to annotate documents and feels just like using paper and ink, making ideal for work and study alike.
You can also use the app to create new PDFs from scratch using text boxes, geometric shapes, photos, and hand drawings.
Dawboard PDF is available as a three-day free trial, after which the full app costs a modest £8.39/US$ 9.99/AU$ 14.95.
Buy here: Drawboard PDF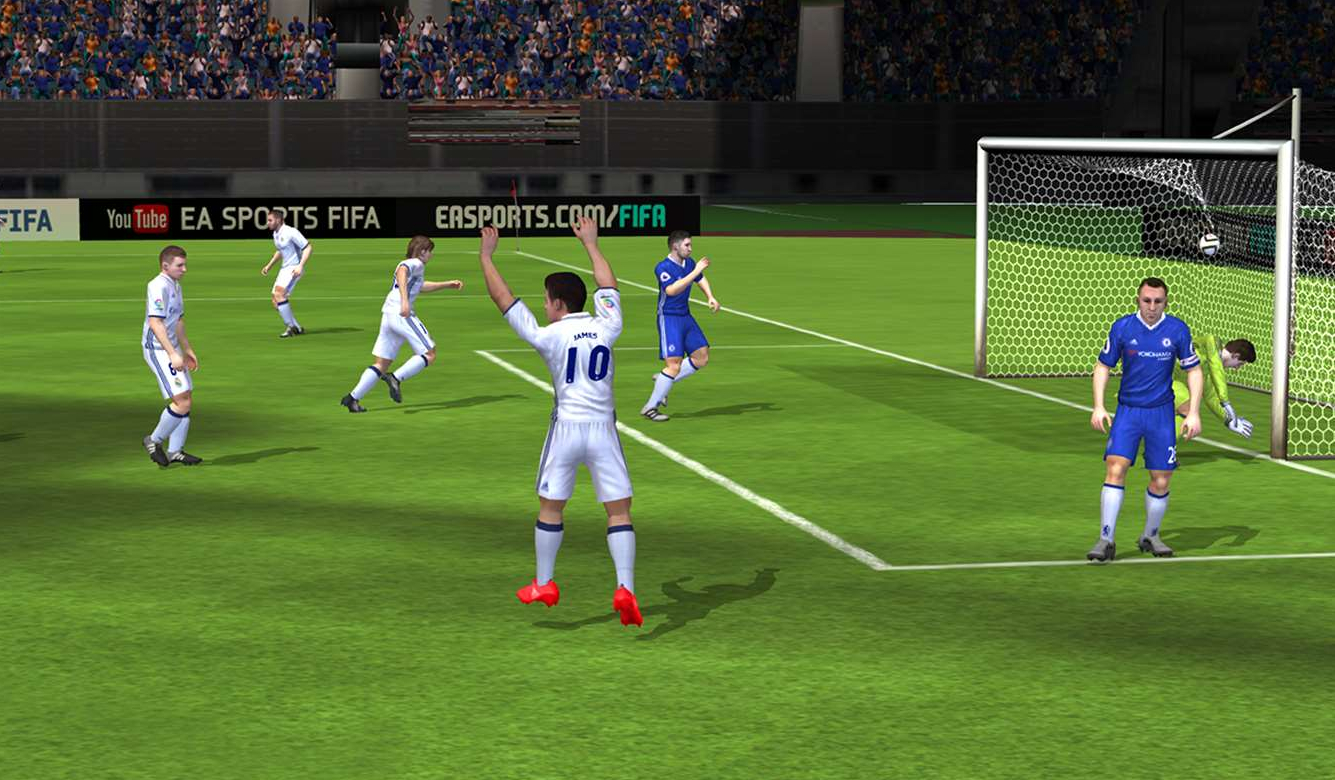 FIFA Mobile Football
FIFA Mobile Football is the perfect game for playing on the move. You don't need a Surface Pen or other peripherals for this one – just your fingertips.
The famous FIFA football manager series has been going strong since 1993, but this is the first version specifically designed for mobile devices like your new Surface Pro. Take your pick from over 350 real teams, then guide them to success. You'll learn how to obtain new players, adjust lineups on the fly, tweak tactics and master the art of rotation.
You can even join forces with other players as part of a multiplayer league, and take on the world's best players in tournaments.
Download here: FIFA Mobile Football
TechRadar: latest computing news
El descuento de HTC Vive puede ser algo tentador, pero no significa nada sin una plataforma lo suficientemente poderosa. Ahí es donde entran en juego las mejores computadoras portátiles. En el 2017, estamos en movimiento, aunque necesitamos que nuestros ordenadores sean tan poderosos como que sean portátiles -. Para así tomar ventaja de todas estas ofertas insuperables de verano.
Incluso si la actualización a Windows 10 te hace desconfiar, es posible que disfrutes el hecho de que pronto serás capaz de comprobar en el estado de la tarjeta gráfica en el Administrador de tareas. Sin mencionar todas las últimas computadoras portátiles de juegos pueden aprovechar el modo de juego que aparece en la actualización de Windows 10 Creators - y quién no quiere un mejor rendimiento, no importa cuán modestas sean las ganancias?
Hemos cubierto cada tipo de portátil aca en nuestra guía de mejores portátiles. 
Ya sea que necesite una computadora portátil del juego que se ejecuta todo en 4K o simplemente algo que usted puede utilizar para ejecutar Prey a una velocidad estable, hemos puesto las mejores computadoras portátiles para videojuegos en cada categoría para ayudarte a determinar tu próxima gran compra. En un pedido basado en nuestras calificaciones de revisión y premios, estos son los mejores portátiles para juegos de 2017.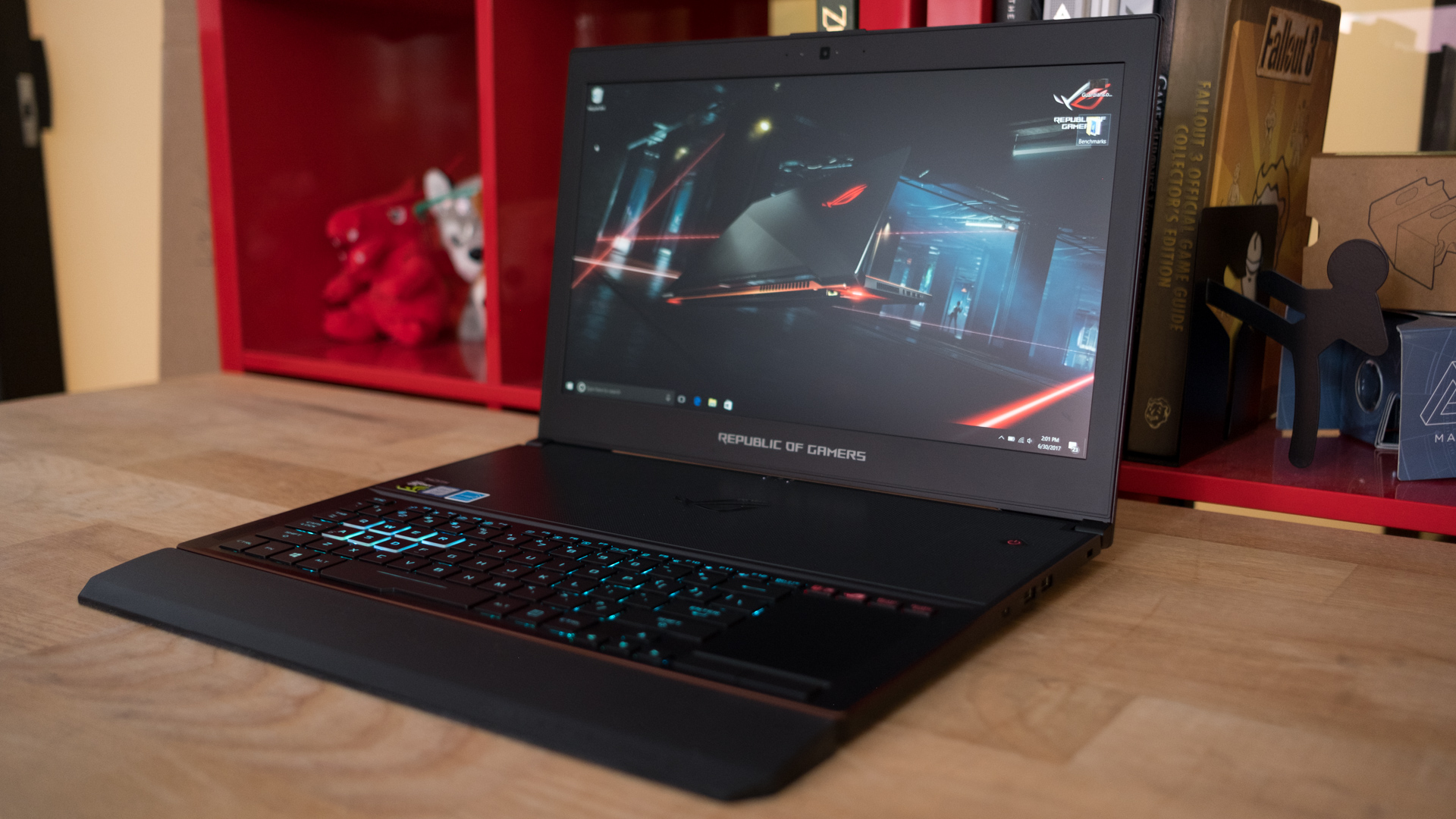 El Asus ROG Zephyrus GX501 no podría haber llegado en un mejor momento. Es posible gracias a la tecnología Max-Q de Nvidia, con la cual la compañía promete que hará los ordenadores portátiles sean simultáneamente más delgados y más rápidos. Que este portátil pueda existir en absoluto es una hazaña, sobre todo teniendo en cuenta que su competencia más cercana de Alienware es más grueso y casi el doble de pesado, mientras que sigue con los resultados de referencia inferior en algunas áreas. Aunque su batería sólo durará dos horas máximo (negando cualquier esperanza de juegos verdaderamente portátiles), el Asus ROG Zephyrus GX501 es Ultrabook-esque en su diseño y juego PCcomo en su rendimiento.
Lee la reseña completa: Asus ROG Zephyrus GX501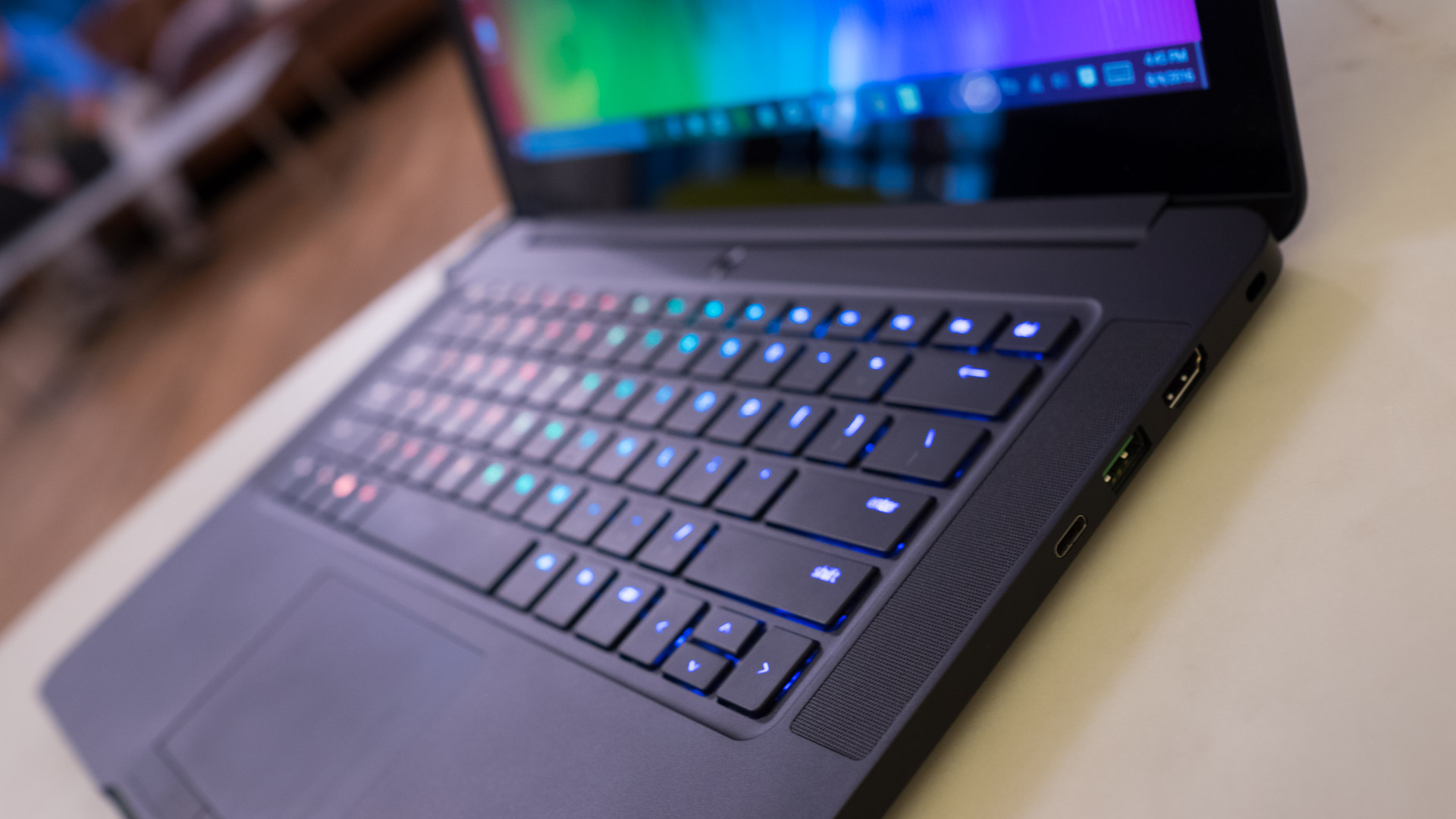 Para muchos jugadores, Ultrabook es una palabra de cuatro letras, pero no tiene que ser. La primera vez que tenga las manos en una Razer Blade, verás una duración de la batería de 4 horas y 8 minutos durante las tareas diarias de productividad (o 7 horas y 29 minutos de vídeo sin interrupción). Aunque se podría argumentar que escatima en lo que respecta a los gráficos, con la ayuda de una carcasa de GPU externa Razer Core, puede atar una Nvidia GTX 1080 Ti si lo deseas. Además, con la nueva opción de pantalla de 4K, es posible que realmente la necesite.
Leer el artículo completo: Razer Blade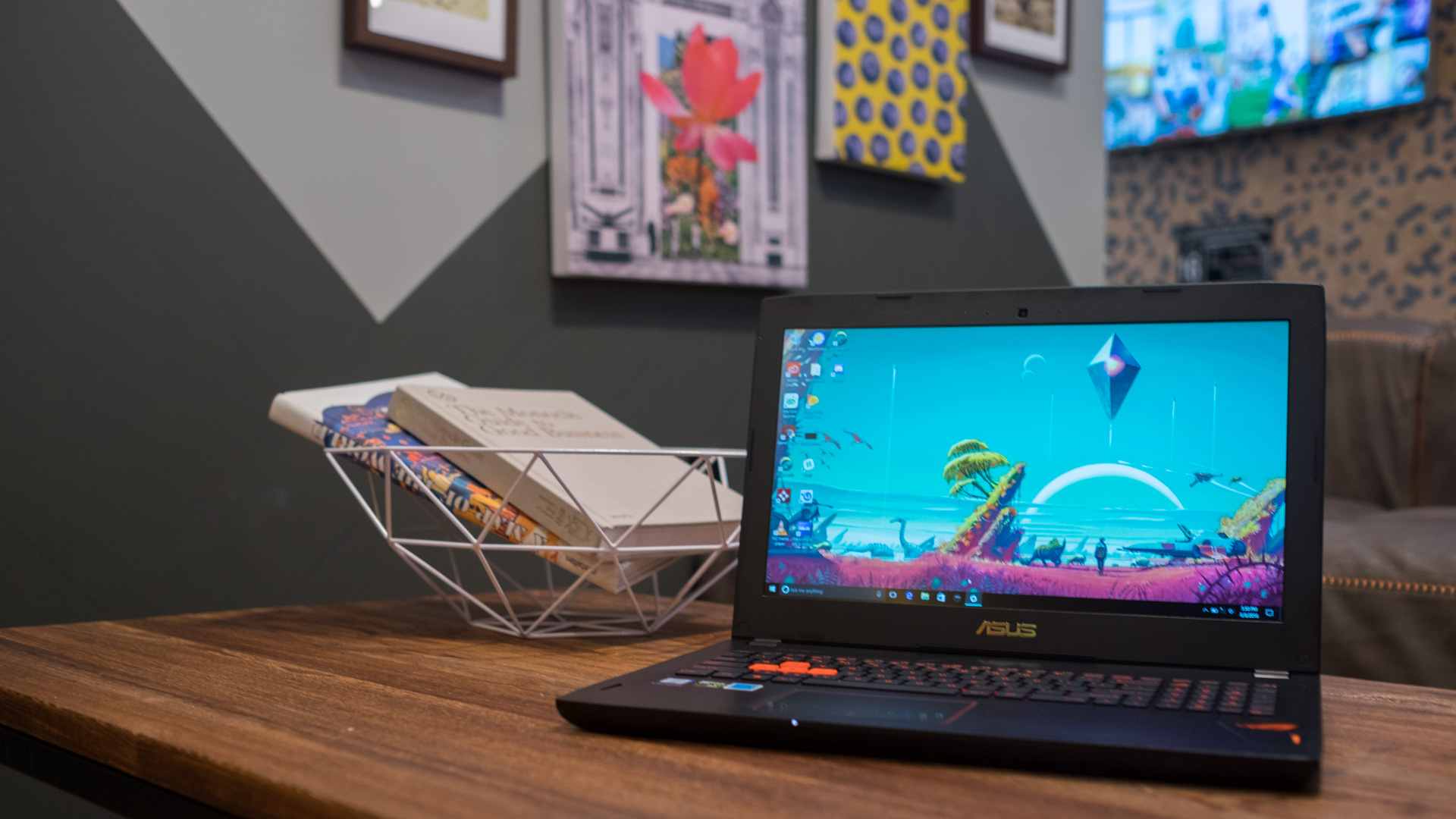 El Asus Strix GL502 puede no tener el diseño más innovador, intercambiando el habitual esquema de color negro y rojo para uno que hace que se sienta como Halloween todo el año. Pero, sin duda, es uno de los mejores cuando se trata de juegos en 1080p. De hecho, fuimos capaces de poner en marcha los ajustes hasta en Overwatch sin tener un toque por debajo de 60fps. La vida de la batería es media, seguro, pero la pantalla, el rendimiento y el sistema de sonido a bordo más que compensan por ello.
Leer el artículo completo: Asus ROG Strix GL502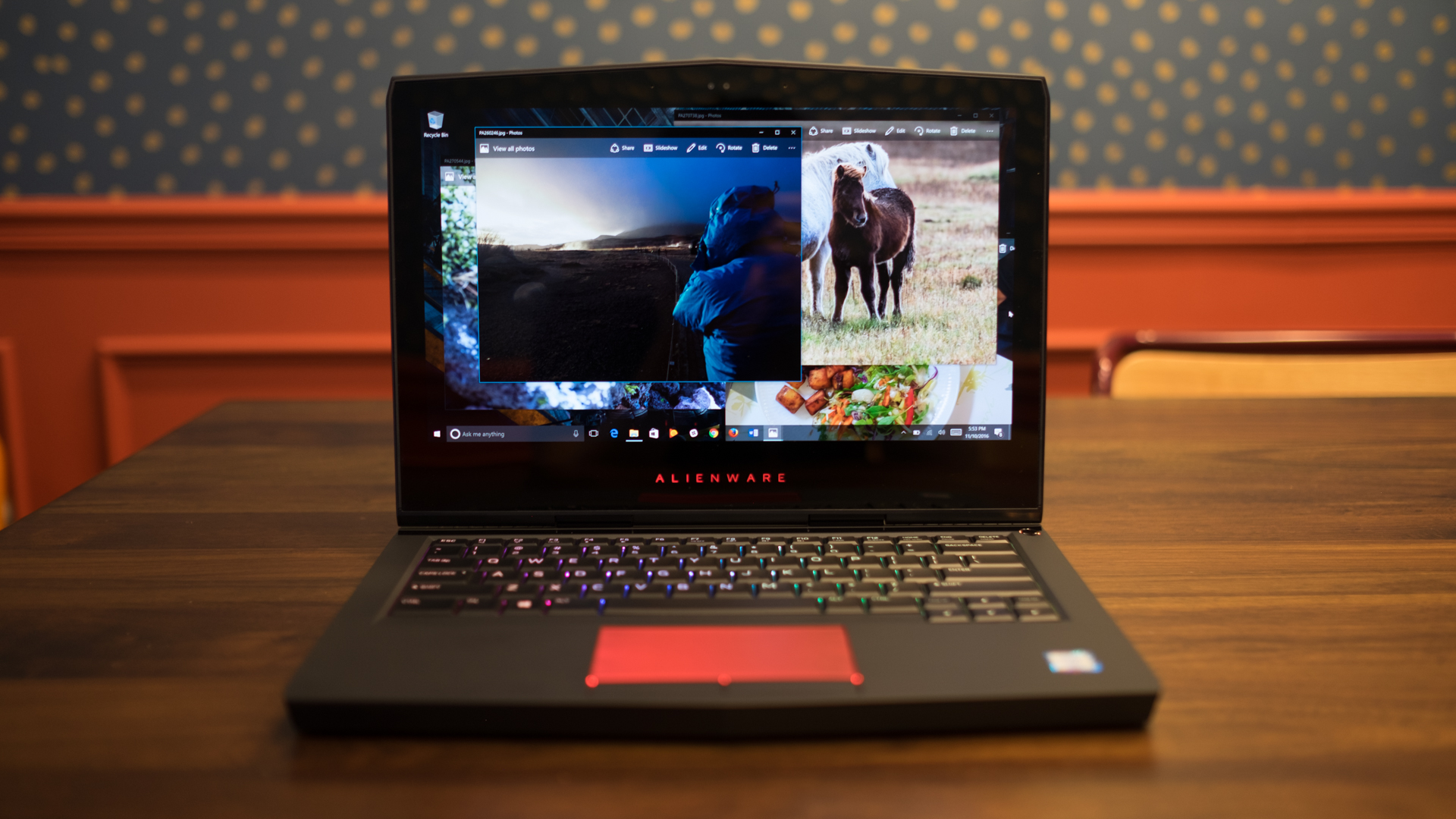 A diferencia de la mayoría de los ordenadores portátiles de su tamaño, el Alienware 13 R3 lleva un diseño bisagra hacia adelante. Al mover los disipadores de calor normalmente ubicados debajo del teclado a una protuberancia distinta que se proyecta hacia fuera detrás de la pantalla, permite un chasis más delgado de 0,81 pulgadas (0,22 cm). Desafortunadamente, esto significa que usted no encontrará muchas bolsas de 13 pulgadas portátil que realmente se adapte a la Alienware 13 R3; Más bien es probable que tenga que optar por un portador de 15 pulgadas. El verdadero atractivo, sin embargo, no es el apéndice sobresaliente de Alienware 13 R3 ni siquiera su impresionante CPU de cuatro núcleos y clase H. Mientras que usted puede ser tentado por la inclusión de un tamaño completo Nvidia GeForce GTX 1060, es la pantalla táctil OLED que llamó nuestra atención. La gama de colores nítidos pone prácticamente a cada otro ordenador portátil en el mercado en vergüenza.
Leer el artículo completo: Alienware 13 R3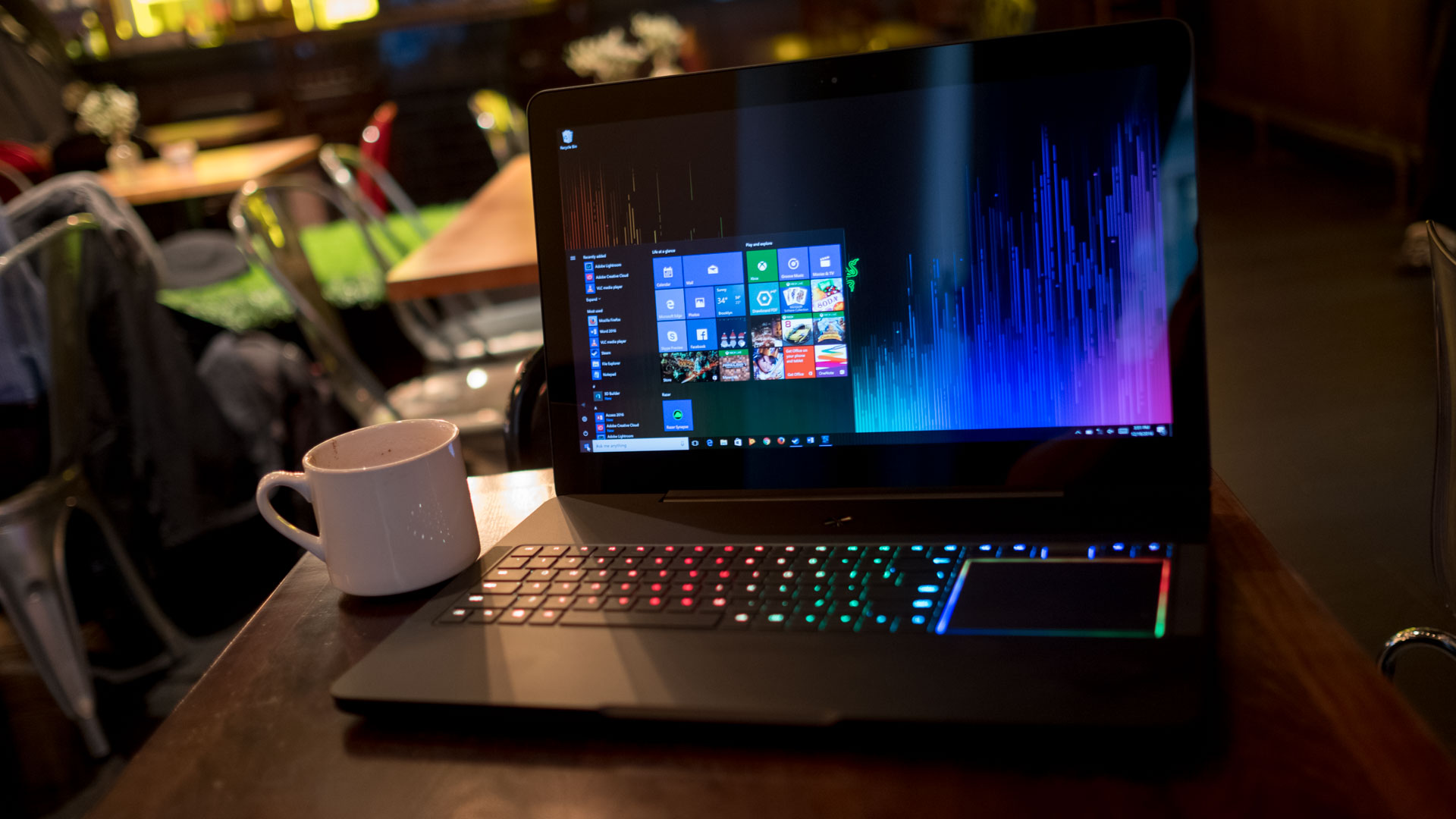 Por último, Razer ha introducido una computadora portátil que no sólo puede reemplazar su computador de escritorio, pero lo hace sin incluir más peso que la mayoría de las computadoras portátiles grandes. Es caro, sí - sin duda no le ahorrará dinero en comparación con la construcción de su propia PC. Por otro lado, mide sólo 0,88 pulgadas de espesor con una pantalla integrada de 17 pulgadas, 4K multi-touch y una tarjeta Wi-Fi incorporada. Si eso no es suficiente para venderlo ya, Razer Blade Pro también introduce los switches mecánicos de perfil ultrabajo de la compañía a un portátil por primera vez. Estas teclas tienen una apariencia similar a la de los teclados chiclet, pero presiona sobre ellos y sentirás (y escucharás) el chasquido auténtico de una llave mecánica. Es una experiencia mejorada sólo por su colocación inusual del trackpad, que se siente tan natural para el juego que usted se preguntará porqué no estaba allí desde el inicio.
Leer el artículo completo: Razer Blade Pro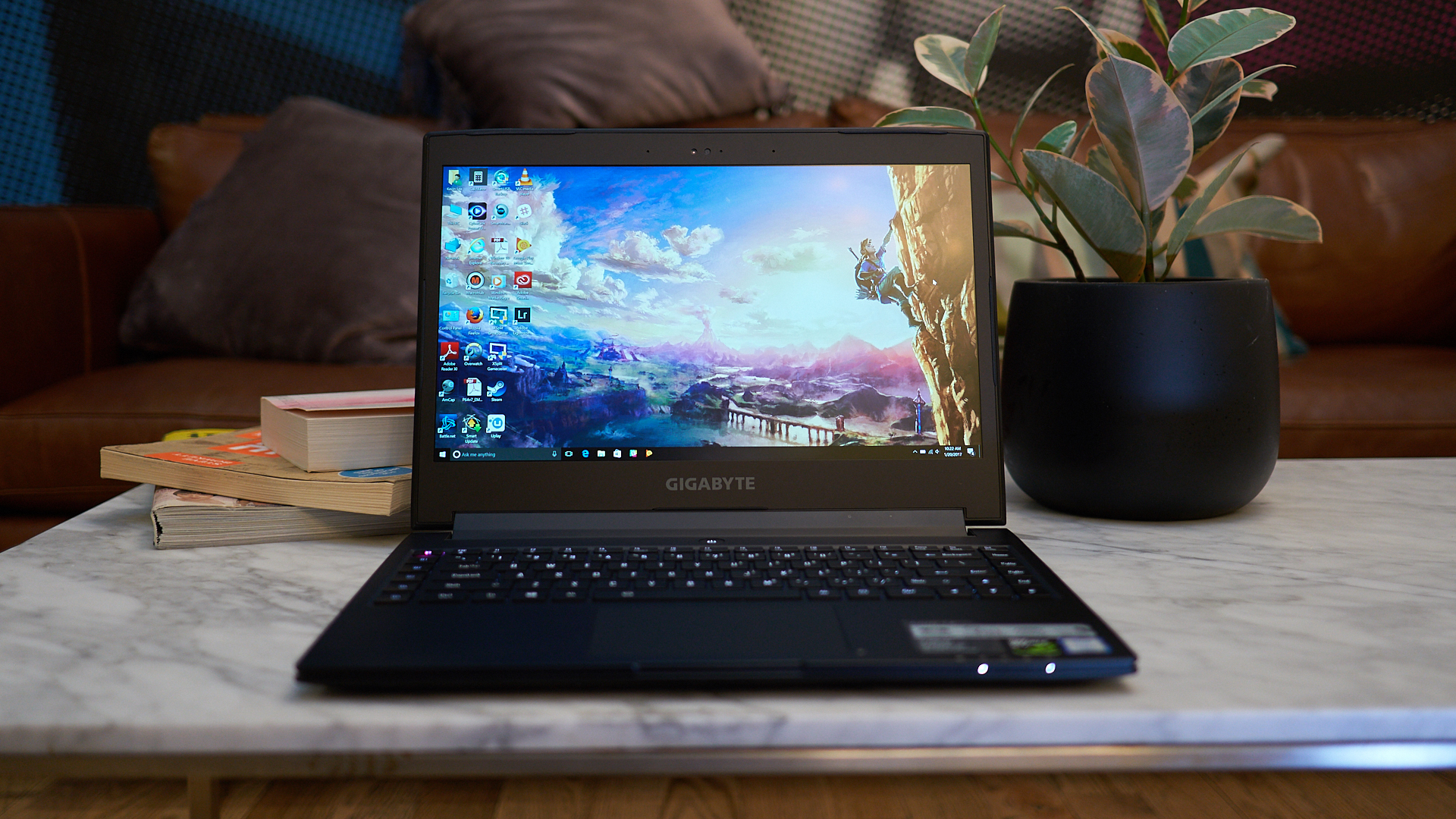 Poniendo un procesador de 7 ª generación Intel Core i7, Nvidia Pascal serie GPU y una resolución de pantalla que sobresale por encima de 1080p, este portátil es más asequible que un Razer Blade o Alienware 13 R3 comparable. Al mismo tiempo, descuida el compromiso en términos de portabilidad y rendimiento. Este es un portátil, por ejemplo, que pesa sólo 1,89 kg y mide 0,78 pulgadas de grosor, lo que sin duda es una hazaña para una máquina de juego. Factor en la prueba de batería de PCMark 8 de 3 horas y 38 minutos y bisagra de 190 grados, y es fácil ver por qué el Gigabyte Aero 14 llegó a nuestro top.
Leer el artículo completo: Gigabyte Aero 14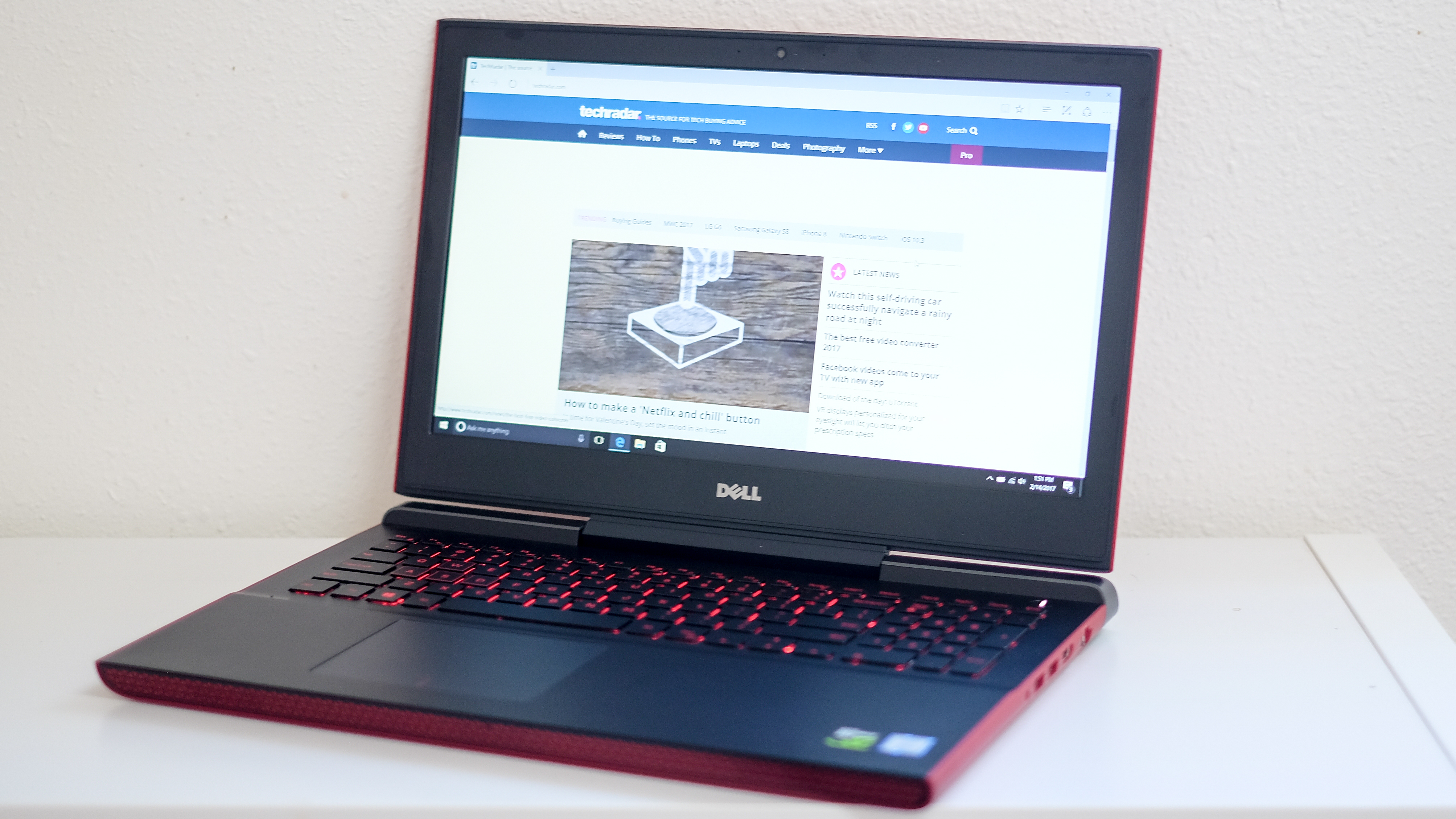 En un mundo lleno de computadoras portátiles para juegos de alto precio con componentes internos que compensan excesivamente sus resoluciones de pantalla no calificadas y las baterías de corta duración, el Dell Inspiron 15 Gaming es un soplo de aire fresco. Dejando el nombre de Alienware para algo un poco más ordinario, Dell ha creado otra PC de juego enmascarado como una máquina de productividad. Siguiendo los pasos de la Edición Especial de Dell XPS Torre , la Inspiron 15 es un equipo de juego que no sería incómodo para usar en público. Desde el exterior, el Dell Inspiron 15 Gaming es un acto de clase. Mejor aún, es relativamente poderoso, de larga duración y, de llegar a pensar en ello, bastante asequible también.
Leer el artículo completo: Dell Inspiron 15 Juegos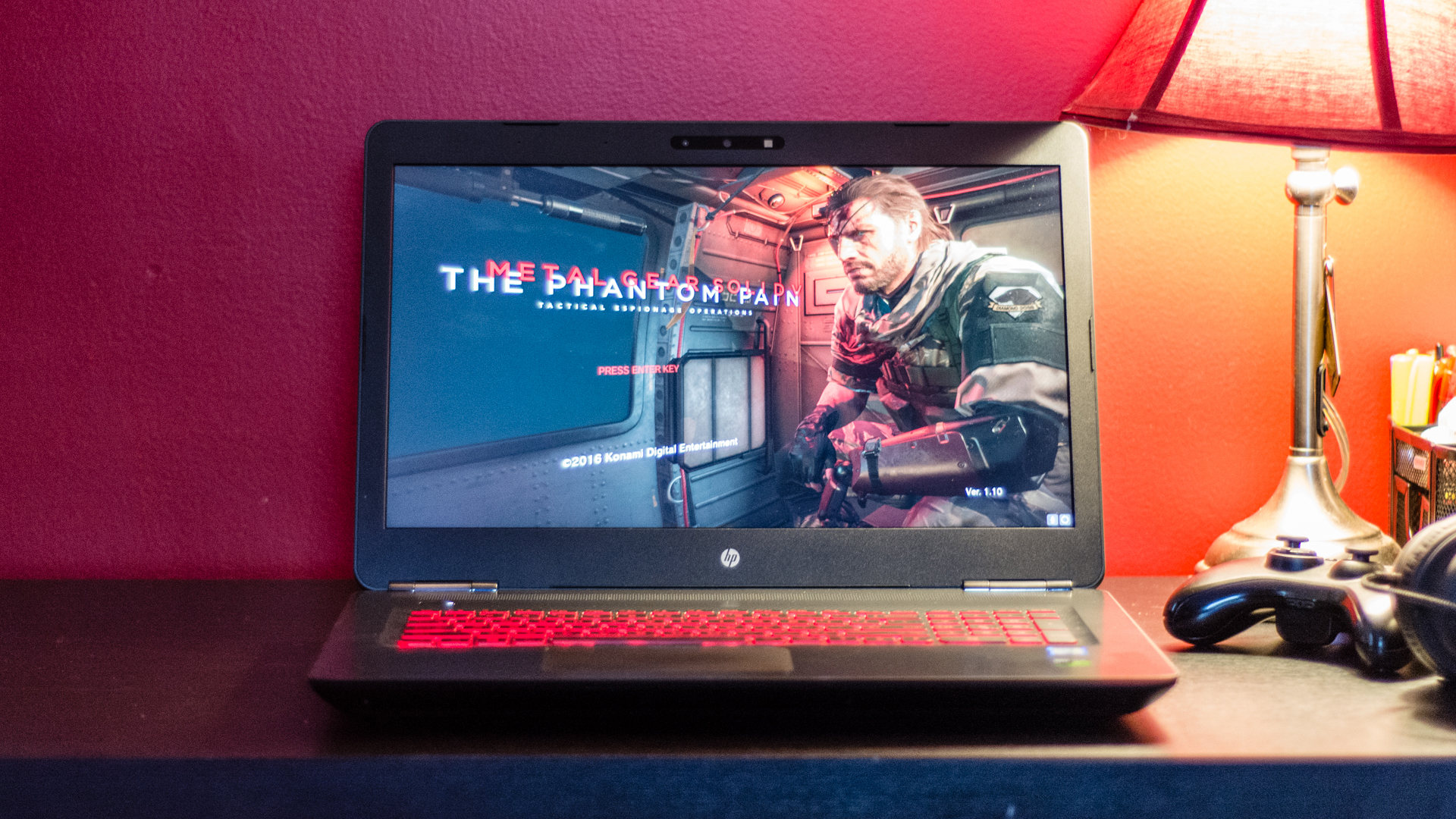 Al igual que el GameCube de ordenadores portátiles, el HP Omen 17 tiene la calidad de construcción de un juguete para niños. Sin embargo, cuando vea lo que puede hacer, se preguntará por qué no costó más. En 7 libras, usted tendrá que perdonar el peso del HP Omen 17 si desea beneficiarse de su pantalla de 17 pulgadas Quad-HD. Por supuesto, aunque la GTX 1070 es más de un intérprete de 1440p que uno de 4K, todavía puede esperar una consistente de 30 fps en juegos como The Division en la configuración gráfica más alta. En general, el HP Omen 17 es el equivalente HP Gigabyte P57X de HP, pero con los altavoces Bang & Olufsen que podrían inclinarte un poco por encima.
Leer el artículo completo: HP Omen 17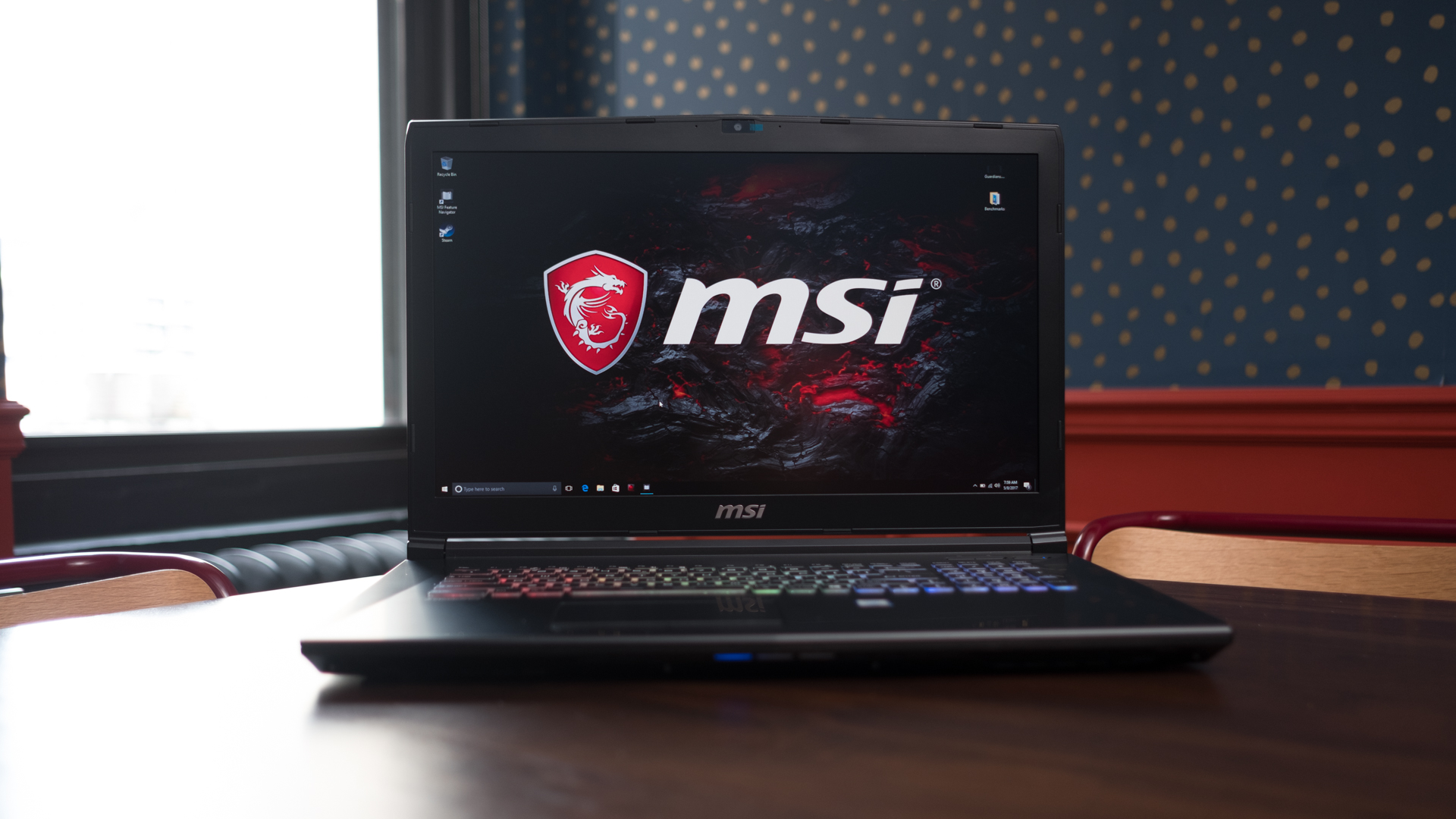 En caso de que no necesite el intenso hardware gráfico de la MSI Omen 17, pero todavía desea la enorme pantalla de 17 pulgadas, la MSI GP72VRX es exactamente el portátil de juegos para usted. Este portátil es desacertado en una sola configuración, pero es una muy buena que es para los juegos de gama media y, especialmente, apoyo VR. Los fans de lo sutil apreciarán el minimalismo de la GP72VRX. Si bien lleva la marca MSI dragón escudo de la marca y un teclado RGB, todo lo demás se mantiene relativamente bajo perfil. La tasa de actualización de 120Hz en su pantalla de 4K sería un aditivo práctico, pero por desgracia, la GTX 1060 no es completamente para espabilarse. 
Leer el artículo completo: MSI GP72VRX Leopard Pro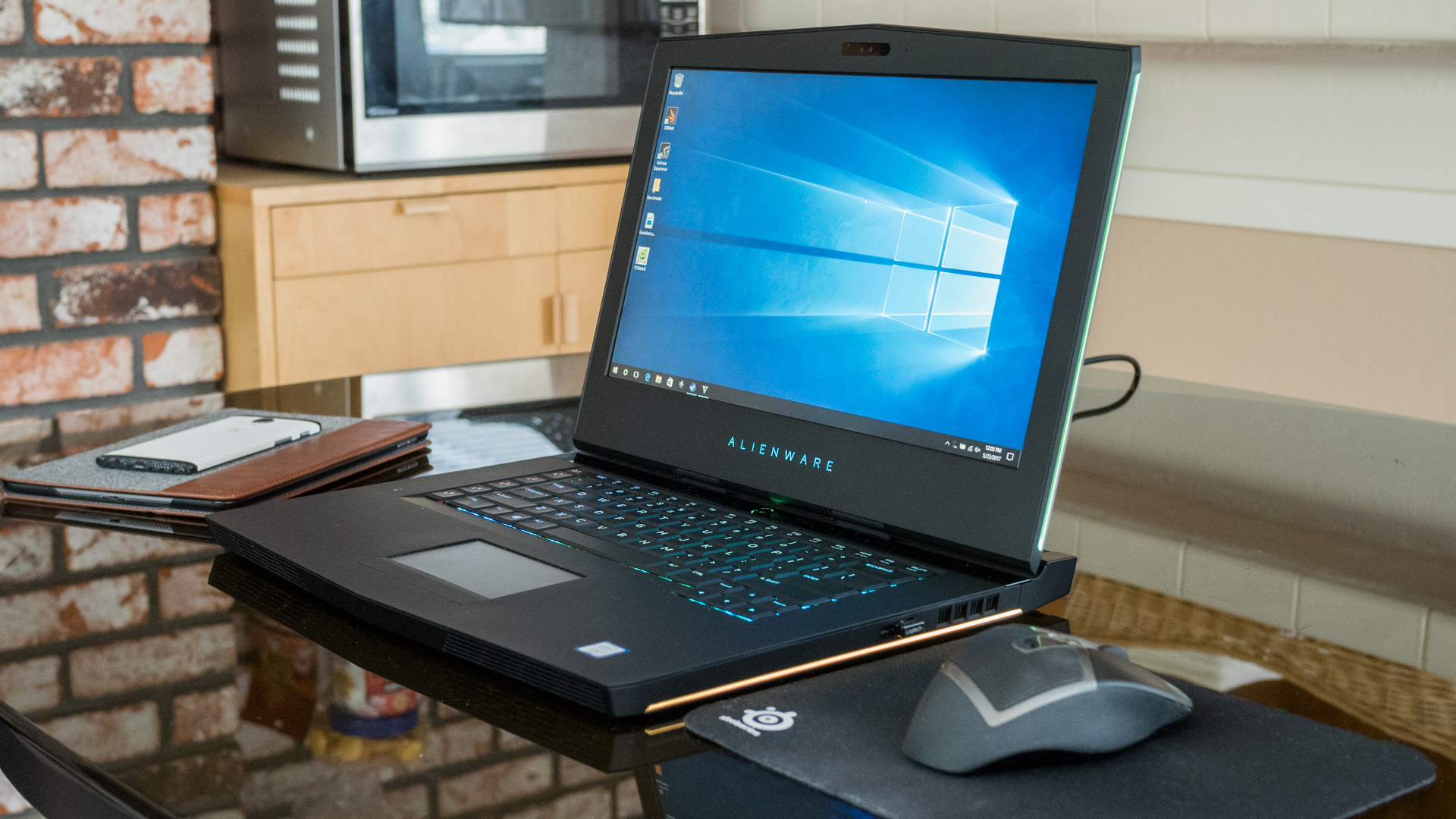 Cuando se trata de portátiles de juegos, Alienware es la marca que todos reconocen, y el Alienware 15 R3 hace que no sea tan difícil de ver por qué. Esta plataforma móvil resistente es todo sobre el rendimiento y lo atractivo que luzca, adornado de pies a cabeza en la iluminación RGB. Inusualmente, todo desde el logo opuesto de la pantalla al trackpad se puede personalizar con su propia disposición preferida de opciones de color. Pero con este nivel de atractivo viene un peso de 7.69 libras (3.49kg) que podría romper su pesa. Sin embargo, el Alienware 15 R3 más que compensa esto con una gama completa de puertos, rendimiento térmico estelar y una pantalla G-Sync de 120Hz que te hará sonrojar.
Leer el artículo completo: Alienware 15 R3
Gabe Carey has also contributed to this article
TechRadar: latest computing news
Google has launched Hire, a new way for businesses to find and hire job seekers within the familiar confines of G Suite.
Originally teased back in April, Hire lets employers keep tabs on potential candidates using familiar Google-made applications in place of other competing recruitment tools. It's currently only available in the US.
Hire syncs up directly with G Suite, allowing businesses to perform tasks like contacting candidates directly though Gmail, scheduling interview availability though Google Calendar, and tracking stats on potential employees through Sheets.
Intended for small-to-medium-sized businesses, Hire also keeps track of candidates that made an impression but didn't make the cut, allowing employers to find "silver medal" applicants easier if another position suddenly opens up. 
G Suite-able for work
Though Hire hopes to expedite the hiring process, (a 2015 study claims the average time for US companies to fill a job position is 52 days) the use of Google accounts — both professional or personal — for tracking job hires did raise concerns earlier this year.
While syncing up Hire to a Google account is a major part of the process, a Google spokesperson assured TechRadar a few months back that "only information that a candidate voluntarily provides would be passed to a prospective employer as part of their online application."
Interested employers in the US can purchase access to Hire or request a free demo beginning today. While any major business could potentially benefit from Google's new service, the tech giant says Hire is currently available only to businesses with under 1,000 employees.
And if you're a job seeker, don't forget Google also now shows detailed information on vacant positions in search results. 
TechRadar: latest computing news
Cryptocurrency mining is the process of using GPUs, or graphics cards, to invest in, and profit from, the value of digital encrypted currencies. In recent times there has been something of a boom in the value of cryptocurrencies, meaning that 'miners' have been snapping up GPUs.
However, in the last few days there has been a swift decline in the value of both Bitcoin and Etherium, leading to many miners selling their GPUs. According to CoinDesk, there have been 260 entries on Ebay for 'Etherium mining rig', all bar three of which appeared online after July 11.
That date is significant because that's the day after Etherium hit its peak of $ 400 – to put that in context it was only worth $ 10 a unit on January 1. The value of cryptocurrencies plummeted after that, with the market losing $ 10 billion over the weekend and Etherium hitting a low of $ 133, although it's since recovered to around $ 200.
Where are my savings?
If you want to take advantage of the sudden glut of GPU's on Ebay, you're going to have to know what you're looking at, as they are definitely packaged for the purpose of mining, even though they're essentially just powerful gaming GPUs.
It's worth bearing in mind that months (or years) of mining could shorten the life expectancy of graphics cards if they've been used a lot, but the savings you get may be worth the risk. As the rigs usually contain a number of GPUs specifically calibrated for mining, it will require a few friends and a little expertize to get your cheap GPU. 
If plowing through mining rigs sounds like a lot of work, you may still see a discount in the price of GPUs in the coming months as the diminishing demand may well have a knock-on effect on GPU cost. 
If we see any change in GPU prices, we'll let you know. 
From CoinDesk
Via PC Gamer
TechRadar: latest computing news
Actualización: El exitoso fabricante chino de teléfonos inteligentes Huawei se ha aventurado por primera vez en el mundo de los portátiles de 13 pulgadas. Pero, ¿tiene la compañía lo que se necesita para desafiar la creciente demanda en la preferencia de Apple con su apetecido MacBook? ¡Sigue leyendo hasta el número 13 y descubre!
A pesar de que los expertos estuvieron discutiendo hace apenas algunos años sobre la salida de los computadores portátiles del mercado, junto con el resto de las PC, es innegable la permanencia de los mejores de ellos. De hecho, con el lanzamiento y disponibilidad en tiendas del Asus ZenBook Pro, el potente pero asequible portátil, está claro en este momento que las computadoras portátiles se acercan gradualmente a su edad de oro.
A pesar del furor que causaron las tabletas por lo que pareció un segundo, todavía hay una necesidad desenfrenada por los mejores computadores portátiles. Después de todo, nada grita comodidad como un teclado y trackpad incorporado y portabilidad como una pantalla plegable. Y a veces, como es el caso del próximo Asus ZenBook Flip S, que dobla y viene en un ángulo de 360 grados.
Ya sea que desees la autonomía de jugar tus juegos de PC favoritos en el camino al trabajo, o simplemente prefieres la eficacia de la redacción de documentos con un teclado físico de tamaño completo, los ordenadores portátiles superiores lo tienen todo. Un computador portátil es el único dispositivo que cumple a todos, tanto en productividad como en ocio. Después de todo, no hay nada como arroparse en la cama con una pantalla brillante y vívida como la del HP Specter x360.
Con híbridos, Ultrabooks, clamshells tradicionales y portátiles más portátiles que nunca, estos son los mejores ordenadores portátiles que puedes comprar. Para ir directamente a las reseñas y recomendaciones, consulte los siguientes enlaces: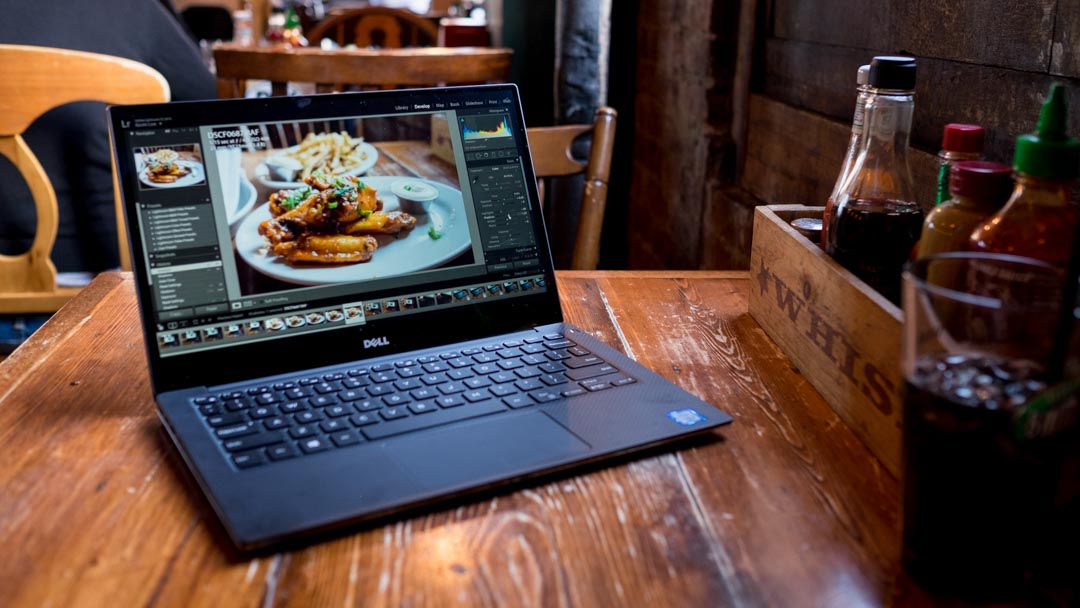 El Dell XPS 13 predomina como el mejor portátil que puedes comprar hoy en día. Es un computador delgado y ligero, con una vida útil de batería que excede las 7 horas, el portátil insignia de Dell es el perfecto estereotipo para lo que un Ultrabook se supone que es. Extendiendo una pantalla de 13,3 pulgadas en un marco de 11 pulgadas, el Dell XPS 13 está equipado con los últimos procesadores de Kaby Lake de Intel y USB-C sin sacrificar los puertos restantes, como la ranura de la tarjeta SD y USB tradicional. Complementa con la opción de un moderno acabado en oro rosa, y así no debe ser ninguna sorpresa que el Dell XPS 13 es el número uno.
Lee la reseña completa: Dell XPS 13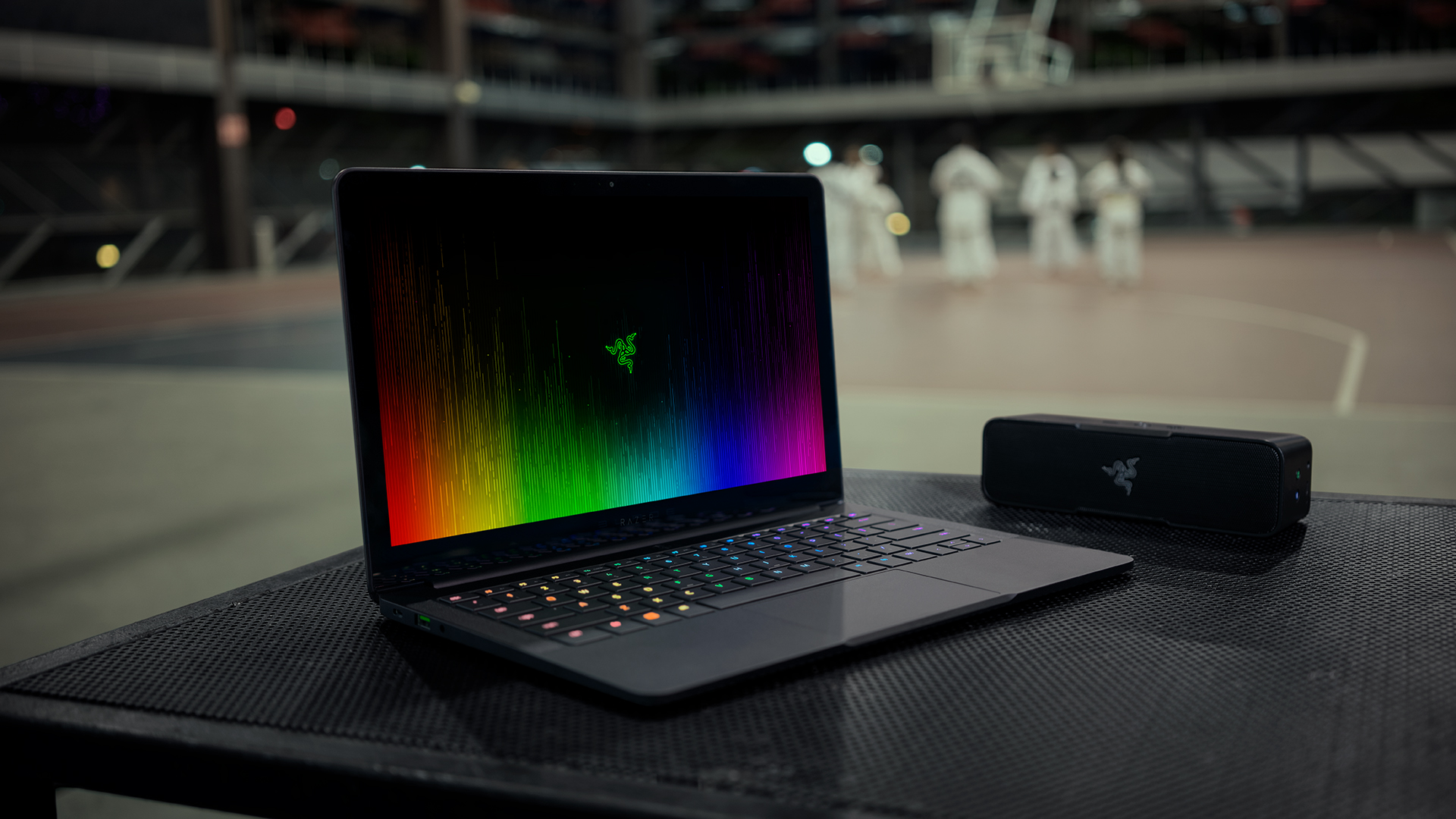 El Razer Blade Stealth es un Ultrabook excepcional, limitado sólo en tratar de ser un portátil de juego competente. Sin una tarjeta gráfica discreta, el Razer Blade Stealth prácticamente requiere que también desembolses el costoso adjunto de Razer Core GPU. Este Ultrabook tiene un precio asequible, tiene la delantera contra los competidores dominantes, pero no te dejes engañar por su bajo costo. Con un procesador Core i7 de Intel Kaby Lake, el último Blade Stealth es más potente y eficiente que nunca. Mejor aún, este portátil puede cambiar la iluminación de cada tecla en su teclado y con más de 16,8 millones de colores para elegir. Si sólo tuviera más rapidez del teclado y una ranura de tarjeta SD, el Razer Blade Stealth sería mucho mejor.
Lee la reseña completa: Razer Blade Stealth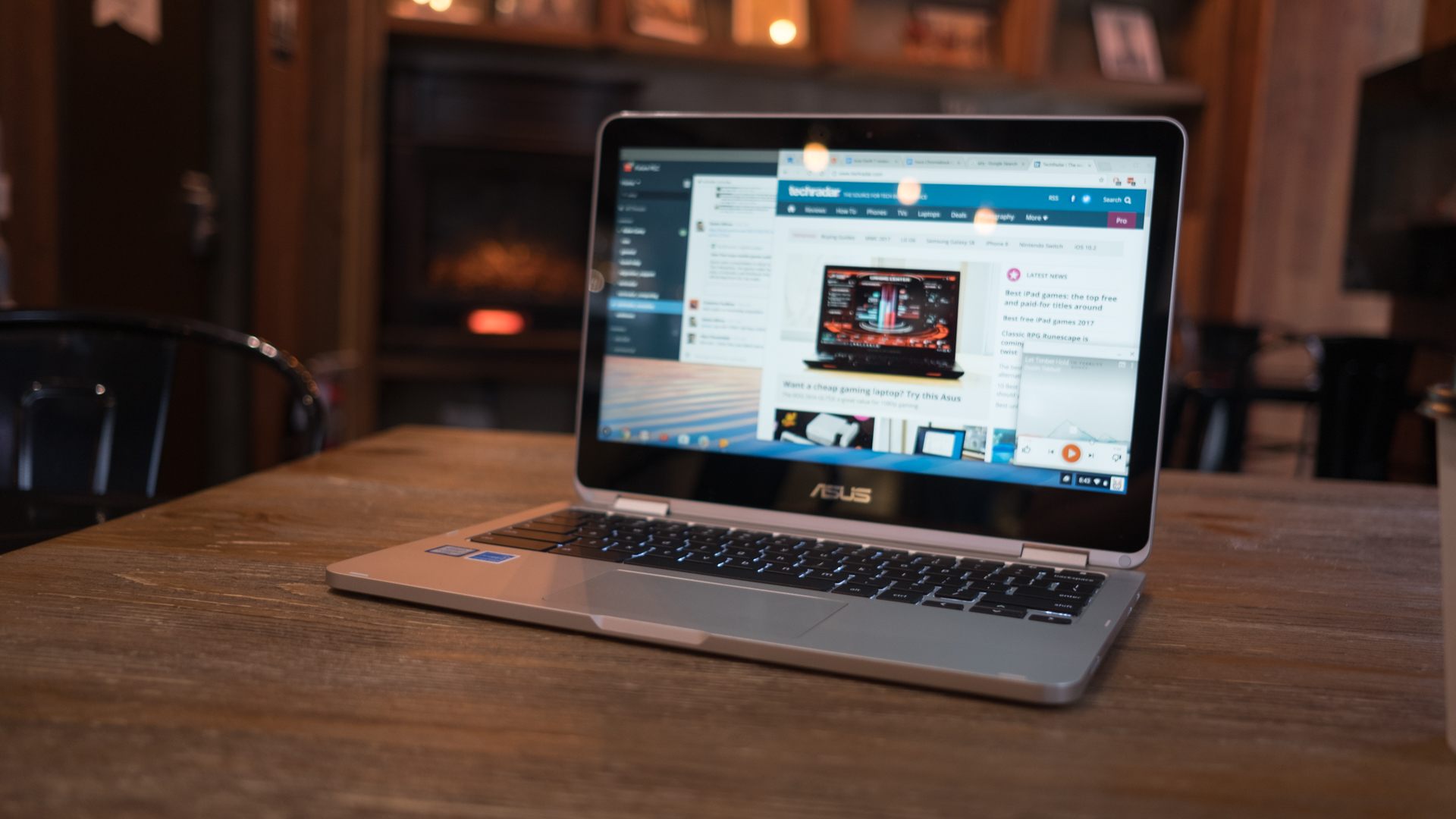 Originalmente comercializado como un Chromebook "premium" para competir con los gustos del Chromebook Pixel, no es difícil ver por qué estábamos escépticos respecto al primer Asus Chromebook Flip que revisamos. Los Chromebooks de gama alta se habían hecho antes, pero siempre a un coste excesivamente alto. Pero como Asus ha exhibido éxitosamente con el Chromebook Flip C302, puede reducir ese precio a la mitad y seguir fabricando una computadora portátil con Chrome OS, que se siente como si estuviera en un escalón superior. Organizado con un diseño magnífico, un teclado que se siente cómodo al tacto e incluso un factor de forma 2-en-1, el Asus Chromebook Flip demuestra que los Chromebooks pueden ser de gama alta sin ser desproporcionados.
Leer la reseña completa: Asus Chromebook Flip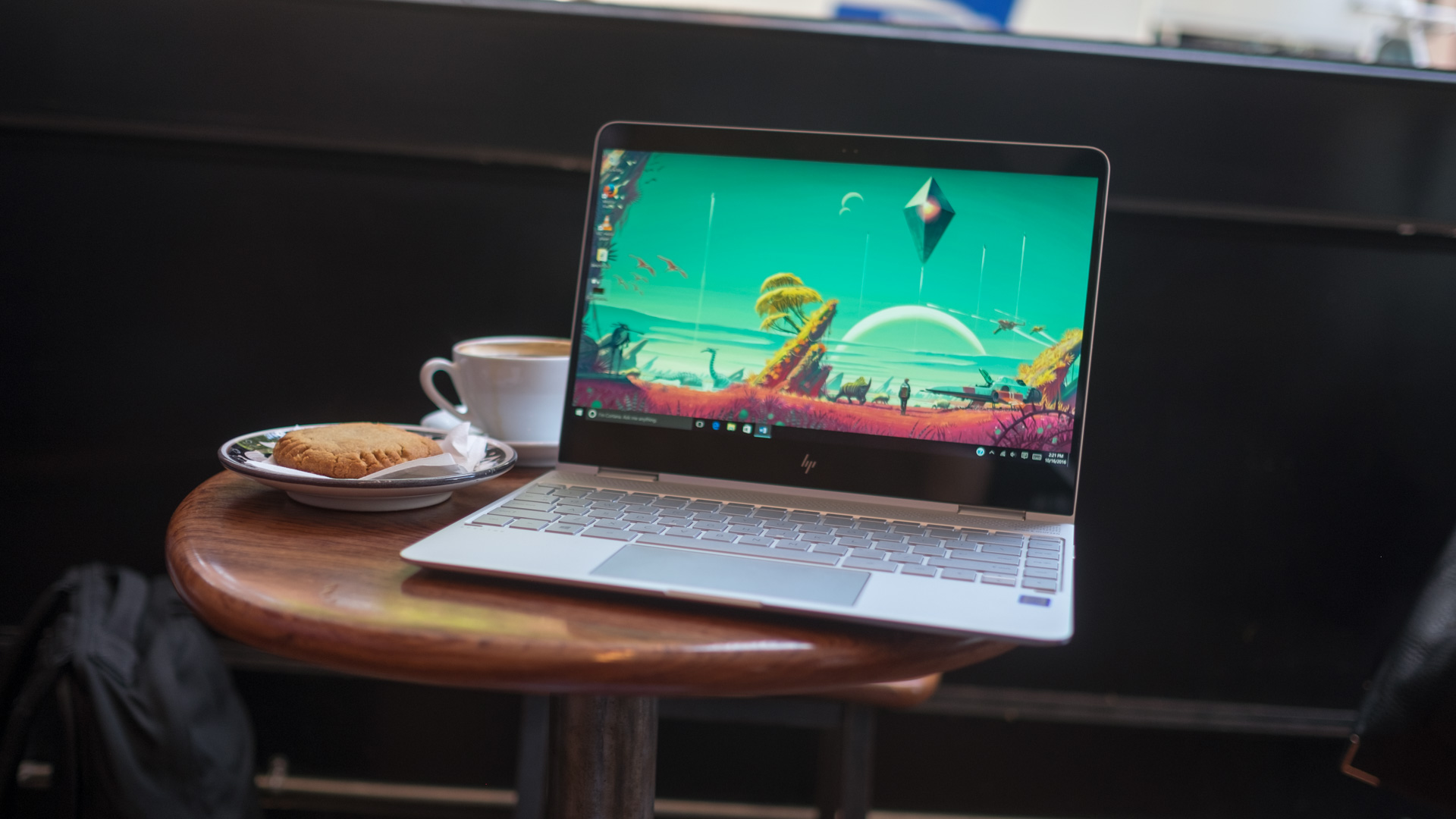 La versión de 13,3 pulgadas de la HP Specter x360 puede no tener la ranura para tarjetas SD de su hermana de 15,6 pulgadas, pero trae los mismos componentes poderosos internos en una forma más portátil. También se tiene el teclado que, con 1,3 mm de recorrido, se siente como una significativa mejora. Además de tener una duración de la batería de 8 horas y 45 minutos, el HP Specter x360 todavía no pesa más de 2,85 libras. Justo cuando pensamos que no había una computadora portátil, vanguardista en cada categoría, el HP Specter x360 nos demuestra todo lo contrario.
Lee la reseña completa: HP Specter x360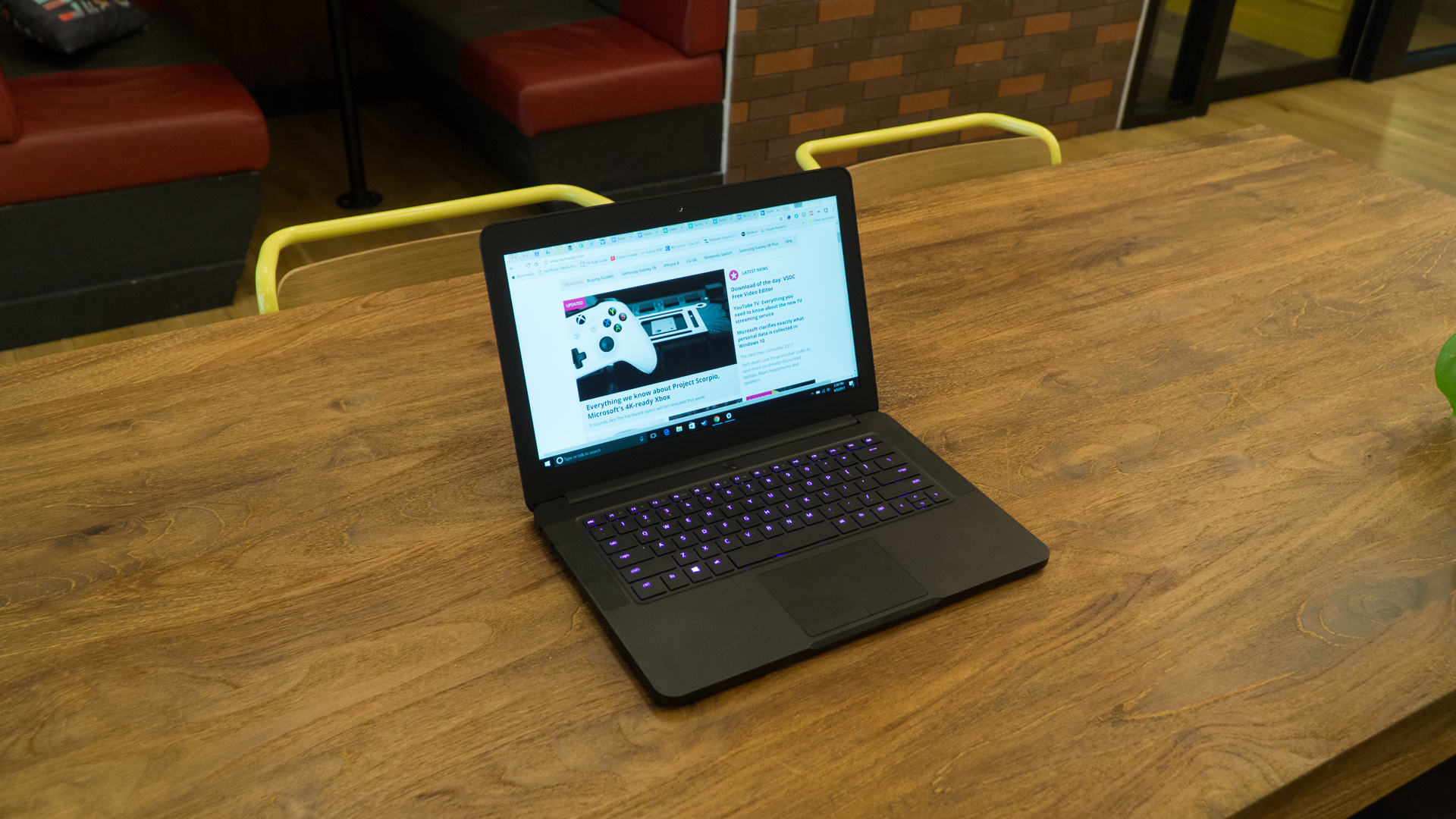 La última iteración del producto insignia Razer Blade puede que no tenga muchas características personalizables, pero ha mejorado en casi cualquier otro criterio. Su forma delgada, se une no sólo a gráficos potentes y discretos capaces de ejecutar los juegos más recientes con los ajustes más óptimos, además que el Razer Blade también pone la mayoría de los ordenadores portátiles en desventaja cuando se trata de la vida de la batería. Incluso si no conoces un GTX 1060 de un 940MX, al menos puedes apreciar que el Razer Blade dura casi 7 horas y 30 minutos en nuestra prueba piloto. Además, aunque no podrás aprovechar esta función con gran efecto en los juegos, hay una pantalla de 4K, conveniente para los domingos de relajo, para pasar viendo películas.
Lee la reseña completa: Razer Blade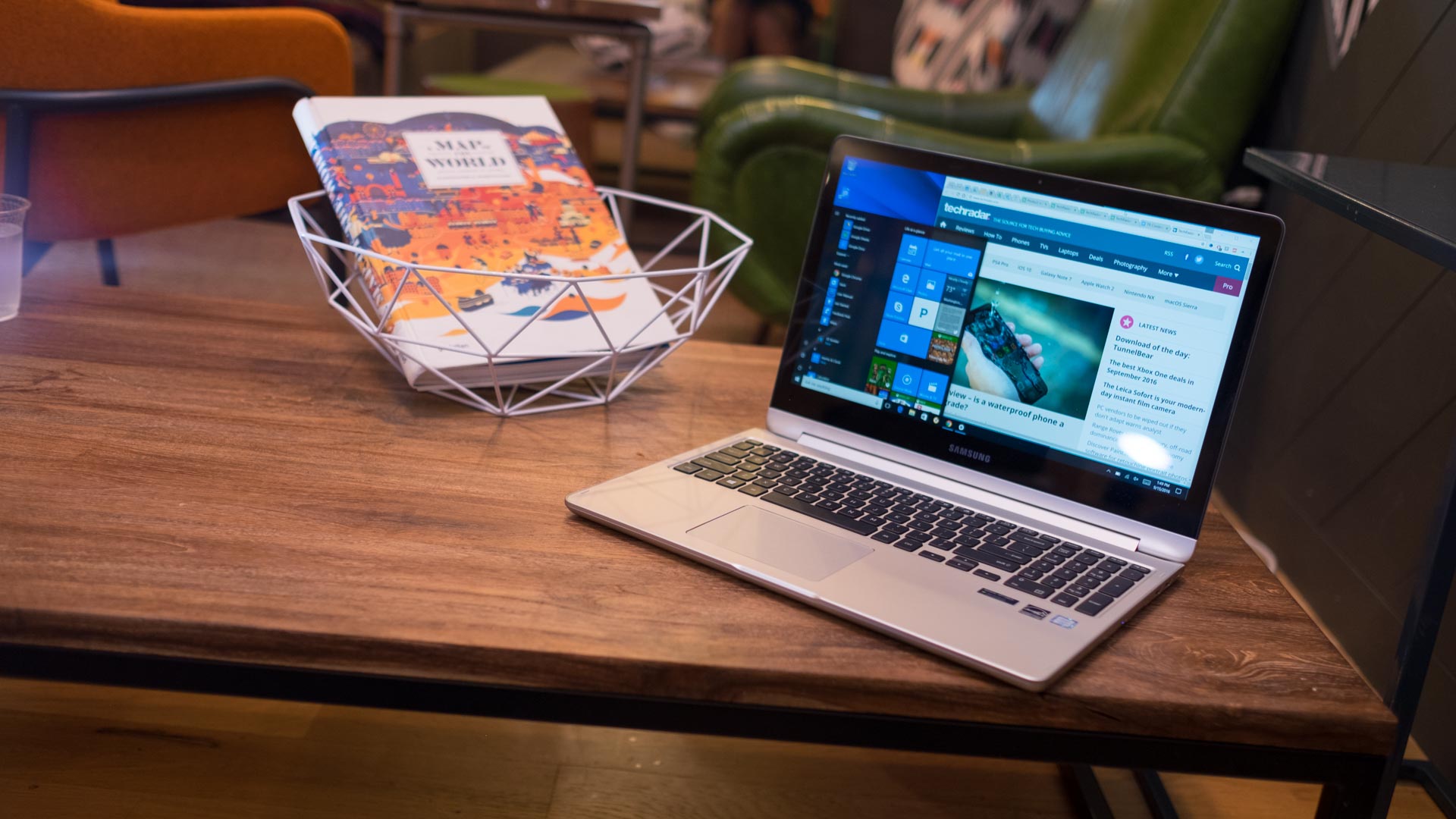 Si alguna vez has querido un MacBook Pro sin el sacrificio de la hipoteca, el Samsung Notebook 7 Spin no sólo ofrece el estilo y brillo de las computadoras portátiles de nivel profesional de Apple, sino que incluso añade una pantalla táctil a la mezcla a un precio inicial asequible. Para un pesado 2-en-1 con una CPU Core i7, 12GB de RAM e incluso una discreta Nvidia GPU, el Samsung Notebook 7 ofrece top de las especificaciones de línea teniendo en cuenta su valor. Pero, como Samsung probablemente se preguntó mientras diseñaba este notebook híbrido de alta calidad, ¿por qué parar ahí? La compañía incluso fue tan lejos como para implementar una pantalla HDR en el Notebook 7 Spin, y aunque es una característica que no es ampliamente apreciada, pero por decir lo menos, los negros más profundos y colores más vibrantes son gustados.
Lee la reseña completa: Samsung Notebook 7 Spin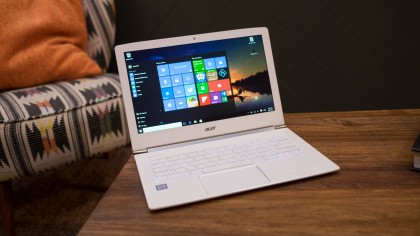 Llámalo un clon de MacBook Air si quieres, pero no nos cites cuando dices que es algo malo. El Acer Aspire S 13 es una alternativa asequible al portátil de nivel de Apple e incluso lo supera de alguna manera. No es tan delgado y ligero como muchos Ultrabooks prominentemente presentados, ni es particularmente caro. Sin embargo, el Acer Aspire S 13 no es un buen aliado cuando se trata de rendimiento. USB Type-C y una pantalla Full HD lo colocan justo por encima y muy cercano a vencer el MacBook Air de 13 pulgadas, y por un costo mucho más bajo. A pesar de la eficacia de la CPU, el Acer Aspire S 13 incluso gestiona una duración de la batería de 7 horas y 49 minutos.
Leer la reseña completa: Acer Aspire S 13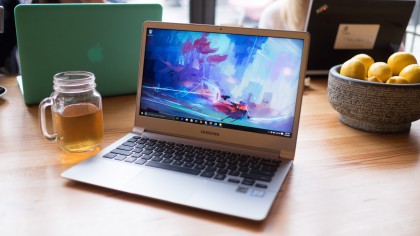 El Samsung Notebook 9 puede no ser el producto más llamativo de nuestra lista, pero por el dinero, es uno de los mejores valores. Es un ultrabook ligero y fino con un procesador Core i5 Skylake, el Samsung Notebook 9 incluso tiene una de las tomas más inteligentes de las que hemos visto en un lector de tarjetas SD. Además de ser más potente que un MacBook Air a un precio razonable, el Samsung Notebook 9 es liviano sin sacrificar mucho, posee una gama completa de puertos e incluso una pantalla anti-reflejo. En el lado negativo, la vida de la batería es su debilidad. Sólo duró 4 horas y 20 minutos jugando Guardianes de la Galaxia en bucle. Para una alternativa más duradera, vea el Asus Zenbook UX305.
Leer la reseña completa: Samsung Notebook 9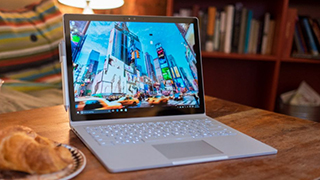 Si el Surface Pro es demasiado pequeño, pero el Surface Laptop es demasiado tradicional, Microsoft la sacó del estadio con su primer portátil convertible, es decir, el Surface Book. Aunque tiene un peculiar rango de aspecto 3: 2 y una pantalla de 13,5 pulgadas que está fuera de la norma para la mayoría de las computadoras portátiles, es uno de los mejores portátiles 2 en 1 jamás creados. Eso va sin mencionar su modo Portapapeles, en el que está entre las tabletas más potentes del mundo. Acoplar la pantalla a la superficie del teclado de Surface Book le ofrece aún más rendimiento a través de una GPU discreta, suponiendo que opta por el computador de la línea más avanzado, Surface Book i7. Excepto por la bisagra articulada, el Surface Book es una ojeada del futuro, aunque sea un tiempo mucho más largo para la continuación del mismo.
Lee la reseña completa: Surface Book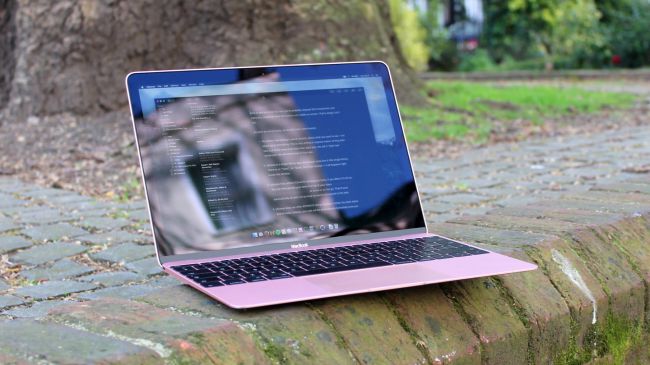 La computadora portátil más atractiva de Apple, todavía, sigue rockeando un procesador Intel Core Skylake Core M con programación de 1.1GHz para comenzar, dirigido a aquellos que no necesitan tanto poder como portabilidad y pizazz. El estilo, elegante, diseño de aluminio, diseño uniforme y la pantalla Retina son todos en la parte de atrás, y el único puerto conector que queda es USB-C – al lado de una sola toma de audio de 3,5 mm. Aunque el puerto reversible ha ganado más tracción desde el lanzamiento el año pasado, el MacBook de 12 pulgadas todavía requiere prácticamente la disposición de manejarse con adaptadores y sacrificar rendimiento en nombre de un diseño estelar. Sin embargo, si no te importa los sacrificios (o si simplemente no necesitas usar muchos accesorios), el apetitoso acabado en oro rosa del MacBook podría ser el correcto para ti.
Leer la reseña completa: MacBook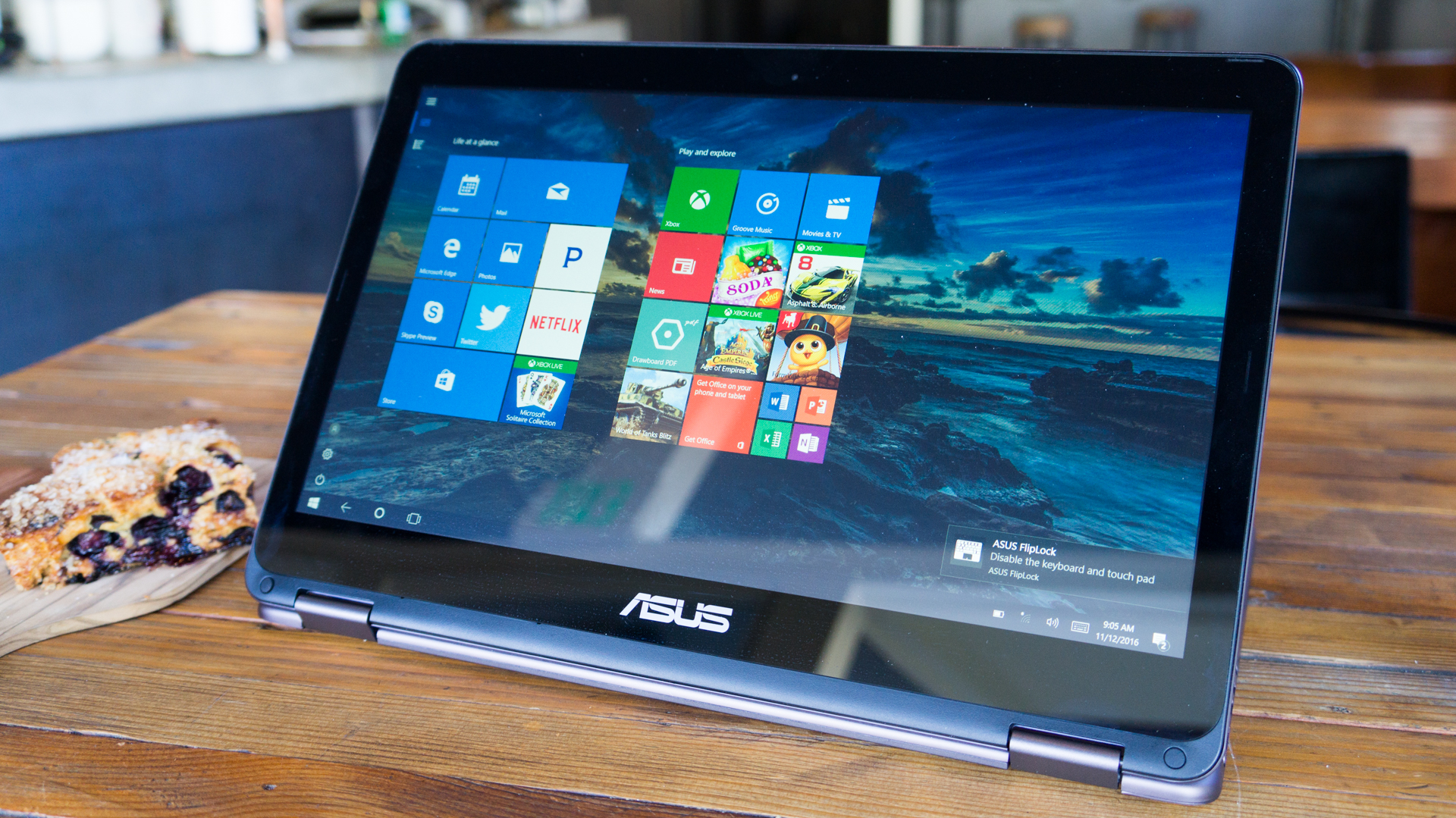 Cuando se trata de la elaboración de un portátil de Windows asequible con una sensación premium, Asus toma el premio. El Asus ZenBook Flip UX360 en particular combina una etiqueta de precio medio con un factor de forma convertible, un trackpad de tamaño completo, teclado y una amplia gama de puertos - como HDMI y USB Tipo A - que se han eliminado prácticamente en todas las demás partes. En la era de MacBook antes de 2015, estas características se esperaban, pero hoy en día, son una anomalía dado los estándares de los computadores portátiles de hoy. Sin embargo, no esperes que el ZenBook Flip UX360 sea pasado de moda, ya que como su nombre lo indica, es un portátil que se enorgullece de su capacidad de cambiar de forma 360 grados, "volteando" a la perfección entre la tableta y el portátil a voluntad.
Lee la reseña completa: Asus ZenBook Flip UX360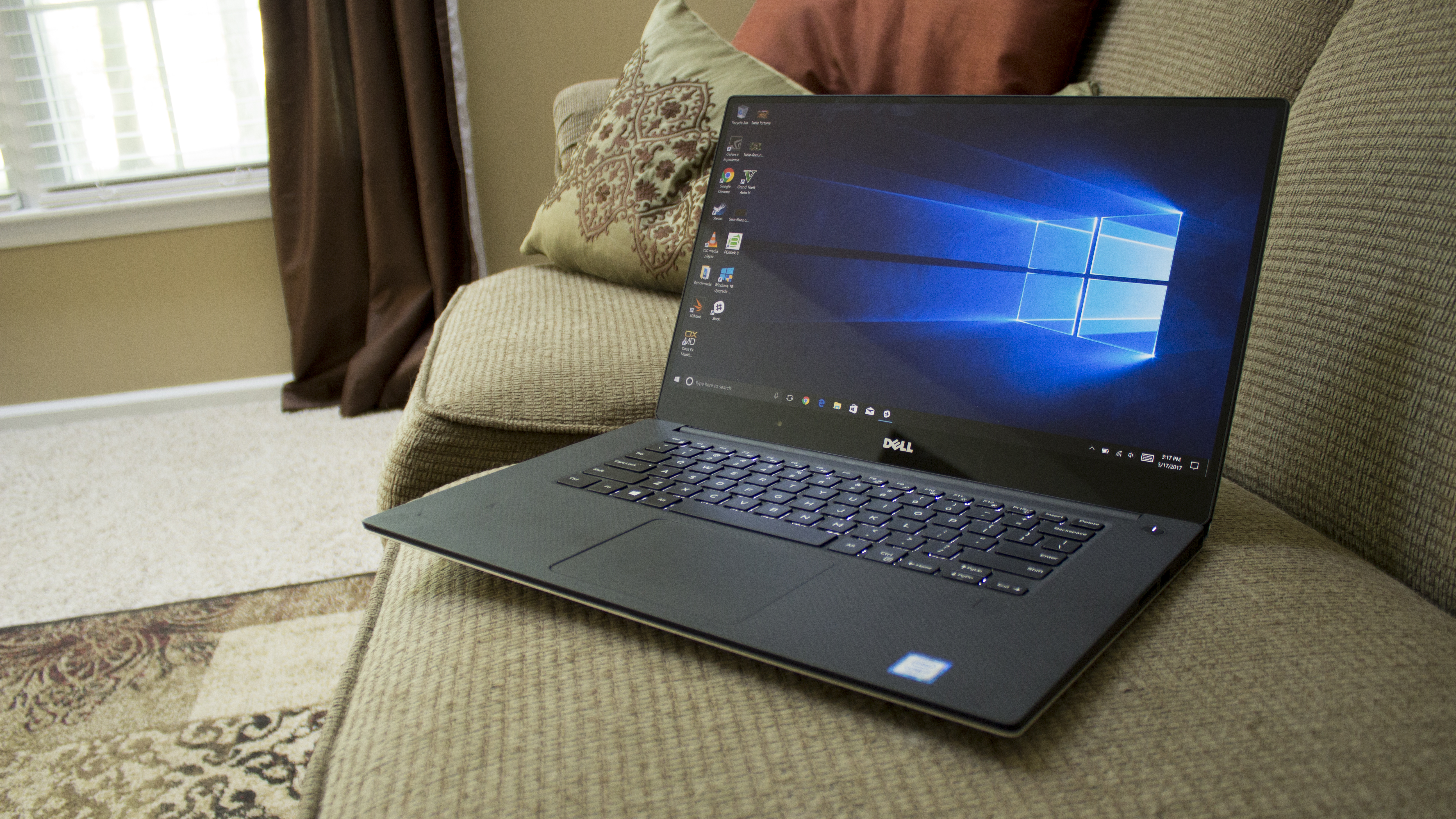 El XPS 15 de Dell es más que una versión superdimensionada del Dell XPS 13. Con la opción de una pantalla de 4K y una discreta tarjeta gráfica Nvidia GeForce GTX 1050, el Dell XPS 15 intenta hacerlo todo y, en algunos aspectos, tiene éxito. Para la productividad, el XPS 15 es un no-brainer. Cuenta con un diseño elegante pero sútil que exhibe un atractivo de tienda de café,
mientras que la batería te da suficiente jugo para varias horas de trabajo. Y, a diferencia de muchos otros ordenadores portátiles actuales, el Dell XPS 15 no expulsa tus puertos favoritos en su adopción de USB-C.
Lee la reseña completa: Dell XPS 15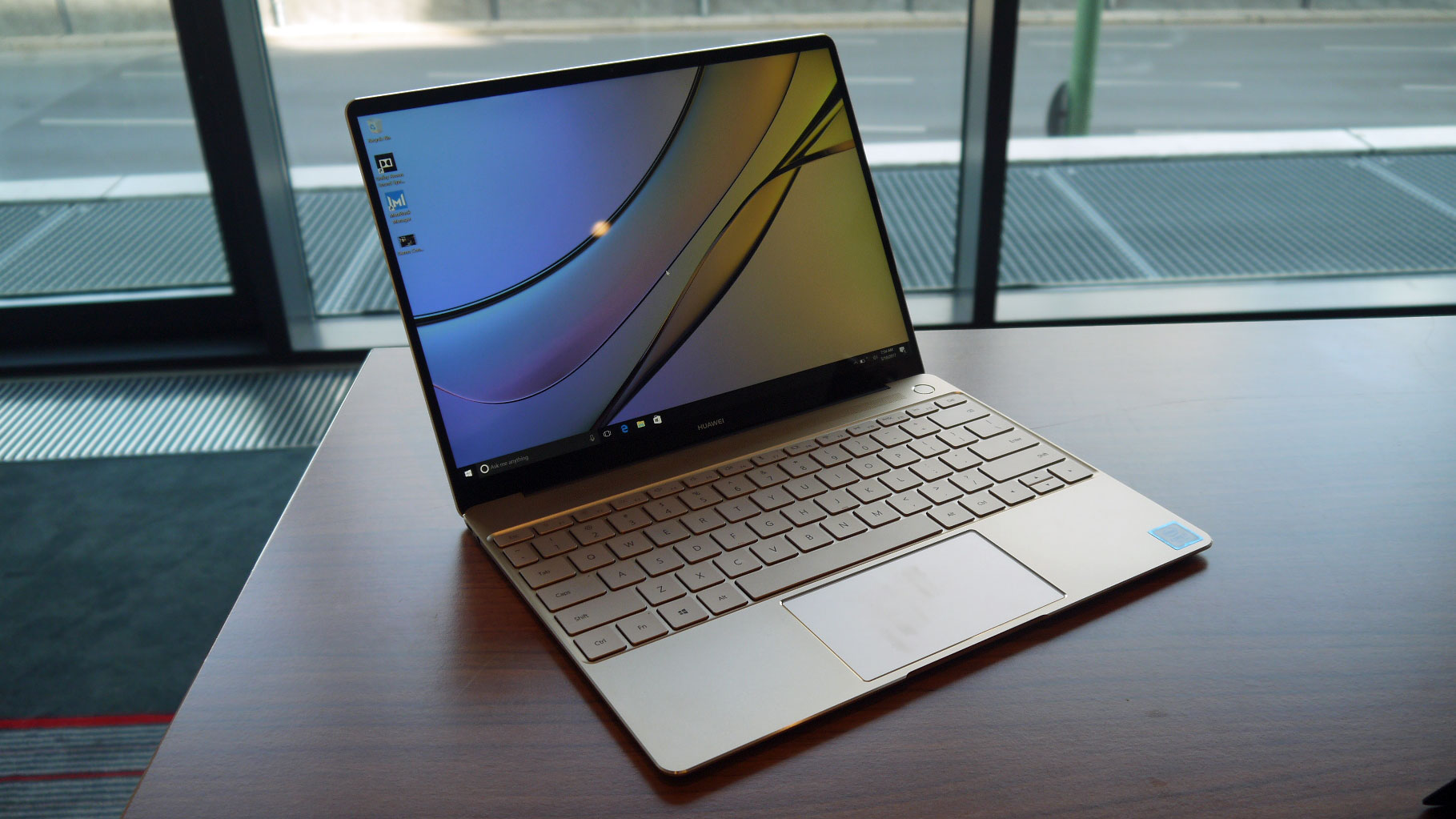 Cuando el tercer mayor fabricante de teléfonos inteligentes en el mundo comienza a fabricar su propia computadora portátil, vale la pena prestar atención. Y por eso, nos estamos refiriendo a la Huawei MateBook X, un Ultrabook delgado y ligero desvergonzadamente inspirado en el MacBook de 12 pulgadas de Apple, casi a un T. Aunque es un poco más caro que el portátil más asequible de Apple, el Huawei MateBook X derriba en términos de especificaciones. En lugar de usar procesadores Intel Core M o Y-series, el Huawei MateBook X se aprovecha de un procesador de clase U más competente de la 7a generación de la variedad i5 o i7. La pantalla nítida, QHD-esque y los altavoces de Dolby Atmos son simplemente un plus a todo lo demás.
Lee la reseña completa: Huawei MateBook X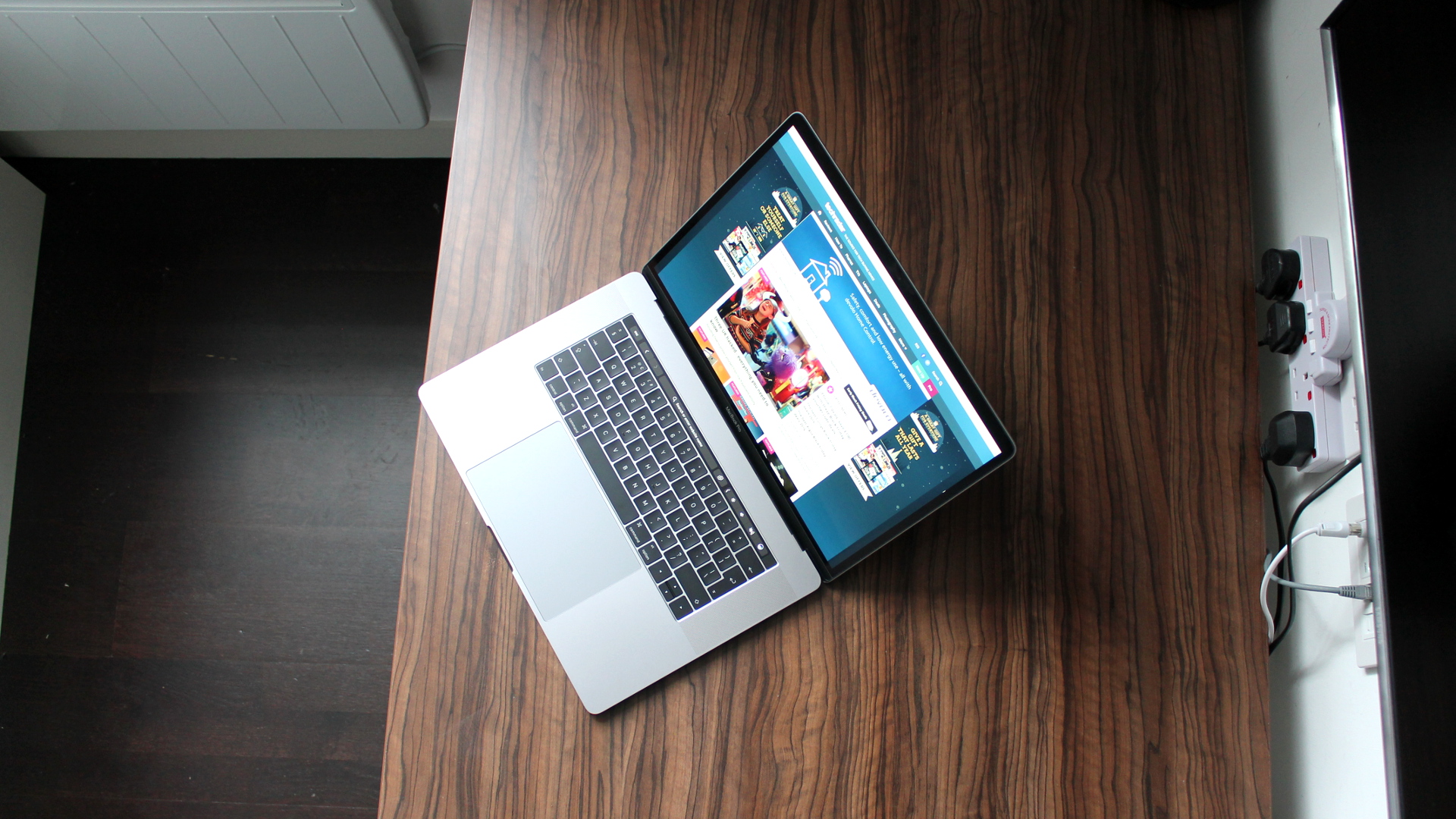 Para la producción de los medios, el MacBook Pro de 15 pulgadas ha sido el favorito desde hace muchos años. Los cambios ligeros del diseño han acompañado anualmente las mejoras de la CPU, haciendo cada nuevo MacBook que se lanza, solo una sutil reescritura de su precursor. El MacBook Pro de 2016, sin embargo, vio a Apple hacer cambios - para bien o para mal - que alteró dramáticamente su utilidad. Para los extraños de Apple, la decisión de omitir todos los puertos USB estándar y ranuras SD a favor de cuatro conexiones USB-C es desconcertante. Para los aficionados, sin embargo, es un medio estratégico de la prueba del futuro. Independientemente de cómo se sienta respecto a las concesiones, la invención más atractiva del MacBook Pro es el Touch Bar, que reemplaza las teclas de función y, a su vez, introduce una capa de funcionalidad sólo posible con el último MacBook Pro.
Lee la reseña completa: Apple MacBook Pro (15 pulgadas, finales de 2016)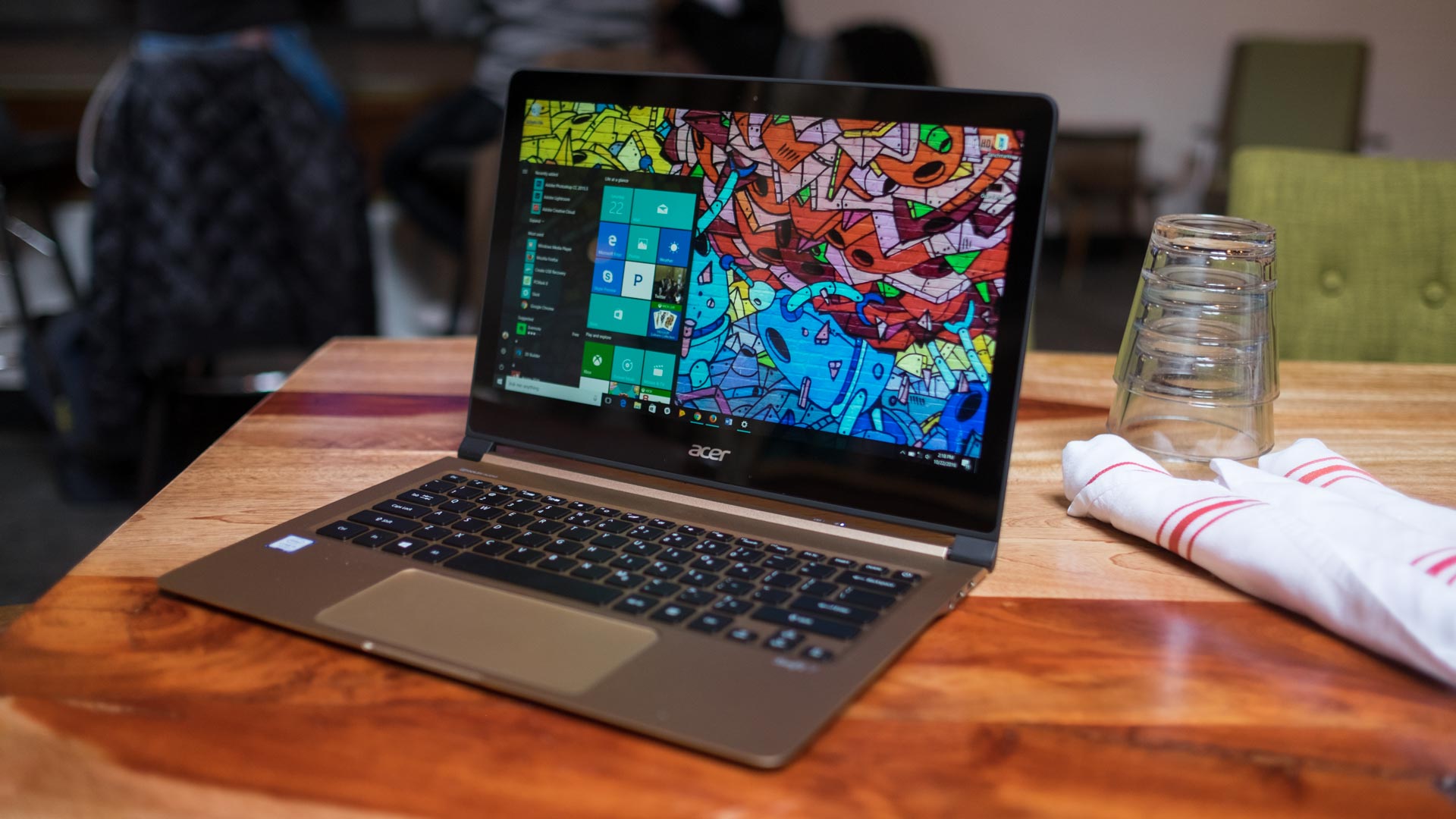 Si valoras la portabilidad y el diseño por encima del rendimiento, el Acer Swift 7 puede ser la mejor alternativa de Windows al MacBook de 12 pulgadas que puedes comprar. Con una pantalla de 13 pulgadas Full HD, lo que le falta en píxeles, que más que compensa en su movilidad. Y, hablando de eso, el Acer Swift 7 es más delgado que el MacBook y el HP Specter, otro de sus rivales más cercanos, aunque es notablemente más pesado que ambos. Aun así, la configuración inicial de Swift 7 es más rápida y más barata que la de Apple, además de que tiene - no uno sino - dos puertos USB Tipo C a bordo. Sólo prepárate para la vida de la batería algo deficiente.
 Lee la reseña completa: Acer Swift 7
TechRadar: latest computing news
IBM has trumpeted what it's calling a huge breakthrough in data encryption and the battle against cybercriminals, with a next-gen mainframe computer driven by a powerful CPU which is capable of encrypting all of a company's data, all the time.
IBM Z, as it's called, means that firms don't have to pick, choose and manage which data is encrypted. Rather, it allows for all data associated with any app, cloud service or database to be encrypted at all times, in a streamlined process that doesn't require any software changes.
At the heart of the system is what IBM calls the industry's fastest microprocessor, which runs at 5.2GHz and boasts a new scalable system structure which offers a 35% capacity increase in terms of traditional workloads compared to the previous-generation z13.
Apparently IBM Z offers a fourfold increase in the silicon dedicated to cryptographic algorithms, and has had its software stack fully reworked, so that it's now capable of running more than 12 billion encrypted transactions on a daily basis. According to IBM, it's 18 times faster compared to today's x86 systems that only focus on limited slices of data, and weighs in at just 5% of the cost of such comparable x86-based solutions.
Given the current climate of fear around hackers and ever-increasing amount of data breaches, IBM obviously believes this system will be an attractive proposition in terms of watertight security and keeping everything encrypted all the time.
Impact of cybercrime
IBM naturally had some worrying stats and projections on cybercrime to highlight, including the fact that the estimated impact of cybercrime on the global economy will be $ 8 trillion (around £6 trillion) by 2022. And the firm further observed that over the course of last year, over four billion data records were stolen or lost – a more than fivefold increase compared to 2015.
And indeed when it comes to the vast majority of nine billion data records which have been breached over the past half a decade, only 4% were encrypted. Obviously, if data is spilled or stolen somehow, at least if it's encrypted, it can't be used by cybercriminals (or that's the theory).
IBM says the new tech will also help businesses more easily comply with data regulations such as the EU's GDPR.
And the firm further noted that IBM Z was being introduced to the IBM Cloud as an encryption engine to run IBM Blockchain services in data centres worldwide (Dallas, London, Frankfurt, Sao Paolo, Tokyo and Toronto).
Marie Wieck, general manager, IBM Blockchain, commented: "The powerful combination of IBM Z encryption and secure containers differentiates IBM Blockchain services on the cloud by supporting the trust models new blockchain networks require. Enterprise clients also benefit from the ease of use making management transparent to the application and the user."
Image Credit: Connie Zhou for IBM
TechRadar: latest computing news
Note: Our top business apps for iPad round-up has been fully updated. This feature was first published in July 2012.
Some people think of the iPad as something of a toy – a basic computing slab suitable for little more than lounging on the sofa poking around at Facebook and Candy Crush. But those people would be wrong - especially since the introduction of Apple's iPad Pro range.
A large list of critical business functions, like email, messaging and many administration tasks can be performed on the iPad with only its default apps. Add in a thing or two from the App Store and your iPad can become even more powerful.
We've trawled the deepest recesses of the App Store to highlight our current top 10 business apps for Apple's tablet, whether you've got an iPad Air, iPad Mini or one of the Pro models. This is a collection of software which can make a real difference to your efficiency, improve your relations with customers and clients, not to mention helping you out creatively.
Try a few of them out and you might just find your iPad becoming your go-to office tool. Not that we won't permit a little bit of Candy Crush in your downtime, of course…
Price: Free
This entry actually covers three different applications, Apple's iOS versions of Keynote, Numbers and also Pages, each available absolutely FREE (or £7.99 ($ 9.99) each for iPads released before September 1 2013). If you're already used to working in the Apple environment, these streamlined tablet versions of its desktop apps will be instantly familiar.
While they're not quite as well-equipped as their larger desktop counterparts, there's enough here to keep you working on your essential documents without issues. It's quite liberating to be able to dance around a spreadsheet with your fingers or generate charts on the fly, and while we're not keen on typing large documents with the iOS keyboard, a Bluetooth keyboard is the perfect accompaniment to Pages.
Keynote could be particularly useful if you're equipped with slightly more kit – pair it with an iPad VGA adapter and you'll be able to hook your tablet straight up to a projector, and if you have an Apple Watch on your wrist its (simplistic) app is perfect for subtly advancing slides or activating animations.
Price: Free/£1.59 ($ 1.99) per month for 100GB
The ying to iWork's yang, Google Drive is the company's online office suite (and storage locker) is well-suited to anyone already integrated with its ecosystem, which we'd have to presume is a vast majority of its potential users. Everything you create is auto-saved to Google Drive's cloud storage, and the iOS specific apps – Docs for word processing, Sheets for spreadsheets and Slides for presentations – support all the major formats. Once you're finished with something, you can instantly share it with anyone just by sending them the appropriate link.
We love the collaborative element of Google's apps, which means several team members can access and work on the same document simultaneously, but the real key here is that you can also work offline, so if you're travelling somewhere without an internet connection you won't lose valuable work time. Everything's automatically synchronised with Google's servers when you next connect online.
You can store up to 15GB for free, but have to start paying after that with Google Drive pricing plans available up to a massive 10TB.
Price: £7.99 ($ 7.99)
This is a fantastic idea on the face of it. Take pictures of documents with your iPad's camera, and Genius Scan will turn them into PDFs. In practice, it's just as effective as that simple explanation suggests. Once you've snapped a document, Genius Scan attempts to draw a frame around it, which you can tweak if it's not quite bang on. Scan the document, and Genius Scan applies a transform to your photo, flattening it out and allowing you to export it as a PDF or JPG.
This is perfect for sending signed contracts on the fly, particularly if you're not near an actual hardware scanner, and it's a great idea for cataloguing receipts for later expense claims without having to carry an overflowing wallet.
In fact, if you're looking to reduce any stacks of paper in your office, Genius Scan's batch scanning function could be the perfect tool – just import all that paper, process it as you go, and have it sent right to Dropbox or OneDrive. You can even protect your PDFs for extra security.
Price: Free/£44.99 ($ 69.99) per year
Efficient projects are well-organised projects, and keeping all the information you need in one place is paramount. There's a reason so many diligent individuals rely on Evernote to manage their information streams – it's a great place to store everything from written notes to photos and web content.
Integrated sharing options and Evernote's group notebooks make team collaboration easy, and it's all entirely platform-agnostic, so anything you do on your iPad will automatically be reflected anywhere else you have access to the service.
We'd definitely recommend plumping for the £45 ($ 70) Evernote Premium annual subscription option (even despite the recent price hike) – you'll get 10GB of uploads per month as opposed to the free version's paltry 60MB, synchronisation to unlimited devices, the ability to attach and search PDFs and Office documents, and PDF annotation tools which come in handy more often than you might think. Once you've integrated Evernote into your workflow, you'll never turn back – especially as rival services like Google Keep don't even come close.
Price: Free
In the spirit of saving paper and reducing the number of things you have to lug around in your bag, here's awesome note-taking app Penultimate. It gives you access to beautifully rendered and smooth inks, which make your quickly-jotted notes look amazing, and you get a host of papers to use them on (with more available through in-app purchases).
As the name implies, it's best used with the Apple Pencil or other stylus – mainly because scribbling notes with your index finger both gives comparatively poor results and looks ridiculous.
Highly useful for taking notes in meetings or for collaborative planning exercises, Penultimate is packed with features that integrate with Evernote. As long as you don't have handwriting like a cross-eyed GP, Evernote will attempt to interpret your scrawls and make your notes searchable, and you can quickly and easily catalogue them in folders, meaning all of your projects will stay well-organised.
Price: £15.99 ($ 15.99) for full version
Apple's preinstalled and now-removable Stocks app just isn't quite up to the task. Replace it with the beautiful and clean Stocks Tracker app (then spend the £15.99/$ 15.99 on the full version upgrade) and you'll see just what you're missing.
It puts real-time quotes on US stocks at your fingertips, with support for just about every worldwide exchange. You can make the most of its highly customisable graphs and views to create your own personal stocks frontend, and use its custom push notifications to keep a close an eye on your portfolio.
While its abilities to track historical earnings and offer buy/sell indicators are undoubtedly useful, you might find even more inspiration in the integrated social feed, where other traders discuss the stock they find interesting and what they're doing with it.
Price: £9.99 ($ 9.99)
Every business has a host of systems, and usually these aren't interconnected, meaning you'll need to remember a bunch of logins and passwords for every single one. Forget that. 1Password lets you manage all of your access credentials on your iPad, and it even integrates with Touch ID and a master password to ensure that you're the only one who can gain access to your password vault.
You can use it with many online services to make your accounts more secure – not having to remember a password means it can literally be a random jumble of characters and punctuation, something 1Password can generate for you. And the app can even automatically update your accounts with new info to avoid duplicates or insecure logins.
Everything is end-to-end encrypted to ensure you're fully secure, and the iOS app also supports 1Password for Teams, a specific version of the system with differing access levels allowing a central manager to control who can see what. You can give it a try first with a 30-day free trial.
Price: Free
Making the most of the Extensions feature in iOS, Workflow essentially allows you to create your own mini apps using the features of others you have installed. Think of it as analogous to Automator for the Mac: if there's a task you're forever doing, you can create yourself a quick macro to get it done in a single tap.
Workflow also features IFTTT integration, meaning the app can extend its abilities beyond your iOS device and through to anything you use online. With over 200 actions built in – think things like 'Select phone number' or 'get upcoming calendar events' – you're sure to be able to come up with creative ways to use it, and this software is user-friendly enough that even more complex activities are reasonably straightforward to set up.
When you're done, you can run your workflows in the app, or add a shortcut to your home screen for quick access. And the best news...it's now absolutely FREE.
Price: Free
Annotations are very important. If you're not clear with your clients and contacts, your meaning can get lost, so make sure you've got a tool which can clarify your message with ease. Skitch (another app from the Evernote stable) is perfect: you can take snaps from your camera roll, add quick annotations and mark-ups, and send them on with ease. Do it with screenshots and you can make maps more useful, ensuring everyone ends up where they're supposed to be.
Plump for the £1.99 ($ 1.99) add-on and Skitch will also enable you to add your own highlighting to PDF files, pointing out important passages with a couple of swipes. It's worth pointing out that you don't have to rely on the camera roll – you can take pictures in Skitch and annotate them immediately before sharing them via email, social or any number of other methods.
Price: £9.99 ($ 9.99)
Putting your ideas down on paper in a mind map is a great way to turn them from ideas into reality – or at least sift out the crazy stuff from the concepts that might work. Fire up MindNode on an iPad in the middle of a meeting room and you and your colleagues can get to work straight away. The canvas expands, so no matter how many ideas you need to get down, you'll fit them on.
Add connections, stick on a few photos and before you know it you'll have a solid plan. When you later come to revisit and revise, you can shut off entire branches to ensure the focus stays on what's important, then turn individual nodes into tasks when it's time to make the plan into a reality.
There's a huge list of export formats, so no matter what your backend supports you'll be able to export your mind maps and use them later on.
TechRadar: latest computing news